How Safe is Public WiFi | Get Behind the Shield
I am a Hotspot Shield Ambassador. All opinions are my own.
My husband and I love to people watch. After a long dinner full of chatter we will sit back, relax, enjoy each other's company and people watch. I've been noticing more and more lately how "connected" people have become. Cell phones, laptops, and tablets… everywhere and anywhere. More and more businesses are offering open free wi-fi as well. But have you seriously sat down to think just how safe your information is when you use public wi-fi?

I'm not saying don't use it… heck I do it often! McDonalds while the kids play, Panera trying to catch up on my work, my daughter's dance company while she has her classes twice a week, and even at the airport.
I just never really thought about how safe my information was while I was connected to these hot spots.
Airport hotspots are notoriously popular with travelers and hackers.
Click on the video to learn the challenges of airport online surfing.
Did you know that there's at least one identity theft a day…
especially in public hotspots and wi-fi locations…
That's why I just downloaded Hotspot Shield Elite. It fully protects and manages your information and identity in a few easy steps.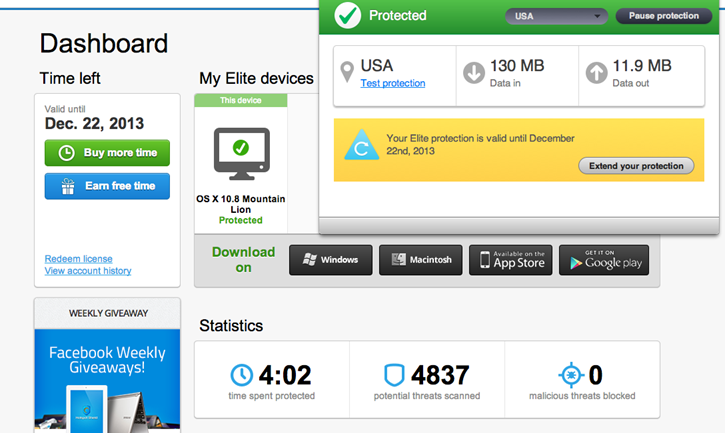 Seeing just how much information comes in and out of my laptop in only 4 hours makes me wish I had signed up sooner! Hotspot Shield not only protects your data but also provide you with a completely secure environment for all your online activities, anywhere, anytime.

Now, with just a click of the download button I am protected on up to five (5) devices. I will soon be downloading it on my Lenovo Yoga, my iPad Mini and my Windows Tablet… all of my most portable devices as well as my HP Envy AiO desktop that the kids use often.
Don't get caught with your shield down!
Be sure to connect with Hotspot Shield: