Sparking Awesome with products from Hot Wheels
Samples received. All opinions are our own.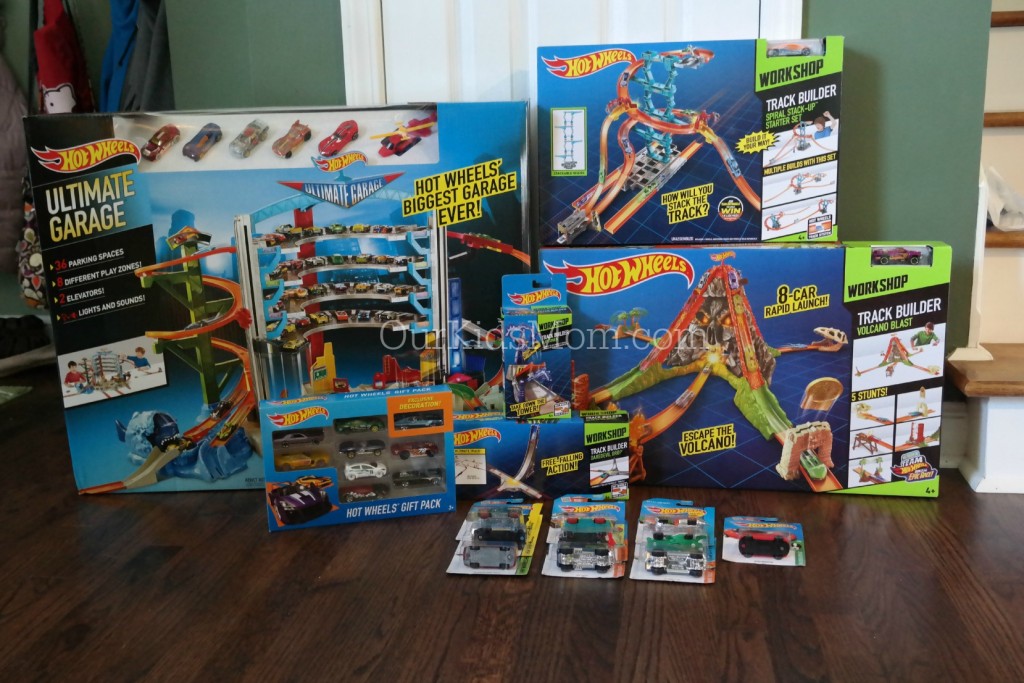 I have been mentally creating a holiday shopping list for my children for a few months now. My goal has been to find items that will allow their creativity to be sparked and for them to spend a little less time involved with electronics.
I found exactly what I was looking for! We were sent the Hot Wheels Ultimate Garage™ and Hot Wheels® Track Builder Volcano Blast to try out. I was thrilled to receive these and I knew my son would be as well. During a recent shopping trip he spent quite a bit of time checking out the packaging on the Ultimate Garage and chattered non-stop about it all the way home.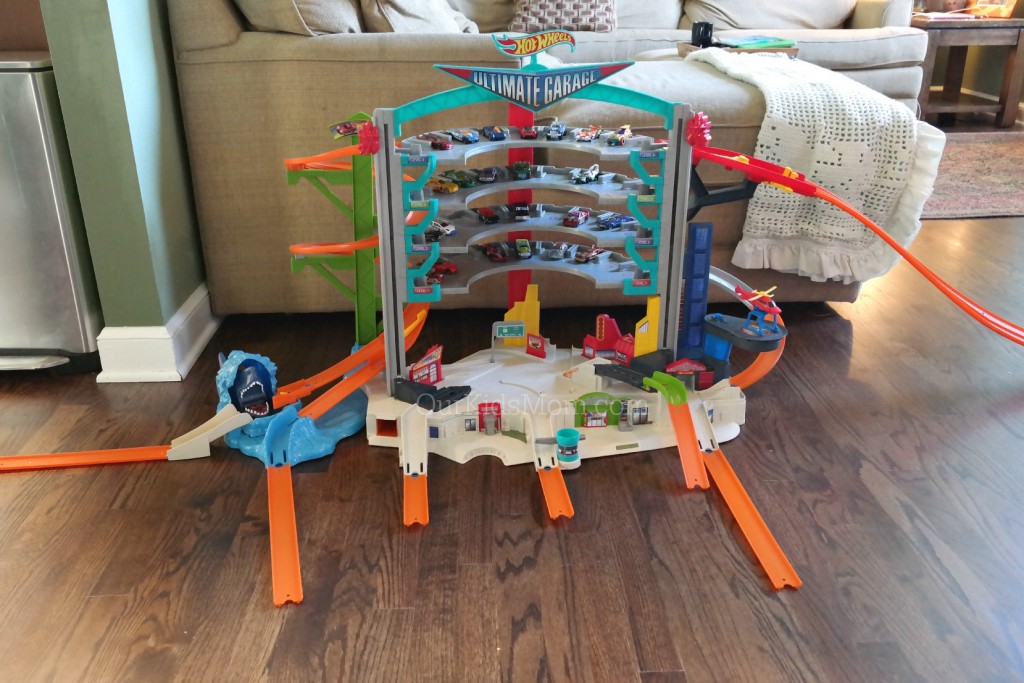 If you are purchasing this as a holiday gift, I would suggest assembling it before gifting. Assembly is not hard, it's just time consuming and I know I would have gone bonkers having my son clambering for his toy for an hour before getting to play.
Once assembled it is one very impressive toy! There is room to park 36 cars and even more room for play! The set comes with 5 Hot Wheels cars and a helicopter to get you started.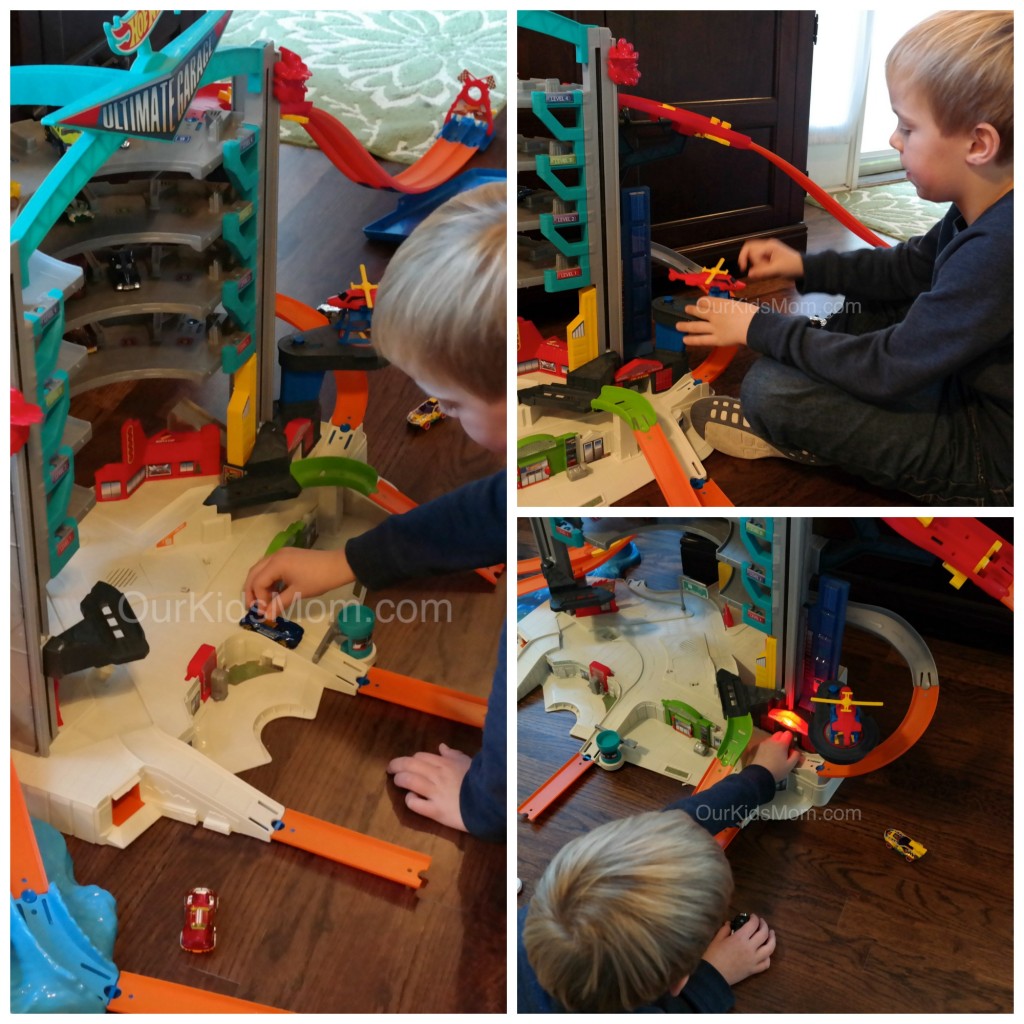 Ethan had a blast discovering the little surprises the Ultimate Garage had for him. There are lights &/or sound at the Fire Station, Helicopter Pad, Mechanics Shop and Gas Station.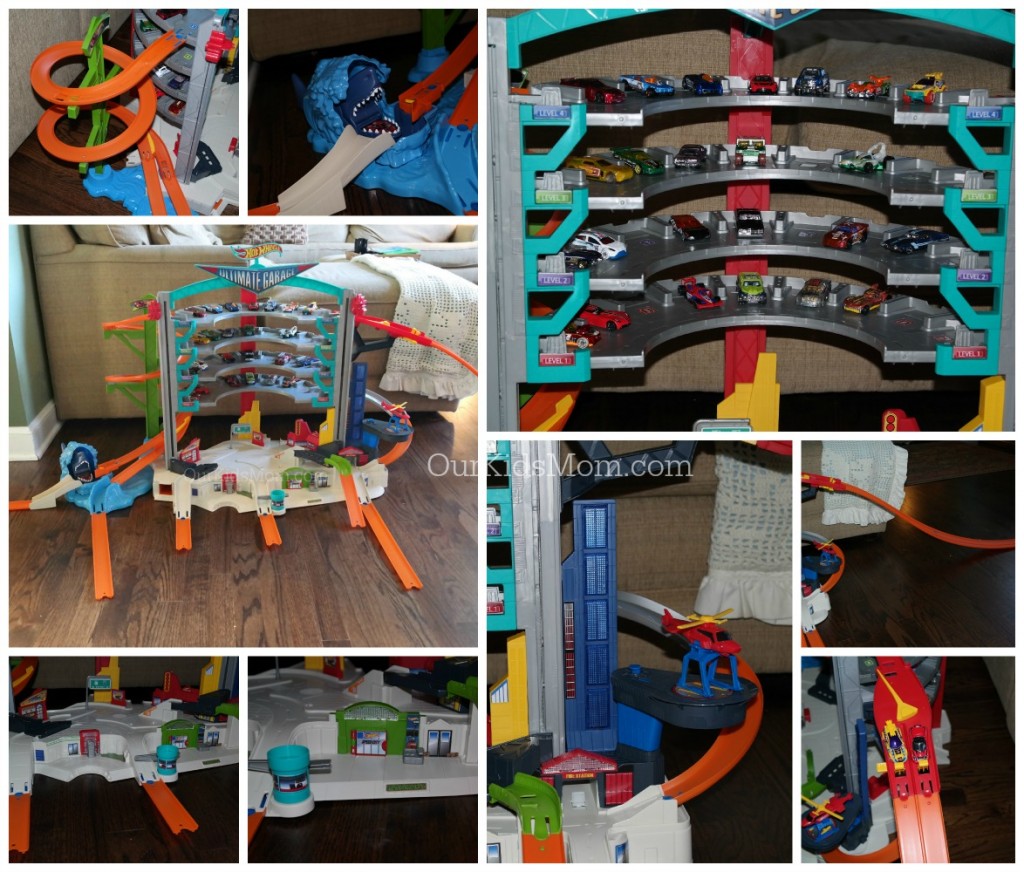 The spiral raceway leads to a divided road that when switched correctly leads you right towards the open mouth of the waiting shark!
The other side offers a 2 car raceway with finishers' flags that signal the winner. I really appreciated that feature because it cut down on the fighting immensely.
I allowed Ethan to enjoy this toy for a couple of days before springing the next one on him. Let me tell you… not once has our game system been turned on since this toy has arrived. The little boy that comes over in the morning usually immediately turns video games on. He now asks Ethan to bring down his box of cars so they can play some more!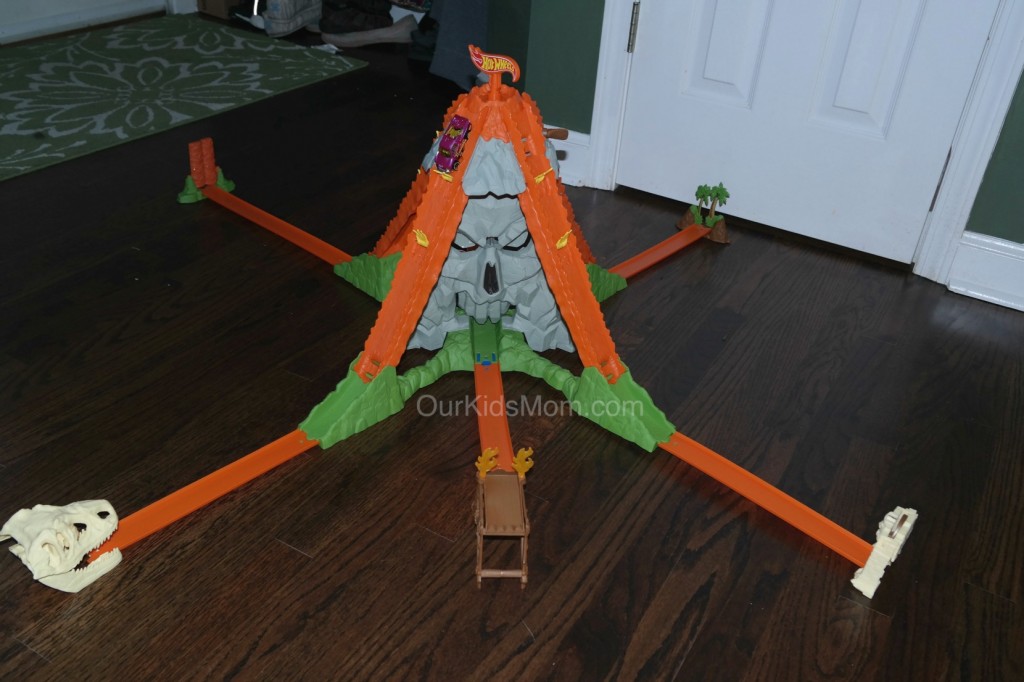 The next toy is the Hot Wheels Track Builder Volcano Blast. This features an angry volcano. Hurry to set the ramps up while the volcano "heats up", then with the push of a button the cars speed off to safety.
This set can be configured in a few different ways and is compatible with other Hot Wheels tracks.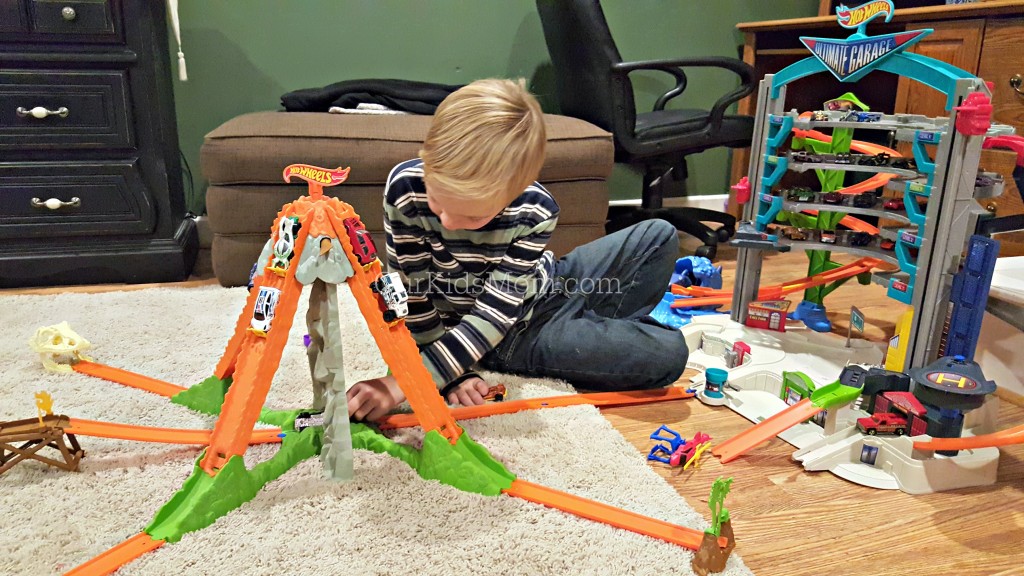 Ethan decided it needed to be attached to his garage and so the game play expanded.
That's the great thing about Hot Wheels. The set up can change every time, but every time results in a great time and his imagination soars.
Connect with Hot Wheels:
BUY IT:
The Ultimate Garage: http://www.amazon.com/dp/B00V0363ZC
The Volcano Blast: http://www.amazon.com/dp/B00XLYA8MM
WIN IT:
ONE OurKidsMom reader is going to win a HUGE Hot Wheels Prize Pack including:
·        1 Hot Wheels Ultimate Garage
·        1 Hot Wheels Track Builder Volcano Blast
·        Assortment of 10 Hot Wheels Basic Cars
·        Hot Wheels Stickers
·        2 Kids' Hot Wheels T-Shirts
  Rules:You do not have to be a blogger to enter/win. An email address is required to enter. The winner will be chosen randomly through Rafflecopter and contacted via email. A reply to the winning email is required within 48 hours before a new winner is chosen. One person entering per household please. US ONLY please.
This giveaway ends at 11:59 PM EST on December 11, 2015.