Homemade Toys: Indoor Sandbox Bean Sensory Bin
Have you ever noticed that sometimes your children love to play with just about everything but their toys? I am (slowly) learning that my two youngest prefer simple. Ocassionally they like that big flashy toy, but for the most part… most of their favorite toys have been either household items (pots & pans on the kitchen floor, our old cell phones w/battery removed etc) or homemade toys! 
When I was a parent educator with Parents as Teachers, I learned that simple is sometimes best. I found that children responded eagerly to homemade toys, sometimes more so than store purchased ones! 
This past week our Parent Educator came to visit and brought an "indoor" sandbox! My two were so upset when it was time to pack it up that I decided to take make one for them.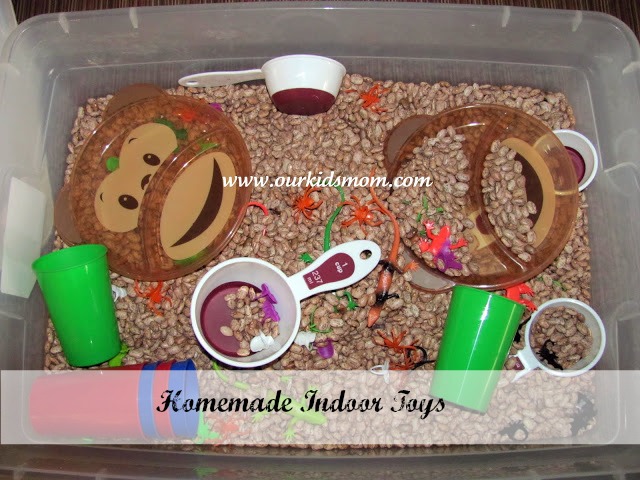 It's a pretty simple concept… they love to scoop, dig (for hidden bugs or whatever), fill and pour, right? This is a smaller under the bed Rubbermaid box (had one in the basement not being used) filled with beans. When placed on a tablecloth (had an old one not being used) cleanup is a little easier (pick it up and pour back into the tub). We took a fun trip to the Dollar Tree and purchased a bag of frogs, lizards, spider rings, measuring cups, set of 2 monkey plates and 6 cups. 
Rubbermaid box … free 
tablecloth… free
So… $12 out of pocket and I get this…
They played there for nearly an hour… and the cats stayed and watched :O).
Priceless!
Disclosure: My experience may differ from yours. Homemade toys are meant to be used with parental supervision. Please use precaution when using small items with younger children. Make sure to inspect homemade toys before each use.