My husband and I recently had a discussion about the amount of cleaners under our kitchen sink. There seems to be a cleaner for everything, but after reading the ingredient labels we just don't feel good about using them or even having them in the house anymore.
We have been on a mission for effective & efficient homemade cleaners that aren't toxic to our children or the environment. My goal was to find one cleaner to do many jobs. This is one of my favorites so far.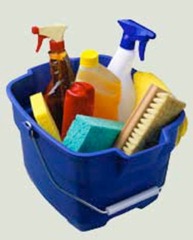 Multi-Purpose
Be sure to wear rubber gloves with using ammonia.
Recipe #1:
1/4 cup baking soda (sodium bicarbonate)
1 cup household ammonia
1/4 cup white vinegar
1 gallon warm water
Mix ingredients and store in tightly-capped container.
Can be used for cleaning counter tops, appliances, tile flooring, etc.
After using homemade cleaners au naturel for some time I grew tired of the strong vinegar and ammonia smell. I wanted my house to smell fresh and clean… to me that's not vinegar or ammonia. I found organic, food grade and perfume grade essential oils at LiveTru (can you tell I'm looking into making other items at home?

) to add a more pleasant smell to my cleaners.
Adding a few drops of essential oil to homemade cleaner gives it a fresh scent and (to me) a more pleasant experience using it. Once I found essential oils and played with them in my multi-purpose cleaner I decided to try it in my homemade laundry soap. Although this recipe is for the powdered variety you can still use essential oils to scent it. Try adding a couple of drops on your scoop right before use or if you want an entire batch scented the same add the oils to the batch, close it in a tight container and shake away.
Have you found a recipe for a homemade cleaner that does it all?
How about one that does a  fabulous job at its intended purpose?