Homemade Coconut Birds Nest Cupcakes Recipe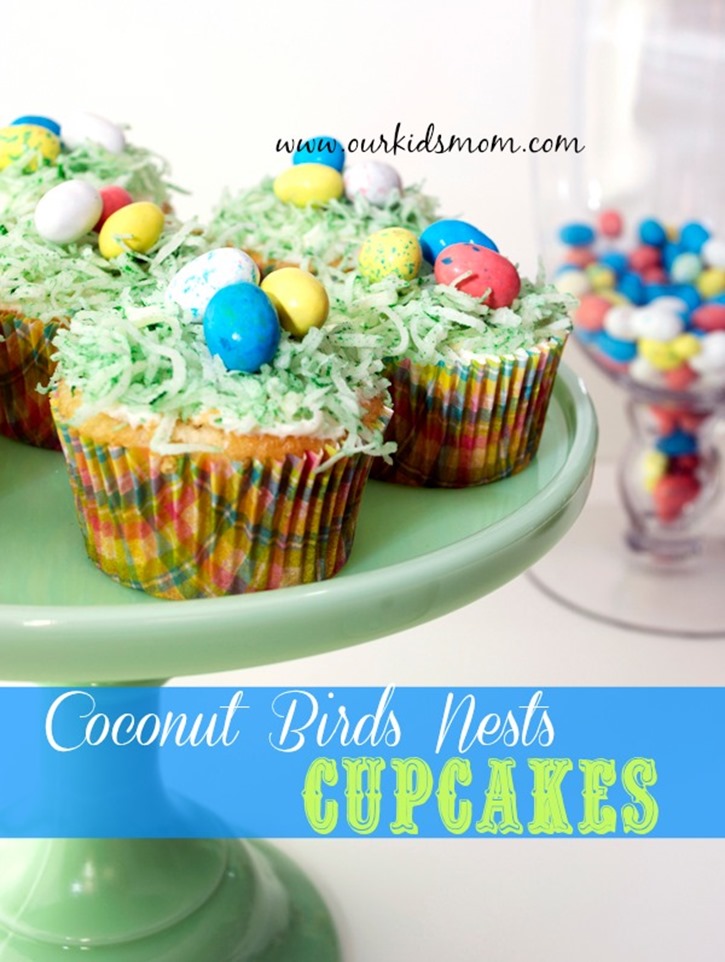 Our extended family typically has a gathering right around Easter. We all bring yummy foods and the desserts are usually the highlight. I used to spend days making a fancy cake, but recently decided that these cupcakes were just as cute… and they were much easier to make as well!
If you are avoiding boxed cakes mixes because of the crap they add to the mix, this homemade recipe is one you will want to try. If you are of the organic variety, just replace the "regular" ingredients with organic.

Homemade Coconut Birds Nest Cupcakes Recipe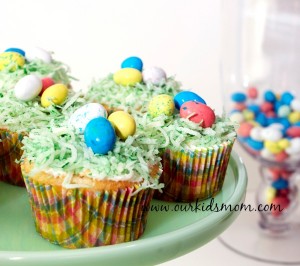 Ingredients
2¾ Cups Flour
2 tsp. Baking Powder
½ tsp. Salt
2 Sticks of Unsalted Butter
2 Cups White Sugar
5 Eggs
1½ tsp. Vanilla Extract
1 Cup Milk
Decorating Ingredients:
1 Tub White Cupcake Frosting (vanilla or cream cheese)
1½ Cups Coconut Flakes
Green Food Coloring
1 Small Bag of Whopper Eggs (or any other candy egg)
Instructions
Pre-heat the oven to 350 degrees.
In a medium size bowl, whisk the flour, baking powder and salt.
With an electric mixer (or hand mixer) beat the butter on high for 2 minutes. Slowly add the sugar and beat until fluffy (approx. 5 minutes).
Beat in the eggs, one at a time until fully combined.
Add the vanilla.
Add ⅓ of the flour mixture to the wet mixture and combine.
Add ⅓ of the milk and combine.
Repeat the above 2 steps until all the flour and milk have been incorporated. Beat until smooth.
Transfer the batter to individual cupcake tins and bake for 17-20 minutes.
Let the cupcakes cool completely.
Make the "grass" by combining 3 cups of coconut flakes with 12-15 drops of green food coloring. Add more drops if you want darker grass.
Using your favorite store bought frosting (or homemade recipe), apply a small amount of frosting to the top of each cupcake. You want it relatively flat vs. heaping on a mound of frosting.
Using your fingers, grab about 2 tablespoons of the coconut flakes and place it on top of the frosted cupcake.
Top each cupcake with 2-3 whopper eggs.
Enjoy!