Homemade Chocolate Syrup Recipe
In our quest to eat healthier/cleaner we tossed many many items into the trash. Chocolate syrup was one of the casualties, which made Emma & Ethan sad kidlets. They are addicted to their chocolate milk every morning. This made my mission even more important to find a cleaner healthier option for their morning pick me up. I found this recipe at Loving The Bike, which went on to mention the antioxidant properties in cocoa and organic honey.
So… I made a batch and the overall reaction was unanimous…. it was a hit! I have been making this as a double batch bi-weekly for about 6 weeks now. I do not foresee a time when we'll stop as it's that good.

Homemade Chocolate Syrup Recipe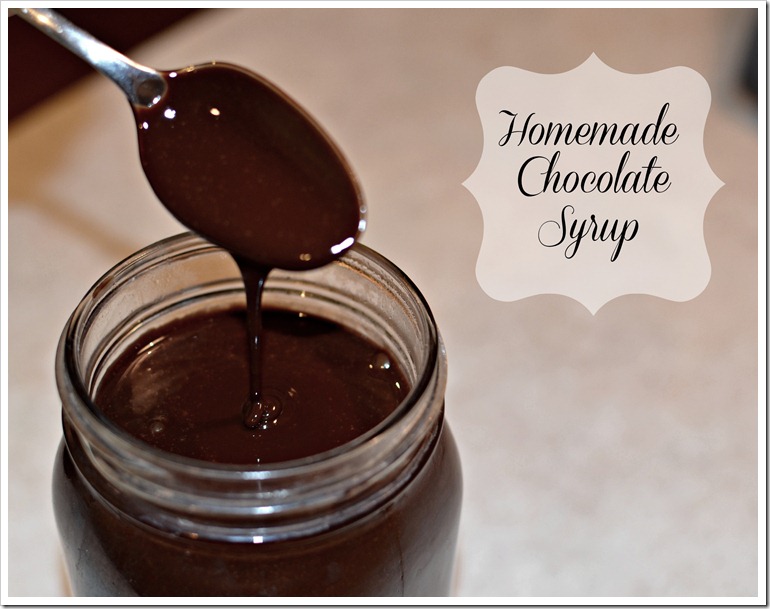 Ingredients
1¼ C organic honey
1 C unsweetened cocoa powder
1 C water
¼ tsp sea salt
1 Tbsp vanilla extract
Dash of cinnamon (optional)
Instructions
Put honey, cocoa powder, water and salt in a medium saucepan. If doubling this recipe, use a larger stock pot as it tends to foam up and expand before boiling.
Cook over medium heat, whisking to remove lumps and to keep from burning. Bring to a boil so it will thicken for 2-3 minutes, all the while whisking to avoid burning.
Remove from heat and allow to cool for 5-10 minutes before adding the vanilla.
Add vanilla and cinnamon if you so choose.
This will store in a fridge for up to 4 weeks... it probably won't last that long before disappearing though.
My kids like their chocolate milk strong. For an 8 ounce glass we add 2-3 tablespoons of syrup.
Nutrition information: (1 Tbsp chocolate syrup) 30 calories, 10 mg sodium, 8 gms carbohydrates, 1 gm protein