Home Makeover | Our New La-Z-Boy Living Room
Last summer my family visited our local La-Z-Boy Showroom to pick out a sectional. Our living room is quite large, but we just didn't have enough seating for our family of six to sit comfortably.
We actually did receive our sectional a few months later. That particular sectional had a problem with the chaise not connecting to the other pieces properly leaving the back of the piece crooked. La-Z-Boy was unable to repair the issue, so they replaced it. It was a small inconvenience to have to wait again, but as you will soon see… the wait was worth it.
Unfortunately I forgot to take a photo of the living room before we removed our old sofa and recliners, but I found this one I took for another review. As you can see from the photo above we only had seating for five. As our children grow older they tend to want to sprawl out making it near impossible for everyone to be happy. We basically have four adult bodies and two children trying to occupy that space on family movie nights.
I knew our choice of the Daphne sectional was the right one for us. It was so easy to customize the shape, size and even the fabric so that the final result is a piece of furniture that is tailor made just for you and your space. As I mentioned in my last post, my husband mapped out our room and the pieces we thought would fit. We finalized our selections with the help of the sales person and began our wait as our sectional was created. I was excited to see the final result!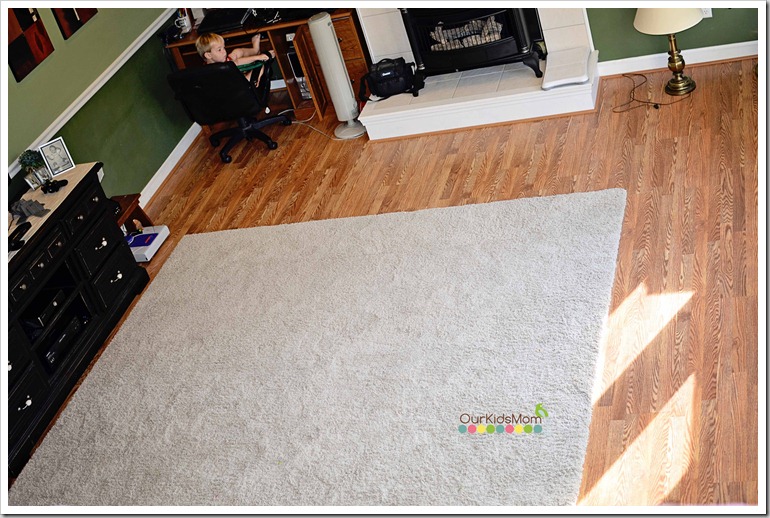 With the old furniture out of the room the space felt enormous. I was hoping we had planned this appropriately so that our end result was what we had been dreaming of.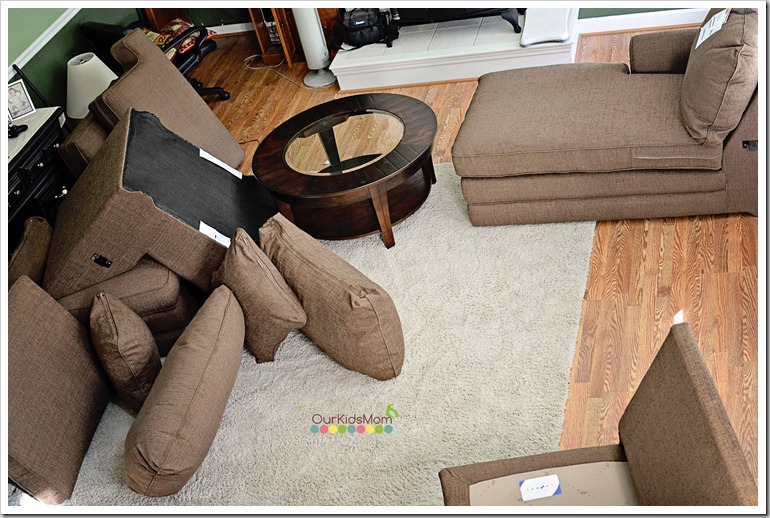 As they began to unload the truck my anxiousness turned to excitement. I was so relieved that our fabric choice looked like what were hoping it would. It's so difficult to imagine a piece of furniture with just a tiny swatch to go off of and printing it off the computer left all of the textured qualities off.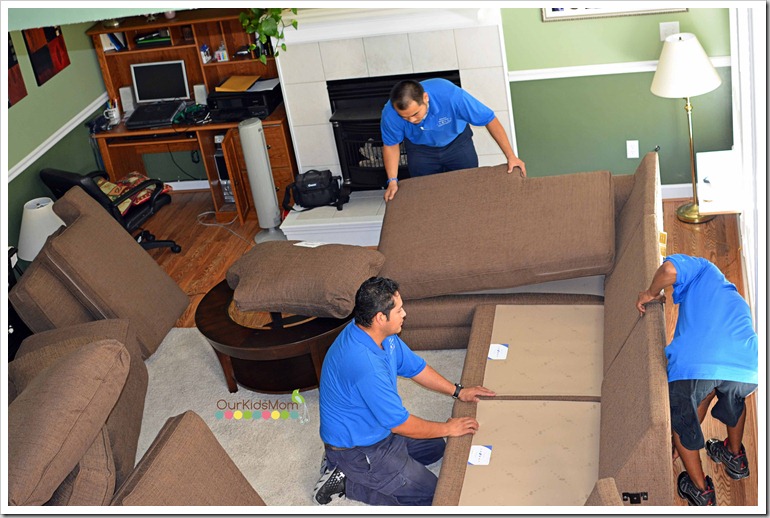 The delivery men made quick work of unloading and installing. They showed us how all of the pieces attach to each other with a hook and latch type system so they don't wiggle apart and leave gaps. When the crew was finished they asked if there was anything else they could do for me. I quickly told them the vacuum was in the upstairs closet in which they replied "If that is what you need done, I'd be glad to."! I about died laughing, but let them off the hook and thanked them instead.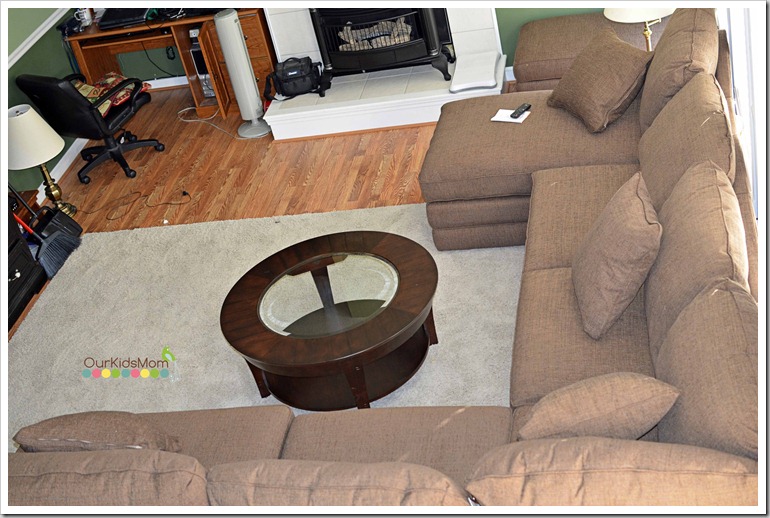 Our room was finally complete! We ended up with (from left to right) a left arm sitting sofa, a corner unit, two armless middle pieces, a right arm chaise and over in the corner an ottoman. Even the delivery men mentioned it was on of the biggest units they've delivered but agreed it filled and made use of the space nicely.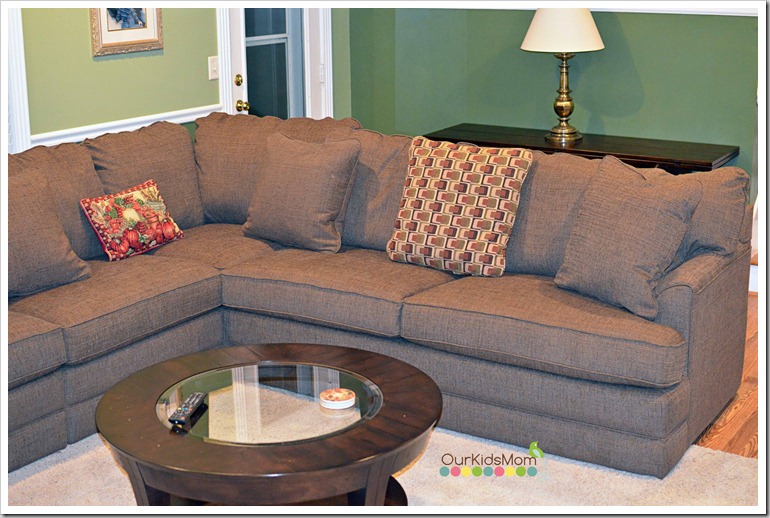 La-z-boy also offers a full line of accessories to finish your living room look. We finished ours off with a round coffee table and a expandable sofa table. We were beyond pleased with the quality, look and functionality of both.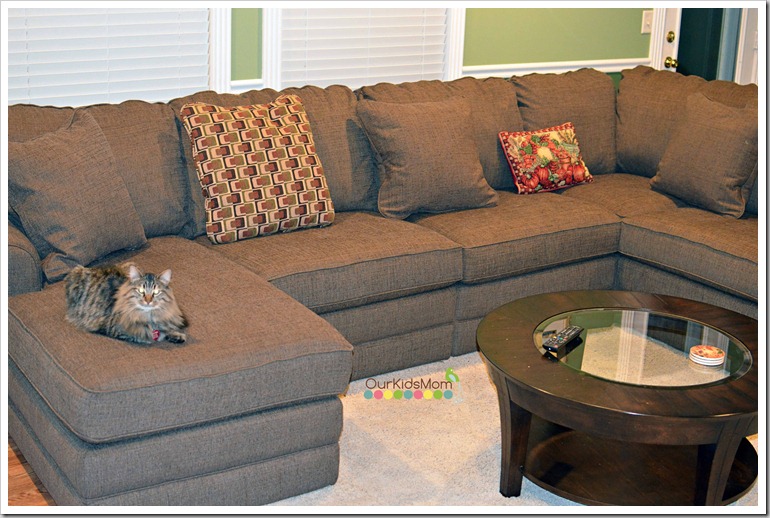 Having a sectional with a large family has been amazing. There is little to no fighting even when the two bigger kids sprawl out on the chaise and corner piece. If we pull the coffee table out a bit we can expand the lounging area with the ottoman making everyone happy with their feet up.
Did I mention that the ottoman is multi-functional? Not only can you put your feet up on it, but the top is hinged and opens up to a nice compartment that we now fill with the blankets that my family used to leave laying all over the couch each night.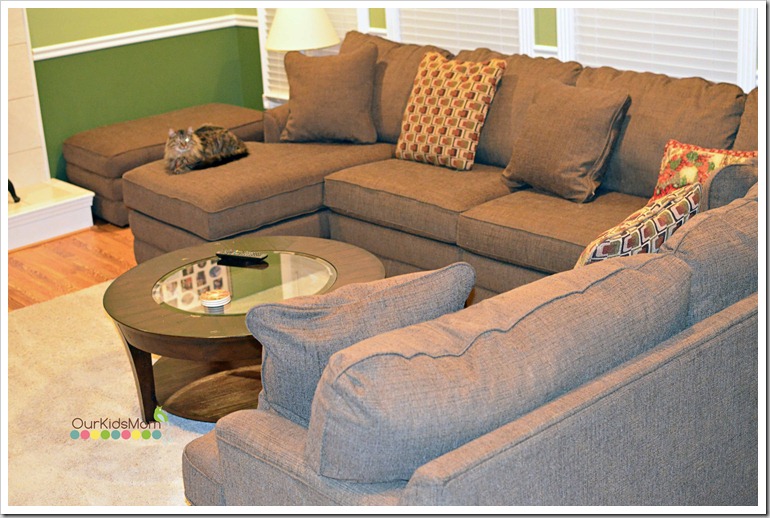 The Daphne sectional is plush with just enough support to not be uncomfortable. I like that the back cushions are not attached. Between young kids that love to climb and cats that have decided we purchased them the largest pet bed on earth I need the ability to bring the cushions to another room to spot clean them. The upholstery is a nice mid-weight quality material with a touch of texture. Although we did not treat it with Guardsman fabric protection the few accidental stains that have happened cleaned up easily. I think I can safely say that this piece will serve us well for many, many years to come.
Connect with La-Z-Boy for up to date product information, promos and sales:
Disclosure of Material Connection: I received one or more of the products or services mentioned above for free in the hope that I would mention it on my blog. I only recommend products or services I use personally and believe will be good for my readers. I am disclosing this in accordance with the Federal Trade Commission's 16 CFR, Part 255: "Guides Concerning the Use of Endorsements and Testimonials in Advertising." The opinions expressed in this post are entirely my own. Your experience with the product may differ from mine. The sponsor is responsible for prize fulfillment and will be shipping the winner(s) their prize(s). For more information read my disclosure policy.