Everyone makes mistakes, and we start making them at a very young age. What is different about the mistakes that we make is how we handle them, and this is something that we learn at the same age we start making them. As parents it is our responsibility to teach our children how to handle the big and little mistakes that they make. Turns out that the best way to help children handle these mistakes has a lot to do with the way we handle them ourselves.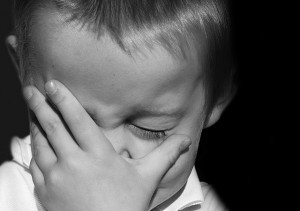 Control Your Reaction
Our immediate reaction to the mistakes that our children make is one of the first and only things they will remember the next time they mess up. Our reactions change the way they deal with their mess ups and whether they inform you or try to hide mistakes from you in the future.
Define Accidents With Them
Allowing for mistakes and accidents is important in a child's upbringing because it lets them know that they can make mistakes and that they can work with you to correct or at least show remorse. Accidents are not intentional or driven through carelessness so they should not be met with the same punishment as bad behavior. Let children know that accidents do happen and we do what we can to correct them. This will teach children responsibility and they will have the confidence to let you know about these mess ups.
Talk About Making Up For Accidents
Being able to correct any mistakes that we make is a huge part of dealing with the mistakes that our children make. Not only are they better able to handle mistakes in the home, but you are giving them the skills that they need to handle their mistakes at school and in public. When they can and are able to correct what they have done, allow them the chance to do so and do as much of the work on their own. If their mistake requires money that they do not possess, give them the chance to work it off with extra chores around the house.
Give Children the Chance to Fess Up
Before blaming any child, give them the chance to fess up and admit the mistakes they have made. It saves blame being placed where it shouldn't and shows them that you trust them enough to talk to you.