Hellmann's®/Best Foods® 100 Year Anniversary | Creamy Onion Dip Recipe
This post brought to you by LunchBox for Hellmann's. All opinions are 100% my own.
Your favorite mayonnaise is turning 100! Hellmann's and Best Foods mayonnaise isn't just for sandwiches – did you know it can also be used to moisten chocolate cake and to add juiciness to a burger?!
Mario Batali has teamed up with Hellmann's to create delicious summer recipes. Everything from main dishes, appetizers and desserts… all complimented with Hellmann's Mayonnaise.
I decided I wanted to put one of the recipes to the test. Because a majority of us are vegetarians, I chose an appetizer… Creamy Onion Dip.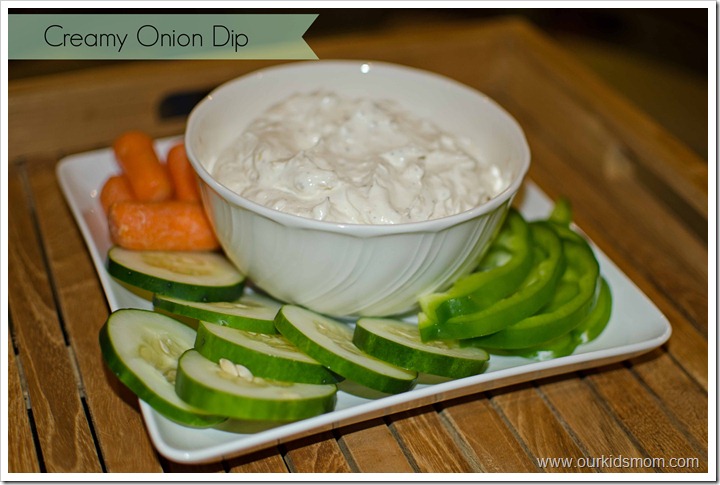 Ingredients
1 container (16 oz.) sour cream
½ cup Hellmann´s® or Best Foods® Real Mayonnaise Dressing (we used Hellmann's with Olive Oil)
1 Package Lipton® Recipe Secrets Onion Recipe Soup & Dip Mix (we used Homemade Onion Soup Mix Recipe http://tinyurl.com/ohoj7wl)
Instructions
Combine all ingredients and chill. Serve with your favorite dipping items.
The recipe was quick and easy to whip up… which made hiding the ingredients from everyone easy. I chose to use the Olive Oil variety of Hellmann's Mayonnaise and my Homemade Onion Soup Mix instead of the pre-packaged variety and mixed it all together with beaters.
Plated with our favorite veggies I served this to my crew. I couldn't believe how creamy and rich it tasted. It was fabulous with veggies and if you're feeling a little a naughty…. amazing with chips. The main response I got from the grown ups was that "This tastes better than store bought! What's in it?".  I say it tastes better and I love the simple ingredients!
New Recipes, Surprising Ingredient!
Discover all the different ways you can use Hellmann's® or Best Foods® at bit.ly/SC_Hellmanns! From there you can watch videos and learn how to use Hellmann's or Best Foods to transform your summer BBQ dishes into something that will leave your friends and family wondering, "what's the secret ingredient?".
Join the Celebration at Sam's Club
On June 29th, head into your local Sam's Club to celebrate the Hellmann's®/Best Foods® 100th Year Anniversary! You'll be able to try out a Hellmann's recipe in your local club!
This post brought to you by LunchBox for Hellmann's. All opinions are 100% my own.