Here we are, almost five months into 2011. Have you kept up with your New Years Resolution to get fit, lose a little weight… move your body?
For the past six months I have stuck through the highs and lows of losing weight, but I had yet to start moving my body. I decided it was time to look for a way to "move it" at times that it is convenient for me. I needed something that provided a decent workout in a short amount of time and it didn't have a humongous foot print as space was limited.
I found Hayneedle by accident one day. I had heard of the website but it hadn't dawned on me that they carried a large assortment of physical fitness items. Boy was I surprised when I started browsing!
After sifting through their large assortment of exercise bikes, treadmills, steppers and home gyms I decided my best bet would be an elliptical trainer.
I knew that I wouldn't be the only family member using the elliptical and all four of us are nearing (or at/above) the 6 foot tall mark. I was looking for a decent stride on a product that had more than an on & off option.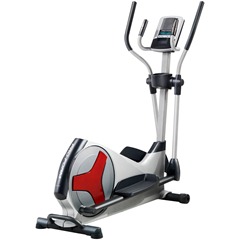 I found the ProForm 6.0 ZE Elliptical 
12 pre-programmed workouts and large LCD display

18-inch stride length rear drive system

10 digital resistance levels

Dimensions: 39L x 24W x 61H inches; Weight capacity: 250 lbs.

Manufacturer's warranty included
It had everything I was looking for, so I ordered it and anxiously waited.
FedEx arrived one misty morning with a nice big box for me and it was stuffed to the gills with parts (how on earth do they figure out how to get it all in there?).
My husband and I carefully unpacked the box and put the parts out on the floor for inventory.
After determining everything was there we went to work. The instructions were fairly easy to follow and I was impressed with how the hardware was sorted. Each item had it's own cubby and a map was included for easy and quick identification. I am used to have a plastic bag of screws and bolts that I have to pour and sort myself. Kudos to ProForm for making it easy on the customer!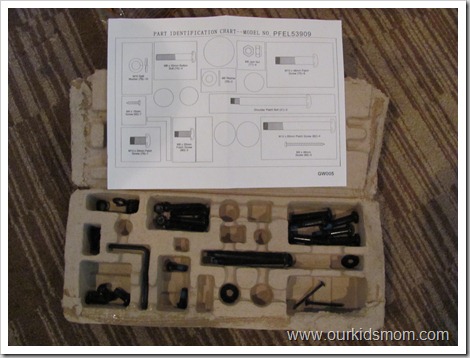 The kit came with 2 Allen wrenches, but my husband and I quickly realized that we could make much quicker work of this job using his cordless ratchet with an Allen head attachment. We were also able to easily get everything tightened down nicely using the ratchet.
Usually I include photos of the assembly process, but as it is a two man job to assemble and there were only two of us in the room… photos were neglected. Sorry. I can tell you it took between 1 1/2 to 2 hours from un-boxing to completion. The process went smoothly and with the easy identification of the hardware needed there were very few expletives used during the process.
Our final product: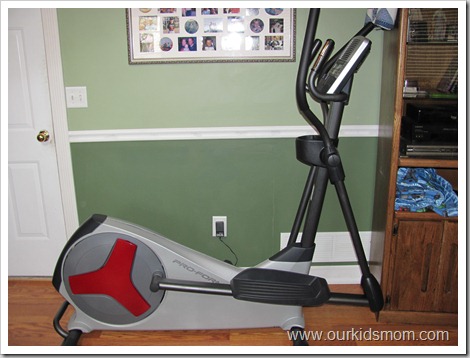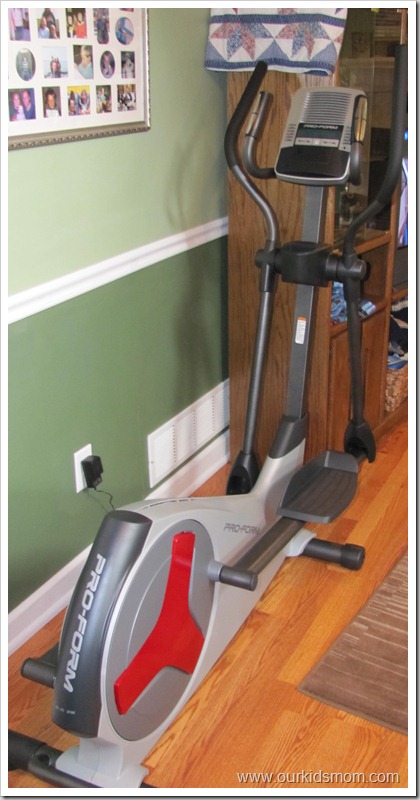 I am very pleased with the slim design. We were hoping for an item that didn't take up too much room and we found it. We have actually re-arranged our living room since taking this photo and now the elliptical sits at the side of our furniture arrangement so we don't have to move it to view the television during use.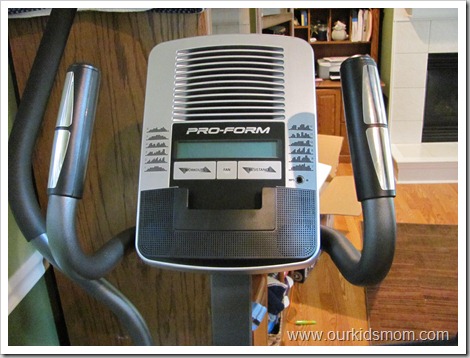 I wanted to share the display with you. One of the features I was looking for was an item that had more than a "go and stop" feature. This particular elliptical has 12 different training sessions you can choose from (or you can just "go and stop"). Depending on your workout goal, there is something for everyone.
Notice the grips in front with the silver triangles. Those are the heart rate grips. Grab those while working out and the display will show you your current heart rate. They are fairly accurate, but it takes a bit for it to register and it tends to jump around. I just use it for a quick judge of where I am in the workout.
The digital display will alternate between your length of time on the machine, the distance you have gone and calories burned. I love these features, but am a little disappointed that I cannot input my current weight to get a correct calories burned read out. It is a standard output, but after a little research online my husband found that in about 20 minutes at a moderate pace a person burns (about) his body weight in calories. That helps me gauge the amount of time I wanted to stay on.
There is also a spot to plug in your MP3 player. The speakers at the bottom of the display put out a decent sound and volume and it allows me to still pay attention (listen for kids getting out of bed and sneaking around) but have something to listen to and pace myself with.
Lastly, there is a two speed fan in the display. All of these features are powered by either batteries (provided by you) or you can purchase (separately) a power cord. Although we had one on hand that worked for us, I have read many reviews that mentioned they contacted ProForm to purchase one and the price was outrageous. In my opinion, for over $400… a power cord should be included (just my opinion though). If you don't have one, head to your local Radio Shack and purchase a generic and save a little $.
We have been using the elliptical for three weeks now and I have yet to hear anyone say anything bad about it. The stride seems just about right and it feels natural to me. Having the option of just getting on and going or doing an actual pre-programmed workout has been nice. My only factor that we are working on fixing is that our living room floor is a bit uneven. Although the elliptical comes with height adjusting legs, we still haven't found the perfect position and by the end of the workout the machine has moved a little and squeaks a bit. We will continue to work on finding the right spot for the machine and the squeak will not impact our opinion. We love our ProForm 6.0 ZE Elliptical!
My overall experience was fantastic. From my initial "window shopping" on Hayneedle.com, research and purchase decision, shipping time/speed and the actual product… it all scored four stars from me.
BUY IT:
You can purchase the ProForm 6.0 ZE Elliptical for $429.99 (sale price… regular $499.99)
WIN IT:
The generous folks at Hayneedle want to give one OurKidsMom reader their choice of any heart rate monitor watch they carry $70 or under!
This giveaway ended at 11:59 pm EST on May 13, 2011.
Disclosure:
This post was written me and was not edited by anyone. The opinions expressed in this post are entirely my own and have not been influenced in any way. I receive product for review purposes only. I was not compensated for this post. The sponsor is responsible for prize fulfillment and will be shipping the winner(s) their prize(s). For more information please read my disclosure policy.