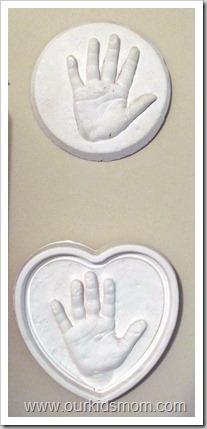 I've recently run into this fabulous online craft supplies store, Factory Direct Craft, that has all of our crafting needs. The site is really cool with a variety of supplies and a great crafting blog full of creative things to do with the kids that you can actually turn into artwork! They have complicated ones that involve multiple steps and tools to simple ones that involve paints, ice trays and food coloring.
 
I let Emma and Ethan do all kinds of crafts, but handprint art is my favorite. When framed I have a piece of them frozen at that age. We've done similar things in the past… I have a Christmas tree we made out of the families hand prints (which reminds me, this needs to be redone now that Emma and Ethan are old enough to participate) that is hung every Christmas season. I've also done the 3D handprints with Kaytlin and Joshua at 5 years old.
 
Now that Emma is 5 I need to pick up the supplies to make her handprint too.
Some cool handprint art projects I've found that are on my "to do" list are a ballerina tutu, elephant hands, butterfly feet (okay, so it's feet… same principle and adorable), thumbprint tree and I can't wait to do this for Emma's kindergarten teacher… a handprint apron.
 
Factory Direct Craft allows me to shop for craft supplies from my home.  You can find everything from glitter, beads and pom poms to paints, crafting foam and felt squares. I was excited to find a great craft supply shop online. My kids turn into little maniacs when I take them to a craft store. Now I can finally shop at my leisure and make sure I have everything I need for our project.
 
So tell me… do you have a unique "handprint" type art project you like to do with your kids?