Halloween Spiders & Webs Cupcakes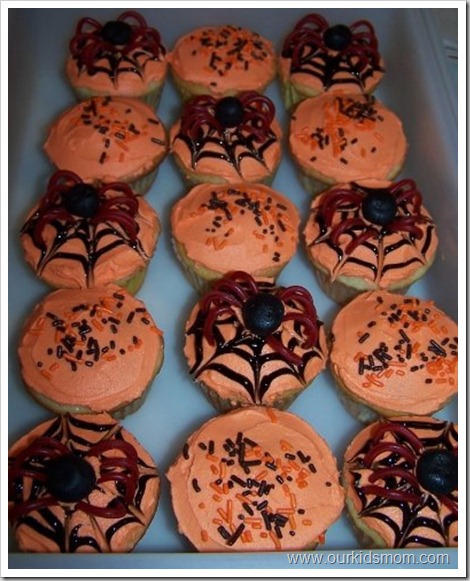 With Halloween just a few days away I thought I would share a quick, easy and fun cupcake idea for the upcoming parties this weekend or to surprise your kids with on Monday.
Supplies Needed:
* 1 cake mix
* 1 tub of frosting
* cupcake papers
* Halloween/Fall themed sprinkles
* black tubed gel
* Halloween DOTS candy
* red Twizzlers Pull –n- Peel candy
* toothpick
Start by making and your typical ordinary cupcakes (or maybe add in a surprise candy in the center of the cupcake before you cook them). Frost them and sprinkle half with Halloween themed colored toppings (found at your local grocer or "mart").
To make the webs, take the black gel (also found in the cake aisle with the sprinkles & tube frosting) and make 3 circles. Using a toothpick, lightly drag it through the frosting & gel pulling outward. I did this about 8 times on each cupcake.
Place a black Halloween DOT candy in the center of each spiderweb. I then cut a Twizzlers Pull –n- Peel into pieces and pushed each end into the cupcake to form the legs.
Super simple and scary…. really…. don't all poisonous spiders have red legs???