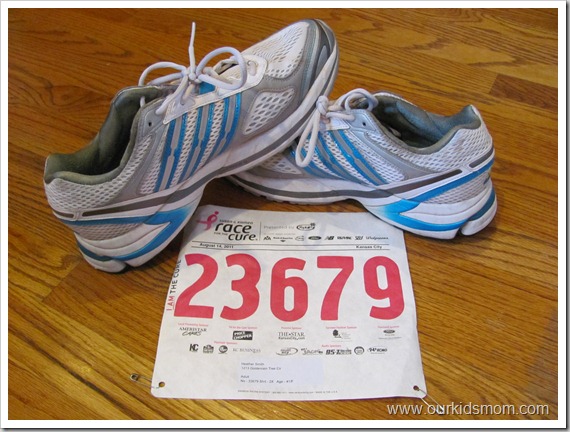 Spring of 2011 I had decided that I was ready to get off the couch and start living my life. Although I am fairly healthy, I am overweight I had been living a sedentary lifestyle. My husband had taken up running six months beforehand and was enjoying it so much his enthusiasm kind of trickled down on me.
I began to imagine myself running and going for long distances… sort of like in a dream sequence on television. The fog would clear and then I would shake my head and giggle to myself. I could never run… I have a huge chest and am out of shape. That and the fact that even as a kid I could never finish the 1 mile fitness run in school.
So I decided I needed some encouragement, guidance and help. I dug around the internet for some time and ran into a running program called the Couch to 5k running program. It was supposed to take a couch potato (like me) and have them running a 5k race (3.1 miles) in 9 weeks. I read up on it, joined the Facebook support group and read the other stories that were posted and decided to give it a try.
After my first run, which was actually more walking than running, I knew I could never ever run for 3 miles straight. I headed back to the Facebook page and posted about my experiences and asked others for their guidance. I was encouraged by their words and the fact that 99% of them had felt the same way after their first few runs.
I stuck to it, and every week when my running "schedule" would change according to plan I just knew it would kill me. I was always pleasantly surprised at the end of the program (which was one of the best iPod apps I've ever downloaded btw) that I was alive and feeling great! I became more confident, I was slimming down and I had more stamina that I could ever remember.
I finished the 9 week training program and immediately signed up for my first 5k race. I had just a couple of more weeks to polish off my training and then it was time to put all of that guidance to the test. My goal was to finish the race… pure and simple. Just. Finish.
I am proud to say I did indeed finish… and I wasn't last! I am not a fast runner and I would actually categorize myself more as a jogger… to be brutally honest I could probably walk faster than I run… but I FINISHED.
If I hadn't looked for guidance, for someone with experience, for inspiration, for a plan… I would still be on that couch. My first day out would have been my last.

H&R Block at Home is here to be your guidance during tax season. As an added bonus… everyone that completes their taxes using H&R Block at Home can instantly win one of the hourly drawn cash prizes. You will also automatically be entered to win a $100,000 grand prize refund!
To enter the  $100,000 Refund Giveaway complete a tax return online via computer or tablet device using H&R Block at Home tax preparation.  
  
·       When it comes to your tax return, you never have to settle for less with H&R Block. Filing your taxes with H&R Block just became an event worth sharing. Get started now for your chance at instant cash prizes and the $100,000 refund! There are winners every hour. So file your taxes then let your friends know how rewarding it can be.
·       NO PURCHASE OR PAYMENT OF MONEY NECESSARY TO ENTER OR WIN. A PURCHASE WILL NOT INCREASE YOUR CHANCES OF WINNING. H&R Block® –100,000 Refund Giveaway starts 1/17/12 at 12:00 P.M. (midnight) ET and ends 4/17/12 at 11:59:59 PM ET. For Official Rules, to learn how to obtain a free means of entry without purchase, to learn how to play the instant win game and enter the sweepstakes, drawings, prize details, odds of winning, restrictions, etc. click here [www.hrbathomegiveaway.com]. Open to eligible legal residents of 50 US/DC, 18 years or older at time of entry. Void in P.R. and where prohibited. Sponsor: HRB Digital LLC, One H&R Block Way, Kansas City, MO 64105.
Disclosure: Compensation was provided by H&R Block® via Glam Media.  The opinions expressed herein are those of the author and are not indicative of the opinions or positions of H&R Block®