A Guide to Spring Skincare
It's March, which means spring is right around the corner. Chances are, especially if you live in a colder climate, your skin isn't at its best right now. Cold winds, harsh weather, and drying indoor heat can leave us chapped, flaky, and in desperate need of a healing skincare routine. So it's important to get ready for the warmer months and get glowing in time for sunny weather and lighter clothes!
First, are you moisturizing every day? No matter what your age, it's important to pick a moisturizer with SPF 15 or higher to protect against current and future sun damage. Not only will your thirsty skin thank you, but you will help to decrease fine lines, sun spots, and more. Moisturizing is also crucial to curing winter dryness – pick a mild, unscented one if you have sensitive skin, or go for a lush crème if your skin is especially dry.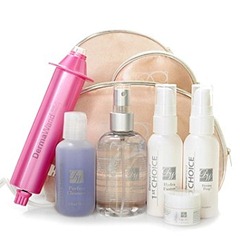 Next, you should be exfoliating regularly.  There are plenty of exfoliating scrubs on the market, but if you want to do a really thorough job, you may want to consider microdermabrasion. Once reserved for the spa or salon, you can now use microdermabrasion at home products for a fraction of the cost. These kits often come with an exfoliating wand, creams and cleansers, and an instructional DVD. If you are bothered by fine lines, acne scars, or enlarged pores, microdermabrasion at home may be the answer – it can temporarily get rid of these skin annoyances and reveal new, younger-looking skin.  You can purchase these kits at online retailers like ShopNBC.
Finally, try to stress less! Stress takes a toll on our bodies and minds, as we all know. Whip up a cooling, de-stressing masque with some mint and cucumber and take a break from your busy day. With spring and summer quickly approaching, it's time to relax and rejuvenate! So get ready for warm, sunny days and protect your skin all at once.
Written by M. Malone