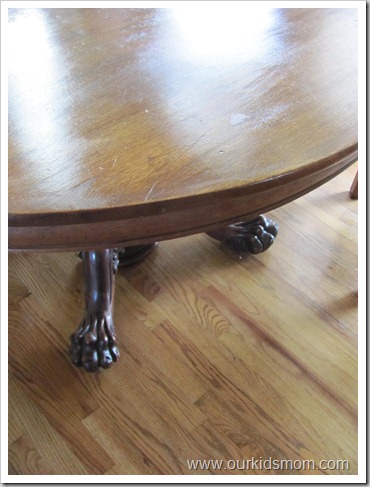 My Grandma used to own an antique store that she ran out of her home. Years ago, we had to move her in with my Dad so that he could care for her. My husband and I were present when she was deciding what to keep from her shop and what was going to auction. We walked through the room that contained a beautiful claw footed table and she stopped. Knowing that our furnishing were mediocre, she asked me if I would like to have this table.
I've been given some grief over the years about this particular table because the height is a bit off. With the rollers it is high enough you feel like you are eating with your arms over your head. We removed the rollers, and although it's almost there, the height is still a bit off and somewhat awkward to eat at until you get used to it.
I don't care. I love this table and I love that my Grandma gave it to me. She is gone now and I think of her every time I stub my toe on that big claw while sliding my chair in.
With six people in our house, my table takes a beating on a daily basis. I tend to use a tablecloth, but there are a few days a month it is bare while I am washing the covering. Because of it's age, it's not in the best condition to begin with. The furniture polish I had been using did a decent job adding a shine to it, but it left it with a greasy film.
Guardsman believes in caring for your furniture. Their line of products helps nurture and protect as well as make it look nice.
WHY?
* You nurture, protect and care for the things you love. And your furniture should be no exception. New or old, we all have furniture we love.
* Furniture should be cared for in the same way we take care of ourselves. It's more than dusting and polishing, it's about nourishing, revitalizing and bringing out furniture's inner beauty.
* Guardsman wants to unlock the secret experts and homeowners have shared for more than a century. The simple furniture beauty routine includes: cleansing, polishing and, of course, covering those tiny imperfections.
* The secret to beautiful furniture is simple… "Stop Cleaning. Start Caring™"
Their line of products include: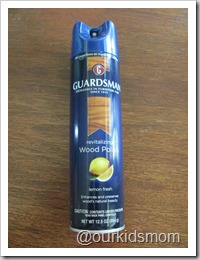 •    Revitalizing Wood Polish –Our unique formula enhances wood's natural luster and helps banish the effects of time by concealing fine surface scratches. Containing no waxes or silicones, it leaves no greasy film. Select from aerosols or trigger sprays – in either a crisp Woodland Fresh scent or a citrus-clean Lemon Fresh scent. A special formula with UV Protection is also available in aerosol and cream. Retail price: $5.49-$6.99.
•    Purifying Wood Cleaner – The perfect furniture facial – a cleanser that quickly cuts through grime, oily films and food and beverage residues, leaving a streak-free clean with no dust attracting residue. Retail price: $5.49-$6.99.
•    Ultimate Dusting Cloths – Dusting just got easier with Guardsman's sprayless and odorless cloth.  The 100% cotton flannel, lint-free cloths are specially treated to be tough enough to trap dust to remove allergens, yet gentle enough for scratch-free results. Each cloth is hand washable and reusable for added convenience. Available in three sizes: single-cloth, 5-cloth and 12-cloth packs. Retail price: $2.99-$19.99.
As you can see in the photo… my table looks fairly decent! Despite the years of scratches and abuse, Guardsman has helped bring the beauty to the surface. I am certain that with continued use and care it will be an heirloom piece I will be proud to pass down.


 OurKidsMom loves companies that give back

To kick off the Stop Cleaning. Start Caring. campaign… Guardsman is donating $25,000 to Habitat for Humanity!
WIN IT:
YOU can take part in the Stop Cleaning. Start Caring. promotion. Share your favorite furniture story on Guardsman.com. Tracy Hutson will select one lucky winner to receive a personal design session in their very own home. This includes a $1500 room re-accessorizing and shopping experience, plus a suite of Guardsman products!
"I wrote this review while participating in a blog tour campaign by Mom Central Consulting on behalf Guardsman Furniture Care and received a Guardsman product and a promotional item to thank me for taking the time to participate.