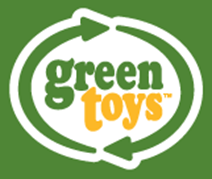 Many parents have become more concerned and more aware of what their children are eating, where it came from and what it contains. This concern and awareness has spread over into the realm of their children's toys.
Kids are notorious for putting their toys in their mouths. As more toys are being pulled from the market because of toxic elements being found in their construction, parents are looking for a safer toy alternative.
This is where Green Toys comes in! Green Toys manufactures toys from 100% recycled milk jugs… basically food grade plastic. No worries about BPA or PVC. They even try to avoid twist ties and other bothersome packaging items… their toys arrive in minimal cardboard packaging.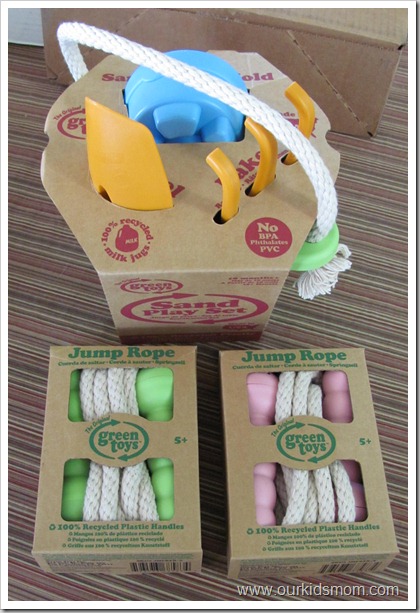 Green Toys sent Emma and Ethan two Jump Ropes and a Sand Play Set to review. They arrived just in time for them to be added to their Easter baskets.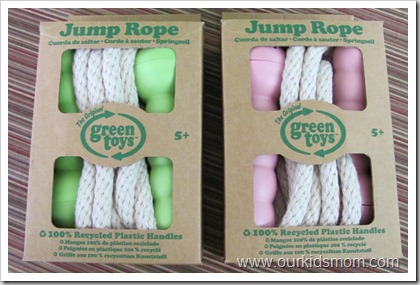 Crisscrosses and double-unders are all good for the planet when they are done with the Green Toys™ Jump Rope. This eco-jumper is made with US-made 100% cotton rope (7 feet long and adjustable) and 100% recycled plastic handles. Little jumpers can burn energy and save energy at the same time!!
When I first saw the jump ropes, I have to admit I was impressed with the quality. I guess I am used to the cheap jump ropes you can pick up just about anywhere (including "the marts"). These ropes are a very thick and durable cotton. The handles are a thick sturdy plastic… no collapsing from being chewed on for these handles!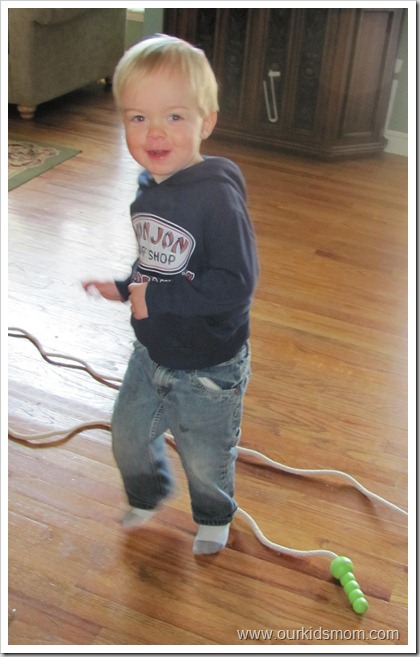 Emma and Ethan gave jumping rope the old college try, but alas they couldn't seem to swing the rope and jump at the same time. But that's okay! We have been encouraging our children to use their imaginations and be open minded to multiple uses for any object. Emma and Ethan decided to lay both jump ropes out in a line and pretend that the middle is a river. They then proceeded to take turns "jumping over the water".
Kids will dig building castles and hunting for buried treasure with the environmentally friendly Sand Play Set from Green Toy. Made of recycled plastic, this classic 4-piece collection of tools consists of a Bucket, a Sand Castle Mold, a Shovel and a Rake. Made in the U.S.A. from 100% recycled plastic milk containers that save energy, reduce landfill waste and lower greenhouse gas emissions, all in the name of Good Green Fun!!
I couldn't believe the quality of the Sand Play Set. I am a touchy feely type of person, so I took it out of the packing and gave it the once over. The bucket has a thick durable plastic wall and the handle is the nice thick cotton rope used with the jump ropes. I'm sure you have experience with the standard shovel and pale from the local "mart". My kids are very accomplished and can destroy a sand bucket in days. They will bring it to me with the handle hanging from one end and a big crack in the side. The same goes for the tools (shovel and rake). The ones from "the marts" are thin and break quickly.
Green Toys tools are thick and durable. I foresee several summers of sandbox play!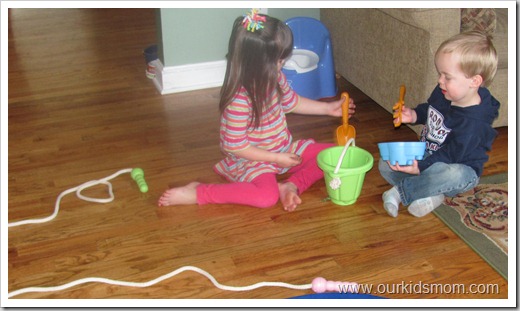 Unfortunately it was too cool out to go play in the sandbox, but that didn't seem to bother them. I caught this candid moment while they were "digging in the dirt" and making "sand castles" on the living room floor.
My overall opinion of Green Toys… I would definitely recommend them! If you spend a little more for these toys not only are you helping the environment (reducing landfill space and lowering greenhouse emissions) but you are receiving a toy you can trust in the hands (and mouths) of your children. These are made with 100% recycled milk jugs… food grade plastic. Not only are they safe for your children to play with (and chew on)… they are incredibly durable and will last a lot longer than cheaper versions.
*********
From CBS Smart Planet… the story of Green Toys.
BUY IT:
You can purchase the Sand Play set for $21.99 and the jump ropes for $10.99 each.
WIN IT!
ONE OurKidsMom reader is going to win a Green Toys Sand Play Set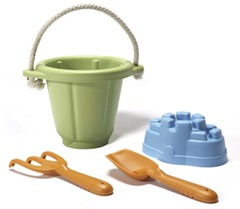 This giveaway ended at 11:59PM EST on May 25, 2011.

Disclosure:

This post was written by me and was not edited by anyone. The opinions expressed in this post are entirely my own and have not been influenced in any way. I received product for review purposes only. Your experience with the product may differ from mine. I was not financially compensated for this post. The sponsor is responsible for prize fulfillment and will be shipping the winner(s) their prize(s). For more information please read my disclosure policy.