Google Play Music Storage and Streaming Service
Complimentary service received. All opinions are my own.
Years ago, music was all about your digital library. I remember my oldest telling me how many songs she had in her iPod with a big grin.
I, for one, never joined those ranks. I have my favorite singers or bands, but the repetition of the same songs over and again bores me.
I just tuned in to my local radio station when I wanted to listen to music.
I've always enjoyed the radio, but there are good times and bad with that. Hopping stations to find a song you want to listen to can be distracting while driving and frustrating when everyone is on a station break or playing the same exact song.
Then streaming services came about and I thought… perfection. But which one?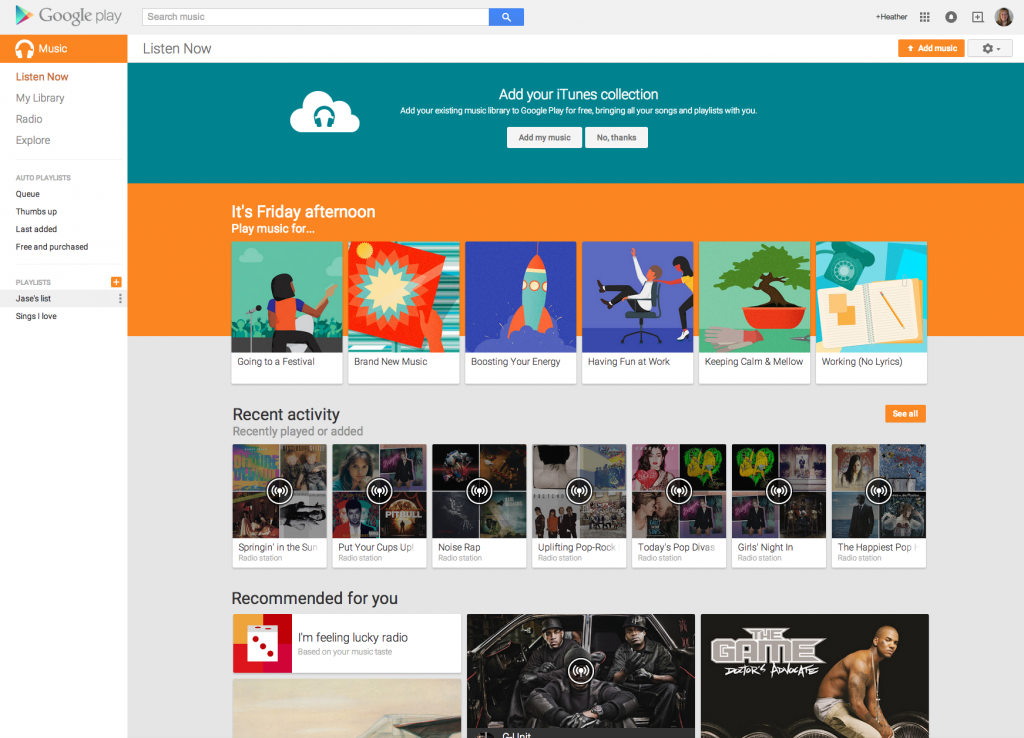 Over the past year or two I've made the rounds with several services and none of them impressed me enough to go with the paid service. When Google Play's Music Service asked me to try them out I had hoped it was the answer to my search.
The Google Play music paid subscription allows you to enjoy unlimited music in an ad-free environment with more than 30 million songs to choose from, along with music videos and curated music stations customized for your moment, mood or activity.
You can access Google Play Music from any computer or mobile device at any time.
With Google Play Music's cloud based service, you could previously store up to 20,000 of your own songs for free. You can now store up to 50,000 songs in your music library in their cloud. These songs can be accessed via stream or you can download them to your (iOS, Android) phone, tablet, computer and Chromecast. Amazing right?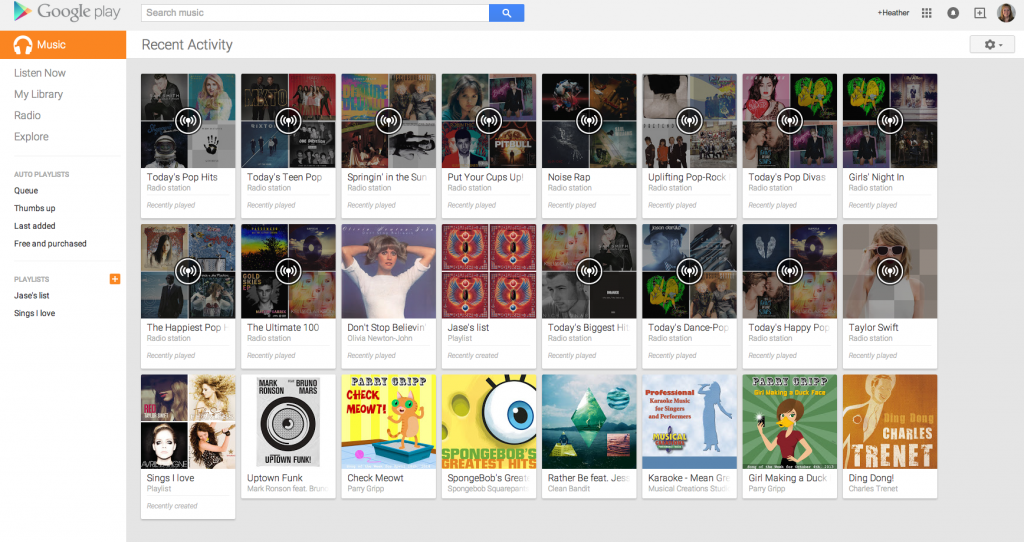 I love sifting through the "stations" to find new music to love and "old" music I already love.
My oldest were able to find obscure music videos from their tween years, my husband was able to find favorites like Journey's "Don't Stop Believing" and I was able to find my favorites from today's billboards.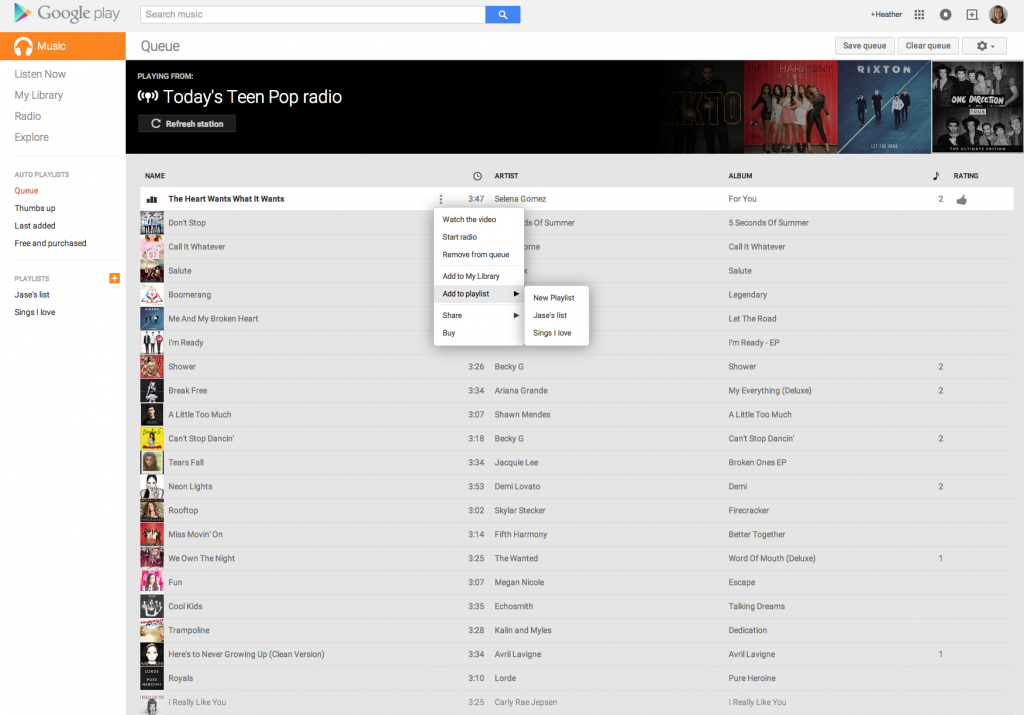 When I find something that I know I'd love to hear again, I give it a thumbs up and I also add it to my playlist. I especially enjoy my playlist on cleaning days when I will open it up, put it on shuffle and start cleaning.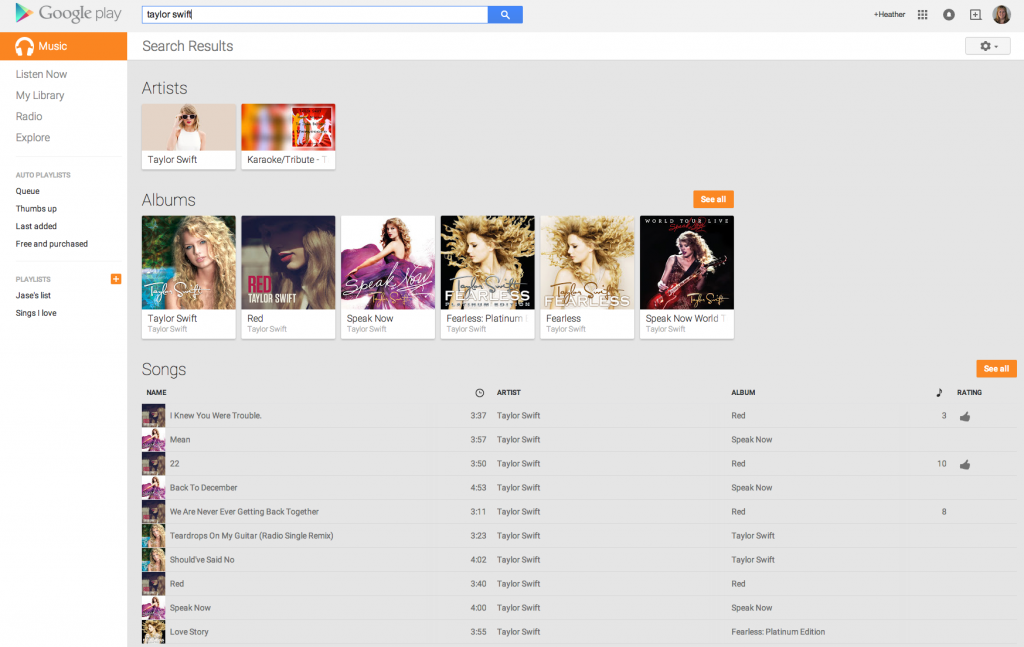 I also love that Google Play Music has top artists that some other streaming services do not. My daughter is 8 and is a Taylor Swift fanatic. In the search box we typed Taylor Swift and up popped her top requested songs.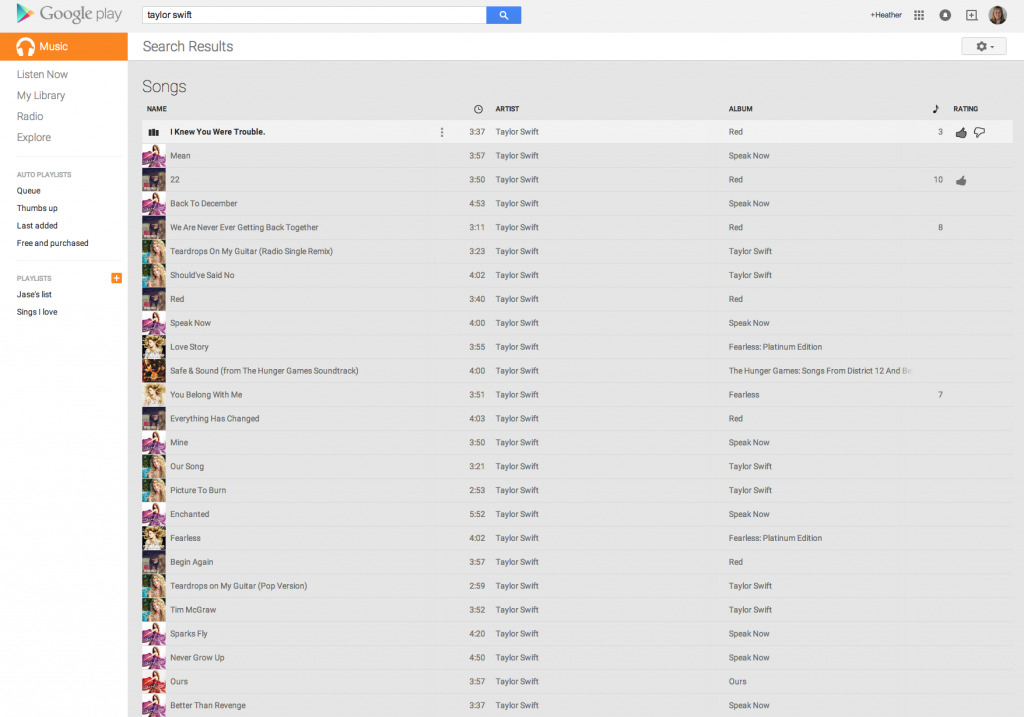 When I click on "see all"… I literally see them all. I have a made little "tween" playlist for my kids filled with their favorite artists and songs. They love it when I "tune in" for them in the car because now they can hear only the songs they like and love.
My daughter loves to control the music in the car through my phone. Google Play Music is simple enough to navigate that even my 8 year old can find what she's looking for without help. She can watch the video in back while the entire care listens to the music through bluetooth.
We've been using the service for over a month now and I can say without a doubt this is the first service I've used that I would be willing to pay for. For $9.99 a month I can listen to what I want, when I want, no commercials and can even store 50,000 of my own songs in the cloud for access anywhere… more than worth it!
Learn more about Google Play Music:
WIN IT:
ONE OurKidsMom reader is going to win a code for 1 year of service on Google Play Music RV $120!
This giveaway ends at 11:59 PM EST on May 3, 2015