Gluten Free Blueberry Chia Seed Muffin Recipe
Along with our new focus on eating "clean", my family has also been trying to avoid gluten when possible. When we eat this way we feel less sluggish and it's really not too difficult to adapt recipes, so why not? I used to use a box mix for my blueberry muffins and was missing them terribly a few weeks ago. This put me on a search for an acceptable muffin. The fact that this recipe adds in chia seeds just makes it all the more attractive… and yummy!
As you can see, my muffins have taken on a blueish/purpleish hue. This is because I used frozen blueberries and they began to sweat before I mixed them in. If the color doesn't matter… by all means use frozen (we do!). Otherwise I would advise purchasing fresh blueberries for this recipe.
We use a grain mill to make our brown rice flour, but it can also be readily purchased at your local grocery store or online at Amazon.com
If chia isn't your thing, consider trying this coconut flour muffin recipe by Regina Braun.

Gluten Free Blueberry Chia Seed Muffin Recipe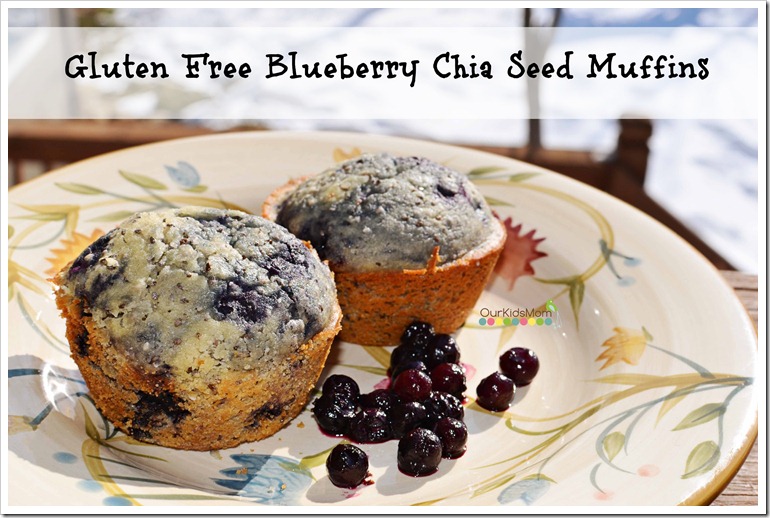 Prep time:
Cook time:
Total time:
Ingredients
1½ cups rice flour
2 tsp baking powder
⅛ tsp salt
¼ cup coconut oil
½ cup organic milk (we actually used almond milk)
¼ cup honey
¼ cup Chia Seeds
1 egg
1 cup blueberries
Instructions
Preheat oven to 400 degrees.
Prepare muffin pans with oil spray or line with paper liners. Beat egg, stirring in milk, oil and honey. Then add in the dry ingredients, stirring just until moistened (may be lumpy). Finally gently stir in the blueberries and seeds.
Fill muffin cups ⅔ full and bake 20-25 minutes or until golden brown.