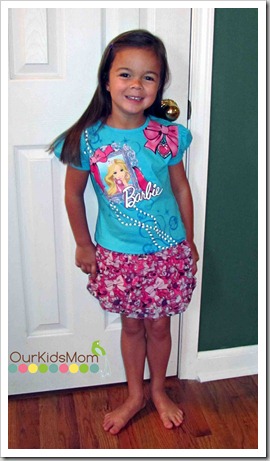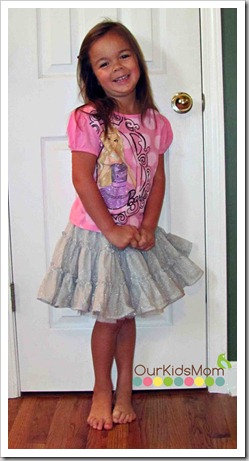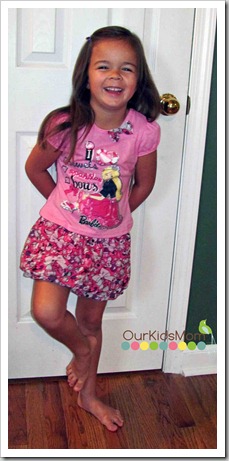 Emma has blossomed into the ultimate girly girl. I'm embarrassed to say that she owns six pairs of different colored sparkle shoes, her back pack is entirely pink glitter and any other piece of clothing that she can get with glitter is a winner in her book. Clothing choices and shopping can be a battle with her at times if she considers an item not girly enough (aka, not enough glitz and glam).
I surprised Emma with the big pink box of clothes this morning in hopes of a few big grins. As she slowly emptied the box I noticed her attitude getting a little better. She examined each piece as she pulled them out ending with the pink top with the most sparkles (which produced the biggest smile).
As you can see in her fashion show pictures and video, the clothes were adorable on her. We were able to mix all three tops with the single skirt shipped, although Emma had another idea for her favorite top and mixed in her own glitter skirt.
I love that the skirt has an elastic waistband (comfortable and easy for younger children to dress themselves with) and it has a hidden pair of pink shorts attached underneath for modesty. I always make Emma put a pair of biker shorts on under her skirts because when you are playing… you're not thinking about "Ooops, my underwear might show!".
The tops are all glammed out with glitter and bows, enough to make any girly girl smile. I did notice a slight difference in the cut/sizing even though all three tops were size 5T (one was a tiny bit shorter in length), but not enough to say that it doesn't fit.  Overall the clothing line was a hit in our house!
"
BUY IT:
You can purchase clothes from the new Barbie line at your local Wal-Mart
Prices run from $5.00 to $14.99  sizing runs from 2T – 5T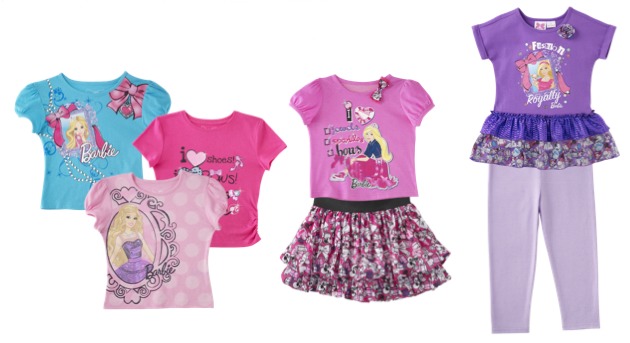 I participated in a campaign on behalf of Mom Central Consulting for Barbie Clothing. I received a sample package to facilitate my review as well as a promotional item as a thank-you for participating."