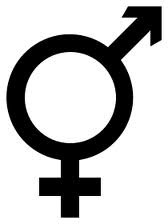 Childhood gender nonconformity is a phenomenon in which pre-pubescent children do not conform to expected gender-related sociological or psychological patterns, and/or identify with the opposite gender. Typical behavior among those who exhibit the phenomenon includes but is not limited to a propensity to cross-dress, refusal to take part in activities conventionally thought suitable for the gender and the exclusive choice of play-mates of the opposite sex. (quoted from Wikipedia)
Meet my Ethan… a sweet, adorable, lovable, happy little guy. He just likes to play dress up with his sister and cries hysterically if we can't find the particular Barbie he has misplaced.
When you see him, you'd never guess he is a tutu wearing, Disney Princess dressing up kind of guy.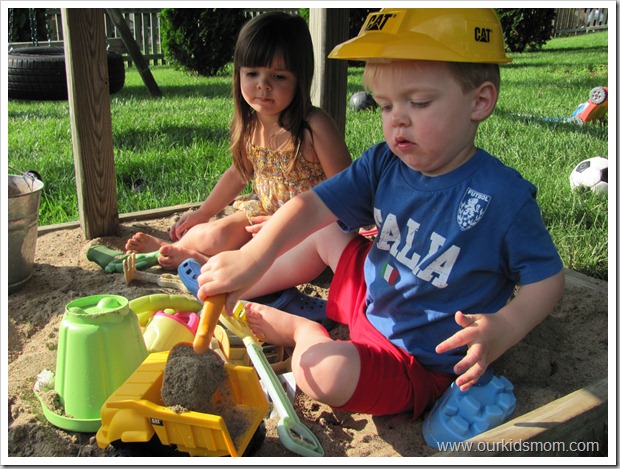 Don't get me wrong… he loves boy things, too. Getting dirty, heck yeah!
Kicking balls around the backyard… sweet! 
As a matter of fact, he has a backpack FULL of Hot Wheels cars that he likes to tote around the house and even sleep with on occasion (See it? It's the Cars backpack under the PINK blanket he is so attached to).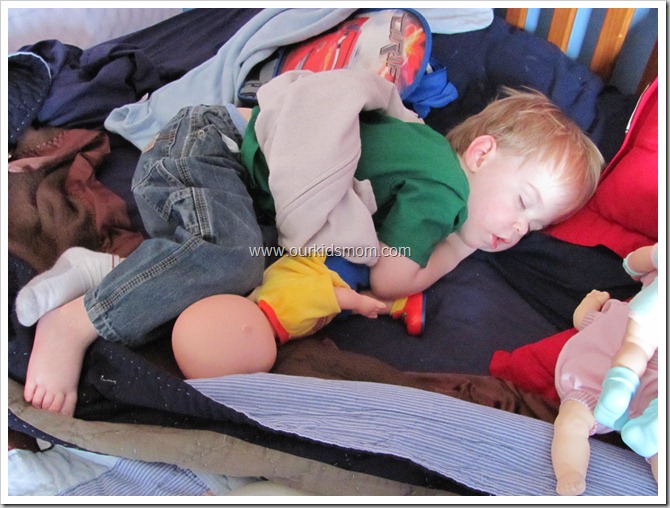 You might also take note of the pink baby dolls in his bed. This is a normal occurance.
And then without warning… he comes downstairs dressed like this.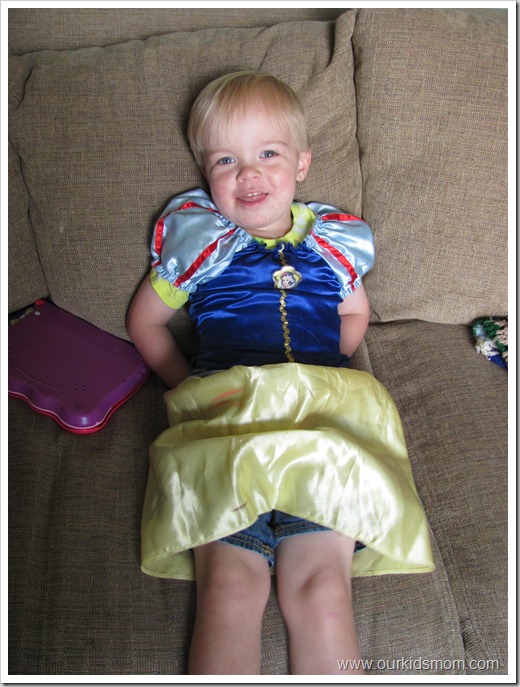 And it's not the first time, either! This has been happening on occasions usually spearheaded by Emma. This particular time I saw him dress himself (he asked me to fix the Velcro).
Remember the tutu pictures I've posted? Yep, dancing in the living room with Emma. But now he just puts it on because he wants to.
And he's been asking for the cars less often and crying for Barbie and Ken (yes, he cross dressed Ken in a blue Cinderella dress… nice huh?).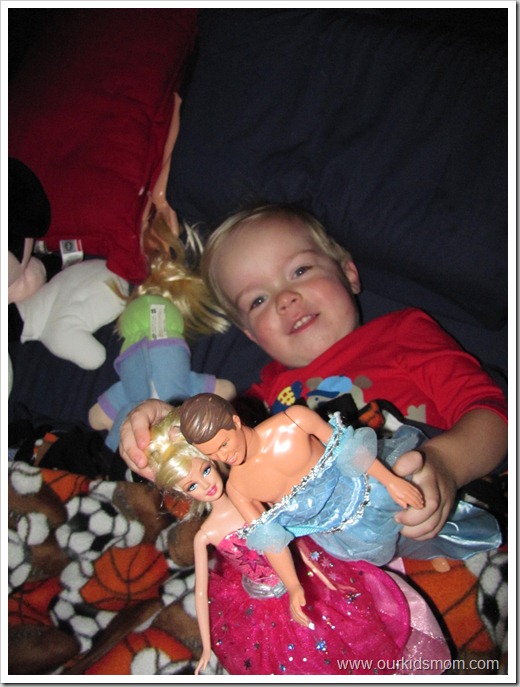 If you watched our "Big Kid Phone Call" video on the Pull-Ups/Target giveaway on the blog… you heard Ethan say he wanted a Barbie for pooping in the potty.
When asked what he wanted for his birthday today… a Barbie.
My thoughts are… he's happy, he's healthy, he is using his imagination, and he is probably playing with these toys because he looks up to Emma and wants to be like her. To me that makes him a well rounded individual.
To other people it can look like something else…. and I've heard a few comments.
Would YOU be worried if it were your son?