Gift card received. All opinions are my own.
It's the very last minute, but you still have some shopping to do. This year, our sponsor GameStop has some great ideas for how you can pick up some last minute holiday gifts from GameStop. Did you realize there are even some great things that will work for non-gamers? GameStop has a ton of awesome ideas for stocking stuffers, as well as last minute surprise gifts.
Extra controllers. Adding a new or extra controller for you gaming system to the kids stockings this year is a great last minute holiday gift from GameStop. They have a variety of gaming system controllers available. Not just traditional, but also all of the fun colors and designs that are unique to your family.
Great deals on gaming systems. Xbox, Playstation, Game Cubes, Nintendo 3DS, and more. Every gaming system you could imagine, including a few retro products that are perfect for the older gamer who may be longing for days of their childhood Atari or Nintendo.
Cell phones & Tablets. Did you know that GameStop also cares a variety of cell phones and tablets? From new to pre-owned refurbished there are a lot of options to choose from that can easily fit into the stocking of the non-gamer in your life.
Headphones and accessories. From basic inexpensive ear buds to drop into a stocking, to the ever popular Beats By Dre, GameStop has a large variety of headphones and accessories to choose from. These work great with your gaming systems, but are also excellent choices for the music lover in your family.
Cases and sleeves. Customizing your gaming system, cell phone or tablet is made easy with the giant variety of options available at GameStop to cover your products with. There are classic cases, as well as some fun designs or simple stickers to accessorize and really customize your systems with ease.
New and Pre-Owned Games. Whether they are asking for the latest big game, or you just want to give them a bit more variety in their play time, you can easily grab a variety of great games to tuck into stockings or put under the tree. GameStop keeps well stocked in-store and online with the latest and greatest games, as well as a large selection of popular classic titles and inexpensive fun titles kids and adults both will love to play.
Collectibles. From favorite game character calendars to the cute bobble heads, GameStop has an excellent selection of collectible pieces that are perfect for the kid or adult that is a true gaming fanatic. They even include some great retro pieces that will appeal to the fans of old school gaming.
Head to GameStop to grab some of the best and most fun last minute holiday gifts this year suitable for everyone on your list. GameStop isn't just about video games. They carry a wide variety of items that will be loved by everyone on your holiday gift giving list.
Did you receive an undesired gift card?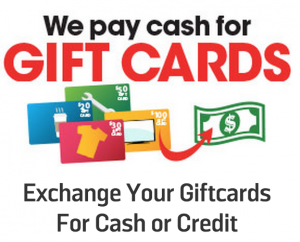 Gift cards continue to be one of the most desired stocking-stuffer gifts each holiday season, and now is the perfect time to gather up all of those gift cards and bring them to GameStop. Whether you are using a GameStop gift card toward the purchase of any pre-owned hardware, software, or accessory during the buy 2, get 1 free sale beginning today, or exchanging a less desired gift card from another retailer, GameStop can accommodate.
GameStop will pay store credit or cash for gift cards, which then can be used in-store on great, new gaming products at discounted prices, such as:
Video Game Hardware & Accessories
Xbox One 500GB Gears of War Bundle- $299.99 (regularly priced at $349.99)
Nintendo New 3DSXL Black, Red & Hyrule Gold- save $25
Astro A50 headset- save $75
PlayStation 4 camera- save $20
PlayStation Gold wireless headset- save $20
Video Game Software
Fallout 4- save $10
Call of Duty: Black Ops III- save $15
Assassin's Creed Syndicate- save $20
Destiny the Taken King- save $20
Batman Arkham Knight- save $20
The Witcher 3: Wild Hunt- save $20
NBA 2K16- save $10
FIFA 16- save $20
Rainbow Six Siege- save $10
Just Cause 3- save $10
Borderlands: The Handsome Collection- save $30
Madden NFL 16- save $20
Grand Theft Auto V- save $20
Rock Band 4 band bundle- save $50
Need for Speed- save $20
Payday 2- save $20
Was your stocking lacking the perfect nerdy gear such as Fallout socks? Thankfully GameStop has you covered and is taking 25 percent off of select apparel and such as socks, shirts, figures, board games, and more.
If the bitter cold of the winter air is frightening, fret not, as all of the deals and discounts can be found online at www.GameStop.com.