When I met my husband, his family introduced me to the joys of playing board games. My family played a lot of cards but not much in the realm of board games. I never realized how much fun adding a board and some dice to my cards could be. After we got married we slowly began to collect games at garage sales and thrift stores. We were poor college students and board games were our main form of entertainment. We have an entire wall in the garage full of them now and pull them out on Sundays for family time.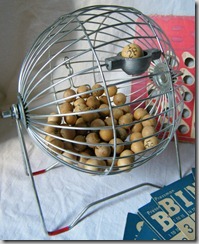 After my Grandfather passed away my Grandma (we called her Nanny) found Bingo. Going to Bingo gave her the excuse to get out of the house and spend a few hours gabbing with her friends about the week. When I came to visit she would bring me along… I can still hear her deep belly laugh and smell the smoke (yuck) associated with those evenings.
Nanny's health declined and she finally agreed to move in with my Dad. She missed her friends and the thrill of "being on" (only needing one more number). I suggested she play online Bingo… all the thrill and you don't have to leave the house

. After a little nudging she agreed and it soon became her favorite pastime.  If she wasn't reading a book or watching a show, you'd find her on the computer.
My husband and I have ventured to a few Bingo halls on our date nights, we're wild people huh? I like to remember my Nanny, experience a little adrenaline and people watch. Even us youngins like to play Bingo occasionally. Now that Emma and Ethan are a bit older I might even hunt down a "board game" version to add to our Sunday afternoons.
Brought to you by

. All opinions remain 100% my own.