This post brought to you by Walmart. All opinions are 100% mine.
It's been several years now since I've had to worry about feeding a newborn. My first choice had always been breast feeding, but there was a time in two of my four children's lives that I needed to turn to formula. The prices on the leading brands scared me then, seeing them at my local Walmart the other night put me into a panic attack!
Fortunately there are more choices than just the leading brand. Parent's Choice™ Infant Formula is an amazing option for moms everywhere, allowing them to give their baby the nutrients they need and save money in the process!
Not only do they carry a number of choices, but Parent's Choice Formulas are clinically proven to be as well tolerated as the national brands.

Parent's Choice™ offers:
Parent's Choice™ Advantage Powdered Formula
Parent's Choice™ Premium Powder Formula
Parent's Choice™ Gentle Powdered Formula
Parent's Choice™ Sensitivity Powdered Formula
By going to the Walmart website and checking out the Parent's Choice™ page you can read about all the great values of Parent's Choice™ as well as see how much you will save in comparison to leading brands.
I compared Parent's Choice™ the type of formula I used to buy… I'd save $574.54 in a YEAR by switching! That's just crazy.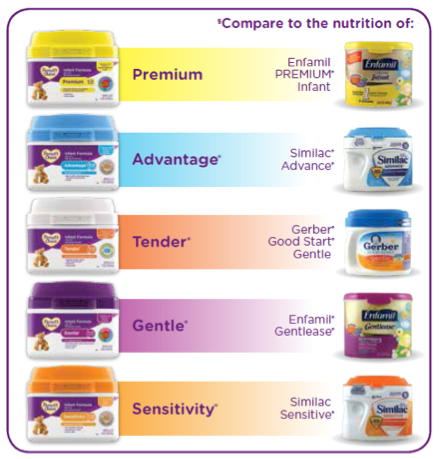 Some great positives of Parent's Choice™ formula are:
Compare to Similac® and Enfamil®†
Meets FDA standards like all infant formula
Contains DHA and ARA, which may support brain and eye development
Milk-based formula
Iron-fortified Calcium for strong bones
Prebiotics to support your babies' immune system
So go online and check out Parent's Choice™ so you can give your baby the best and save money at the same time!