Surround yourself with sound…
Twist and shout with the PartyCube™ CD Sound System – a portable, yet impressively durable system that includes a built-in top-loading CD player so you can enjoy your favorite music via MP3 or disc. With a rechargeable lithium-ion battery and four multi-directional speakers, the PartyCube™ CD Sound System fills any room with great sound and works with your iPod® or iPhone®.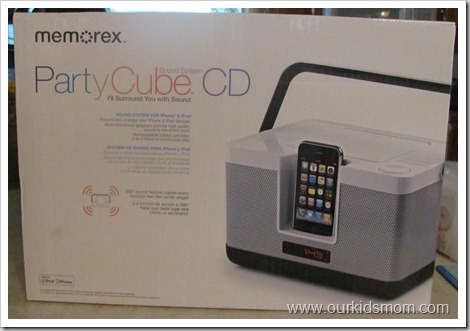 I was a total 80's child with the huge boom box with dual cassette player… remember those?
This is the all new, up-to-date version that plays the radio, a CD or your iPod.
When I was offered to review this I had mixed emotions. Why? Because I have been in the market for a "kitchen" radio and purchased a couple to find that they have poor sound quality… kind of tinny. I was looking for a full sound in a little container… was that too much to ask?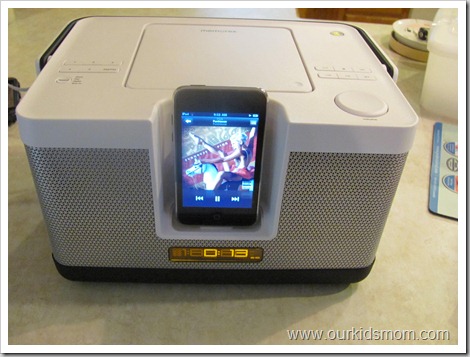 The Memorex PartyCube arrived and we excitedly tore through the packaging. I instantly fell in love with the design/look. It was stylish, not flashy… and it was in all essence a "cube". The layout of the buttons, am/fm radio, volume and CD player were well thought out and using them was instinctual. I was too excited to play with it to read the instructions… and I didn't need them.
So the big question of the day… how did it sound?
It filled the room!
That tiny little box put out a nice full bodied sound and it was delightful. The speakers wrap around the PartyCube to help "fill the room"… you don't need to be right in front of it to get an ear full.
But don't tell Emma that!
(she is actually watching a music video while I listened to the song :O)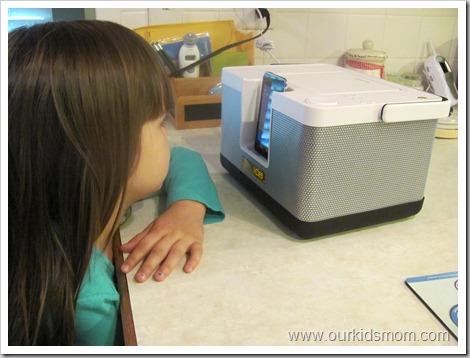 The Memorex PartyCube features:

Power and charge your iPhone and iPod devices with docking capability.

Multi-directional speakers provide high quality sound to the entire room.

Rechargeable lithium-ion battery provides 4 to 6 hours of continuous play.

Digital AM/FM Radio with station presets.

Line-in jack for connecting to other digital audio devices.
I am very pleased with the Memorex PartyCube and it has earned a permanent place on my kitchen counter.
Dad would love this for Fathers Day!
Think garage, back porch, back yard, tailgating…
BUY IT:
You can purchase a Memorex PartyCube for $85.39 at Amazon.com (sale price… MSRP $149.99)
Connect with Memorex:

[tweetbox width=500 height=50 label=Retweet! content= "Memorex PartyCube CD/AM/FM/iPod/iPhone Sound System Review @ourkidsmom %u "]
I received product for the purposes of review only. All opinions are 100% my own. I was not compensated for this post. Your experience with the product may differ from mine.