We are a somewhat non-traditional household when it comes to gift giving holidays. Many times we decide what the family wants as a whole and purchase that, or sometimes purchase a "need" (depending on hubbies projects at the moment… usually a power tool). We prefer to invest in something that will be used and enjoyed versus cards, flowers, stuffed animals… you know the drill.
This year I was brainstorming ways for the kids to connect with their Dad in a fun way. The Nintendo Wii is just that! It's fun, interactive, physical and is appropriate for the entire age range we have in this house… from 3 through 44!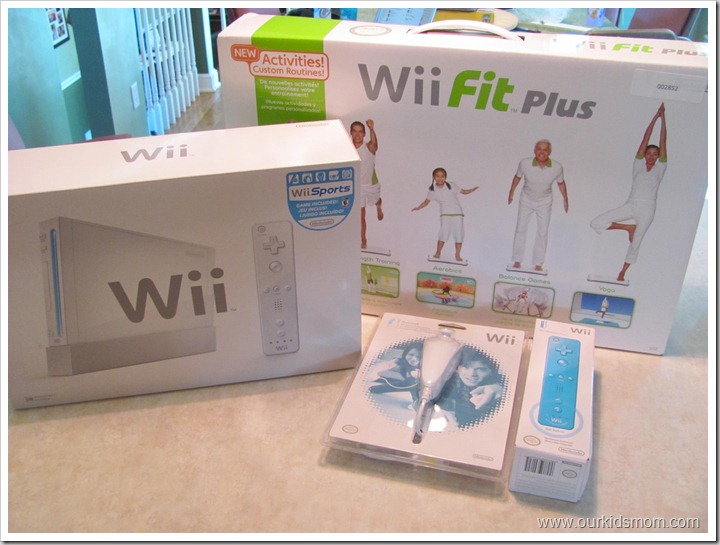 I'm fairly positive most of you have heard of, seen, or even played with a Nintendo Wii by now. It's not a new gaming system but it is still relevant and fun for a family of six. The Wii uses special motion sensitive controllers that allow you to swing a bat, throw a punch or drive a car with the flick of the wrist instead of using buttons to control your movements.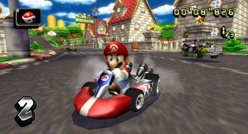 We've been playing the Wii for a while now and are loving it. I've found that the time we (as grown ups) spend with the kids (especially the two little ones) playing the Wii ends in giggles, grins, squeals and hugs. Right now Emma and Ethan's favorite game is Mario Kart Wii. The concept of driving a car is fairly simple for them to pick up and they have been known to blow old mom out of the water in these races. Mario has been part of our family for nearly 20 years now starting back with the original Nintendo, through the Nintendo 64 and now the Wii. I always enjoy any game with Mario in it as they are not overly stimulating, family friendly and the graphics are adorable. My husband has declared Super Mario Galaxy one of his favorites already.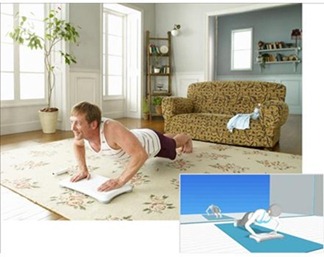 The Wii Fit Plus is also a game/product that is appropriate for every member of the household. Now you can keep track of your fitness goals, weight, have customized workouts, a calorie tracker and a personal trainer all in one place… your living room.
My husband tends to get enough cardio in with his runs, but he especially loves the Wii Fit Plus for the Yoga and strength exercises. If it is a particularly gloomy/rainy day he can look to the game for a little cardio through obstacle courses, cycling, jogging and more.
The kids all have different favorites, but some of them include ski jumping, soccer, hula hoops, segwaying and the bulls eye game. All of the games included require some type of physical movement that works on areas like cardio, balance, strength training combined with plain old fun. You know it's a great product when (1) the kids fight over who's turn it is (2) they hang around to cheer each other on (3) the little ones beg to play.
Even though I reviewed this as a family product… I still believe it would make a great Father's Day gift for the guy in your life. My husband has been known to sneak downstairs for a few minutes of quiet fun after the hecticness of the day had died down. Being that he was a teenager in the age of video games he is able to find relaxation and enjoyment in even the most stressful parts of the game (unlike myself!). Whether he's doing downward dog or racing through the mushroom cup I know the Wii is a great (investment) gift for (the family) him.
BUY IT:
You can purchase a Nintendo Wii with Mario Kart Wii bundle for $169.95 at Amazon.com and a Wii Fit Plus with balance board for $91.17 at Amazon.com
Connect with Nintendo for up to date product information and promos:
Disclosure of Material Connection: I received one or more of the products or services mentioned above for free in the hope that I would mention it on my blog. I only recommend products or services I use personally and believe will be good for my readers. I am disclosing this in accordance with the Federal Trade Commission's 16 CFR, Part 255: "Guides Concerning the Use of Endorsements and Testimonials in Advertising." The opinions expressed in this post are entirely my own. Your experience with the product may differ from mine. The sponsor is responsible for prize fulfillment and will be shipping the winner(s) their prize(s). For more information read my disclosure policy.