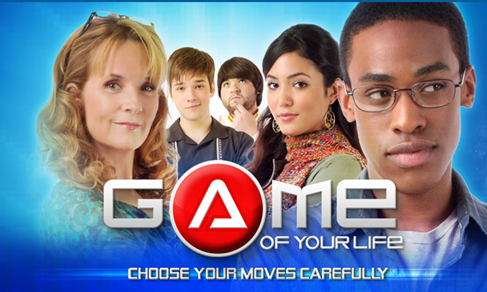 Wal-Mart and P&G have teamed up again for another Family Movie Night.
This Friday December 2, 2011 at 8/7 CST Game of Your Life premiers starring Titus Makin Jr., Dana De La Garza, Nathan Kress, Adam Cagley, Lea Thompson, Ric Reitz and Tom Nowicki. 
When high school gamer Zach Taylor lands a scholarship to an exclusive video game design program led by billionaire icon Marcu Bentton, his future takes a promising turn… as long as he can survive the intense freshmen project that eliminates half of the class in the first three months. Teamed up with determined group leader Sara and his brilliant, yet socially awkward roommates, Donald and Phillip, the four set out to involve the entire campus in a quirky new social interactive game. As the project intensifies, Zach learns that his father is in financial trouble. Distracted and desperate to help, he accepts an opportunity to work with Bentton on a secretive and suspicious side project. Zach finds himself stretched to his limits and torn between his responsibility to the team and his desire to help his father. With nowhere else to turn, he confides in Professor Abbie Lambert and is forced to make a decision that will affect his future and the lives of everyone around him.
I love Family Movie night movies. They offer wholesome programming that teaches important life lessons and spurs meaningful conversations between parents and kids. This particular show demonstrates that sometimes you have to make difficult decisions. Having to choose where your loyalties lie is sometimes a reality and effects everyone around you. It also proves that even though your intentions might be in the right place you really decisions need to be made with careful discernment.
Connect with Family Game Night:
"I wrote this review while participating in a campaign by Mom Central Consulting on behalf of P&G and received a promotional item to thank me for taking the time to participate."