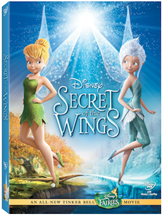 Enjoy these fall facts and fun activities in anticipation of the October 23rd Blu-ray™ Combo Pack, DVD and Digital release of SECRET OF THE WINGS!
A magical fairy adventure for the whole family, SECRET OF THE WINGS invites audiences to join Tinker Bell and friends on their new adventure into the never-before-seen mysterious Winter Woods, where Tinker Bell finds out that she has a sister and discovers other incredible secrets that will change her life forever. 

FALL GARDEN
The change in the colors of the leaves tells us that fall is here. It's the end of the growing season. This time of year can be quite busy for gardening, as many plants over-flower and leaf litter can spread throughout your garden.
ROSETTA'S TOP FALL GARDENING TIPS 
Pixie Hollow, home of Tinker Bell and her friends, is a magical place, filled with many colorful flowers and trees. It is not surprising that so many fairies live there! Tinker Bell's close friend, Rosetta, is a garden fairy whose talent is nurturing plants and flowers.
This guide looks at simple ways of making and maintaining your very own Pixie Hollow garden. Ask a grown-up to help you follow Rosetta's top seasonal gardening tips!
Collect seeds from flowers and keep them safe, ready to plant next year!
Notice how the leaves on the plants change from green to bright yellows, reds and oranges before they drop to the ground.
Collect some of the dropped petals from the summer roses, put them on a folded piece of paper and make a flower press by compressing the paper between two heavy books.
Clear away old vegetation to make room for new growth. Pile this in the corner of your garden. It will become a compost heap after all the plants decompose. Later, you can use the mulch for feeding new growth in the garden.
Be careful when you clear the ground as some animals and insects might be making their home for the winter there.
FANTASTIC FALL FACTS
At the beginning of fall, days start to get shorter and the nights draw colder. But it isn't all doom and gloom, as this season can be one of the most beautiful…
When fall draws closer, chlorophyll, found in all plants, is no longer needed, and is discarded. Chlorophyll keeps plants green and when it is no longer present, other colors emerge, bursting with vibrant reds, oranges and yellows. Nothing can match the way the sunlight shines through these golden hues, as Iridessa, Tinker Bell's friend the light fairy well knows.
When leaves fall and decompose on the soil, they release their minerals back into the earth providing nutrition to the tree from which they fell.
Nuts and seeds become readily available during fall. Animals, such as squirrels, collect them in preparation for hibernating throughout the winter.
Secret of the Wings is available on Blu-ray Combo Pack and HD Digital October 23rd.