My husband and I sometimes tease each other about purchasing the largest screen television possible and making a "movie wall" in our lower living room. If we were to remove the television that is mounted on that wall right now we'd have a fabulous canvas for it! That's why when I was offered an Epson Home Cinema 500 to review I jumped at the chance.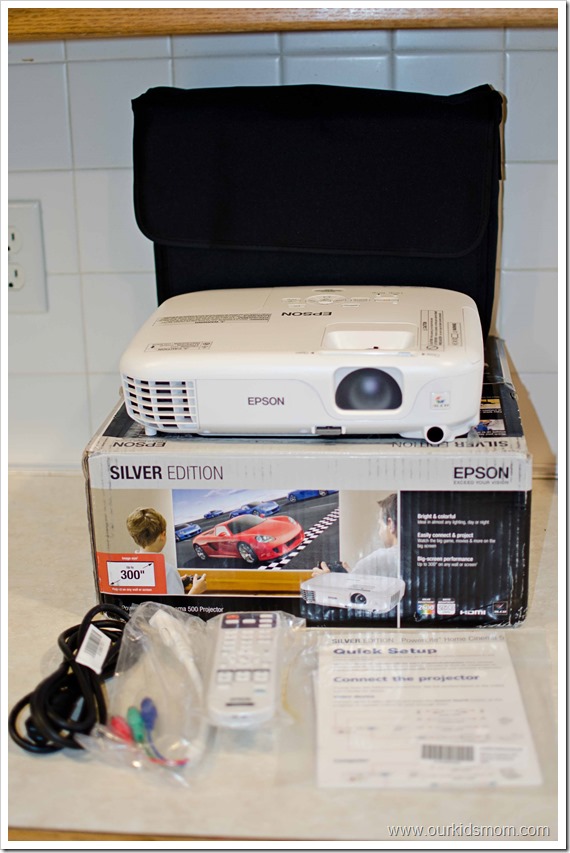 The Epson Silver Edition home theater projector offers amazing home entertainment from a versatile, yet simple performer. Delivering 2600 lumens of color brightness (color light output) and 2600 lumens of white brightness (white light output), using Epson's 3LCD, 3-chip technology, it projects brilliant images with true-to-life color. It's the perfect way to turn your garage into a man cave, host exciting backyard movie nights, or enjoy the big game. All you need is a blank wall. And, setup is a breeze with built-in image adjustment tools. Plus, the Silver Edition home theater projector includes HDMI connectivity for all of your entertainment devices, including your Blu-ray® player, game console, streaming box, and more. The smart choice for incredible at-home entertainment, the Silver Edition home theater projector is always ready to perform.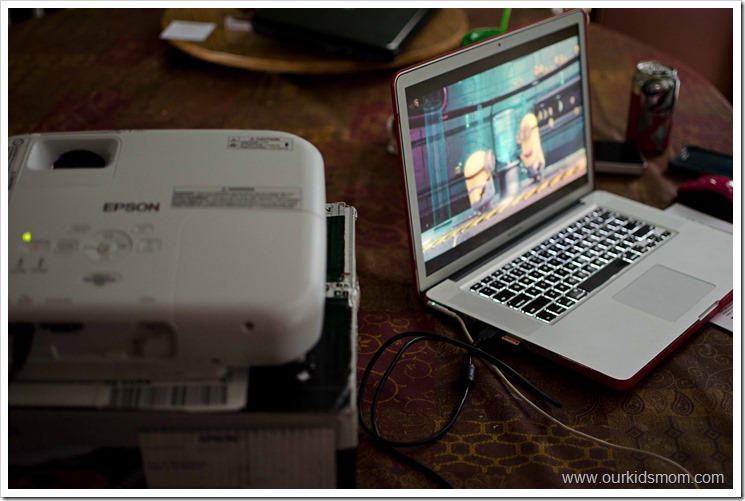 Setup right out of the box was a breeze. The kids had been home for several days because of the snow so we decided it was time for a "trip to the movies". I connected my laptop to the projector via USB, popped in Despicable Me and the kids took a front row seat in our dining room chairs. The plug 'n play instant setup made this experience fantastic.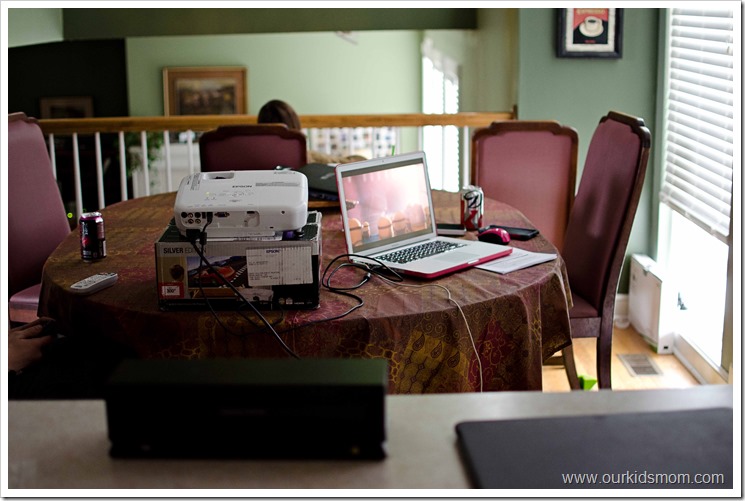 As you can see, it was still daylight out and I had worried about the picture quality in such a bright room. To my surprise we still had a nice crisp picture.
While the children were watching I decided to play around a bit to see how much of a theater-like presence I could make. Although the projector has built in speakers I felt that they were a little on the weak side. I decided to grab my external bluetooth speaker (the rectangular black box in the front of picture) and I connected it wirelessly to my computer.
BAM! The entire experience changed. I felt like being an A+ Mommy that day so I cranked the sound way up so the kids and I could lose ourselves in the movie. Because of our vaulted ceilings, the sound bounced around and the bass boomed allowing us to escape into the minions world.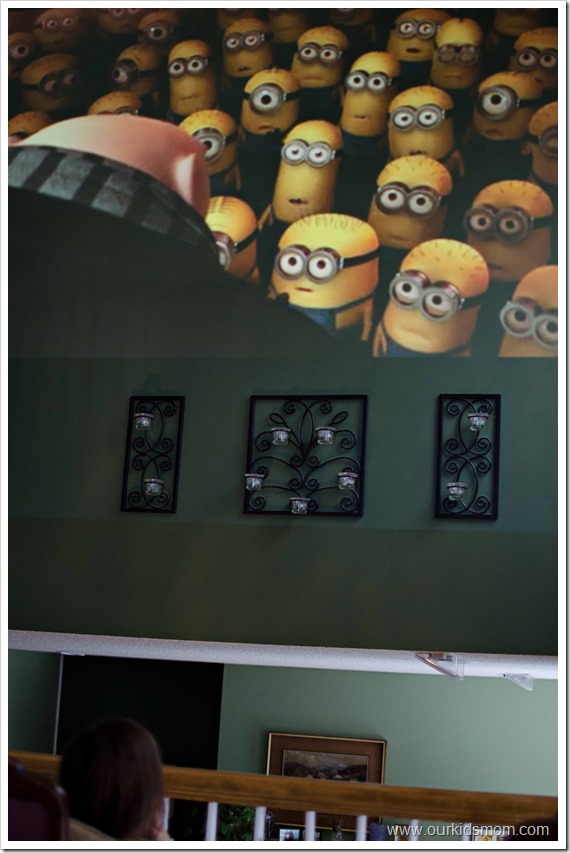 These two pictures (above and below) were both taken while the room was fairly lit. As you can see, the picture quality was surprisingly sharp.
The Home Cinema 500 features:
Up to 3x Brighter Colors and reliable performance — 3LCD, 3-chip technology*
One measurement of brightness is not enough — look for both high color brightness and high white brightness.
The PowerLite Home Cinema 500 has: Color Brightness: 2600 lumens1
White Brightness: 2600 lumens1
Brilliant image quality — supports widescreen content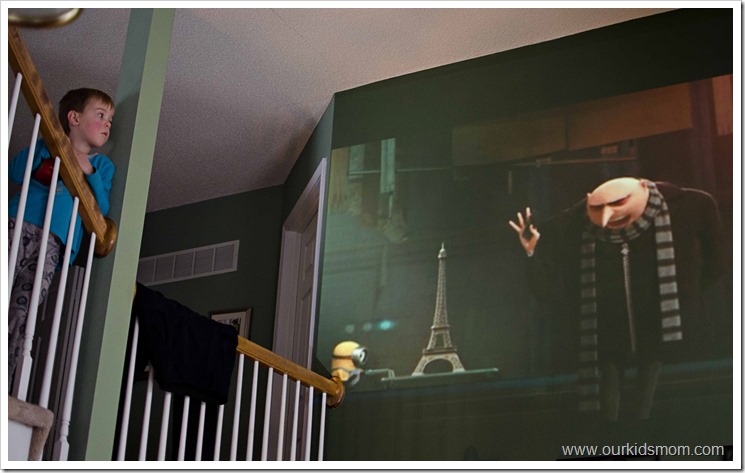 Here is a shot of Ethan heading upstairs for a second. He couldn't help but stop to view the movie from the balcony. I thought this would give you a little perspective as to how BIG the picture really was. If I had had more wall the Home Cinema 500 would have been able to project an even larger image without losing quality.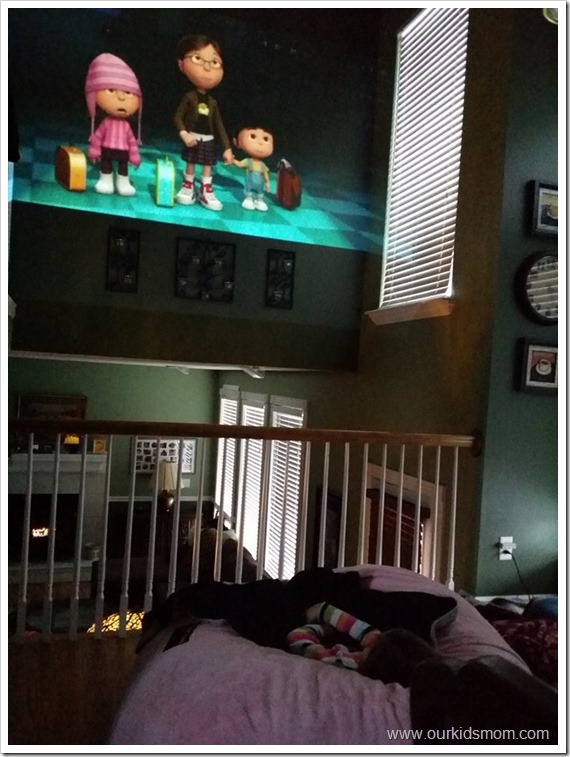 The snow wouldn't stop and the kids were home for yet another day. Because they enjoyed their movie experience so much the first day, they begged to watch Despicable Me 2 through the projector. This time we moved the kitchen table back, brought out the bean bags and blankets and waited for the rooms to get a little darker. As you can see, they were quite comfortable and the picture was fabulous in the dimly lit room.
I am in big puffy

love with this projector. I've got a few summer plans up my sleeve already that include a few of the neighborhood friends, big bowls of popcorn and other snacks, lawn chairs/sleeping bags and a HUGE movie projected on the side of our house.
Another plan… hook up one of our gaming consoles to the projector and let the kids have a video game night with their besties.
With the compact, lightweight design and remote control the setup for these events will be a snap.
All of these plans are null and void, of course, if hubby and I finally make our "movie wall" dream happen and hang the projector from the ceiling in the living room. Either way, I'm dreaming big.
Check out this short video of our setup and movie in progress… 
)
Connect with Epson:
BUY IT:
You can purchase the Epson PowerLite Home Cinema 500 on the Epson site.