Epic Sports, one of the nation's leading online sporting goods retailers, is running a new sweepstakes entitled the "Epic Sports Win with Friends Sweepstakes" from now until June 25, 2012.  Entering this sweepstakes is fast and easy, all you need to provide is a name and an e-mail address so you can be contacted if you win, and that's pretty much it.  Bonus entries are available when your friends enter the sweepstakes after you do, using a link that you shared with them at the point of entry.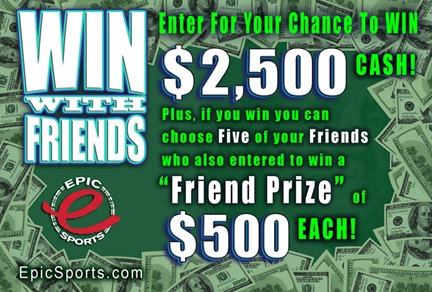 The grand prize is $2500 and the opportunity to choose up to 5 of your friends to win $500 each!  Only those who enter can win, so the winner's selected friends need to have entered as well in order to be eligible to win the "friend prize," but Epic Sports makes that easy with the share feature added into the entry process.
 
Why is Epic Sports giving away $5000?  Epic Sports regularly runs sweepstakes to thank its valued customers and to encourage others to check out the Website and see for themselves the great deals that are available at Epic Sports.
 
You can enter this sweepstakes by visiting the Epic Sports Website and clicking the sweepstakes banner that's on the right.  Here's a link to the page (this is not a referral link, it has been provided by Epic Sports): http://soccer.epicsports.com/?trk=34105.
 
Want more info?  Here's a link to the official rules for the Epic Sports Win with Friends Sweepstakes: http://soccer.epicsports.com/win-with-friends-rules.html/?trk=34105.
This post brought to you by Epic Sports.