End Result | Getting Organized with Fellowes Bankers Box | #GetOrganized #BankersBox

Earlier this month I announced that I was chosen as a Fellowes Bankers Box Stackable Storage Ambassador. This was a two month program with a fun giveaway included and I am ready to share with you my "after"!
I had mentioned in my last post has incredibly easy and quick the boxes were to assemble. The double and triple wall construction gave strength and weight to the boxes, which gave me more confidence that it was alright to load them to the top without worry that the bottoms would collapse when I had to take them down to find something. The plastic handles reinforce the hand opening so that it's more comfortable to carry a heavier box and also provide more stability so that the box won't crumple and break down from use.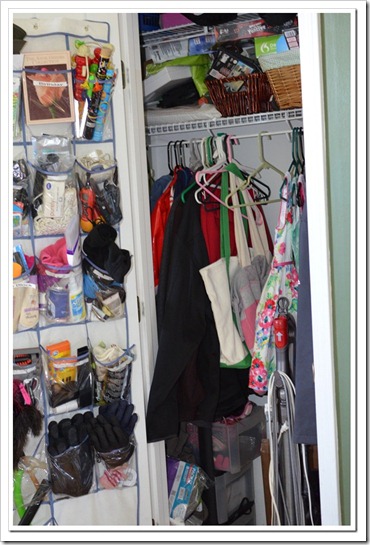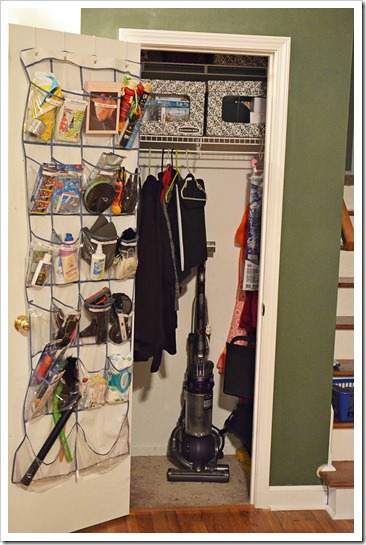 As you can see in the before photo (on the left) my organization was lacking. I was using old baskets and when they were full I was simply stacking items on top of each other hoping to get it all crammed in enough that it wouldn't fall out on my head when I opened the door. My good intentions of sifting through my mess never came to fruition. Something had to be done.
The after photo on the right shows how neat and tidy everything looks when put into the boxes. I sifted through and tried to put like items in the same box for ease of finding at a later date. Having a transparent side will help finding those items quickly… see through sides are genius.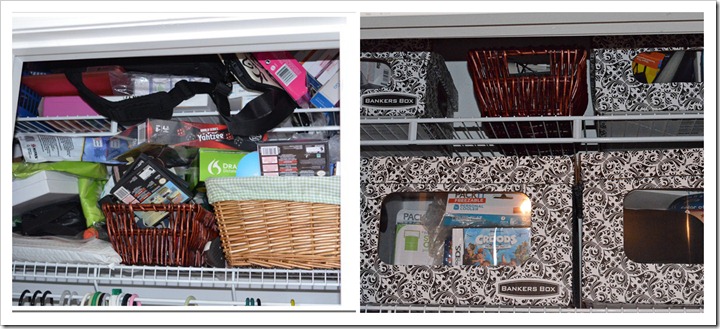 Above are close-up shots of my before and after. I can't even count on one hand how many times I've had to stand on a chair to "try" to find something in my cluttered mess, only to have several other items beside it tumble out. Now that I am organized, finding things should be much easier. Since I am the person that packed the boxes, I put an item in front "windows" that would remind me what else was in the box. Because I had multiple sizes of boxes at my disposal, I stacked the smallest two high on the top shelf with items that weren't accessed as often. The lower shelf I used medium sized boxes that allowed me to put quite a bit more in. When I need to find something, I have fewer boxes to peek in.
No matter what room or space you are tackling, the Fellowes Bankers Box Home Organization website has what you need to declutter, organize and store your items.
Do YOU have a messy closet, too? Then listen up!
Fellowes Bankers Box is holding a 'Messiest Closet' Contest where you can enter to win a consultation with a professional organizer from the National Association of Professional Organizers and receive up to $500 in free Bankers Box Stackable Storage products!  Five second place winners will also win $500 worth of product. Click here for more information: www.facebook.com/bankersbox
There was also a giveaway on my last post…
ONE OurKidsMom reader was going to win a mixed set of 10 Fellowes Bankers Boxes RV $86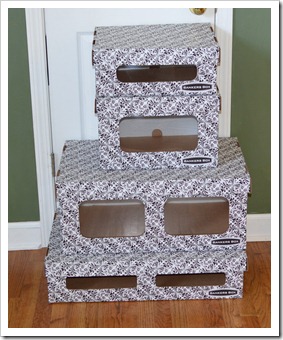 I'm happy to announce that the winner is…
entry 1239 Ann Fantom
Disclosure:  I participated in a campaign on behalf of Mom Central Consulting for Fellowes Bankers Boxes. I received product samples and a promotional item as a thank you for participating."