eiTech Metal Construction Sets | Combine and Tractor Trailer Set
Sample received. All opinions are my own.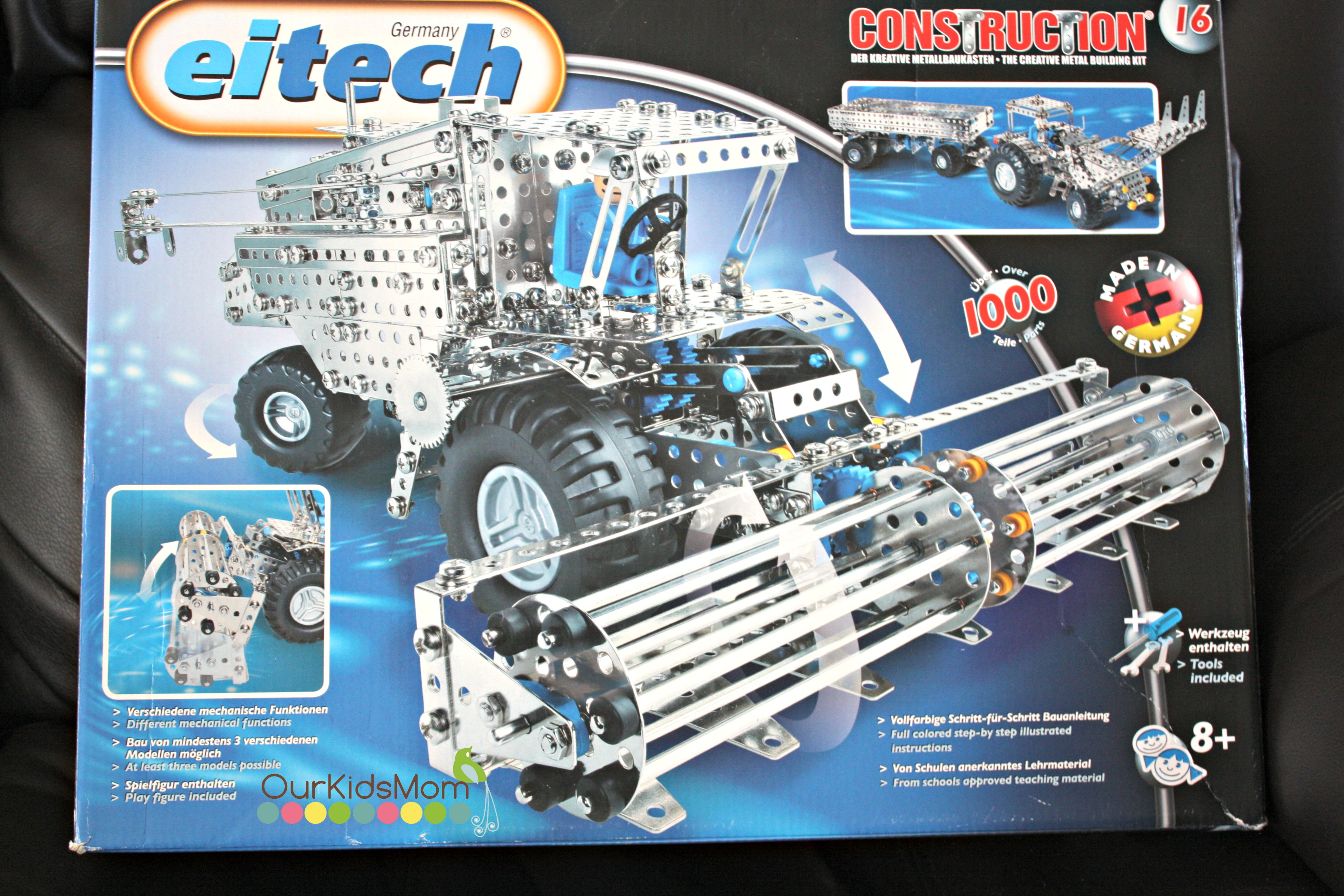 Karson is almost 7 now and absolutely LOVES his building sets. He has such a building imagination that when I was asked to do a review on eiTech I thought absolutely as it has Karson's name written all over it.
The construction sets are mostly all metal and look fun to jump into. From eiTech I was sent the Combine/Tractor Trailer set. We live in farming country and every fall we watch out in the fields all the combines working while they harvest the fields so the combine was a must.
Karson was so excited when the eiTech construction set came. The plan was this to be a father/son project to do together as Karson is just turning 7 and the age on the box says 8+. It was going to be a few days before his dad went on days off and was going to be able to start this with Karson. Everyday he would sit there looking at the box telling himself how he wished today was the start day, I was so excited for him to start.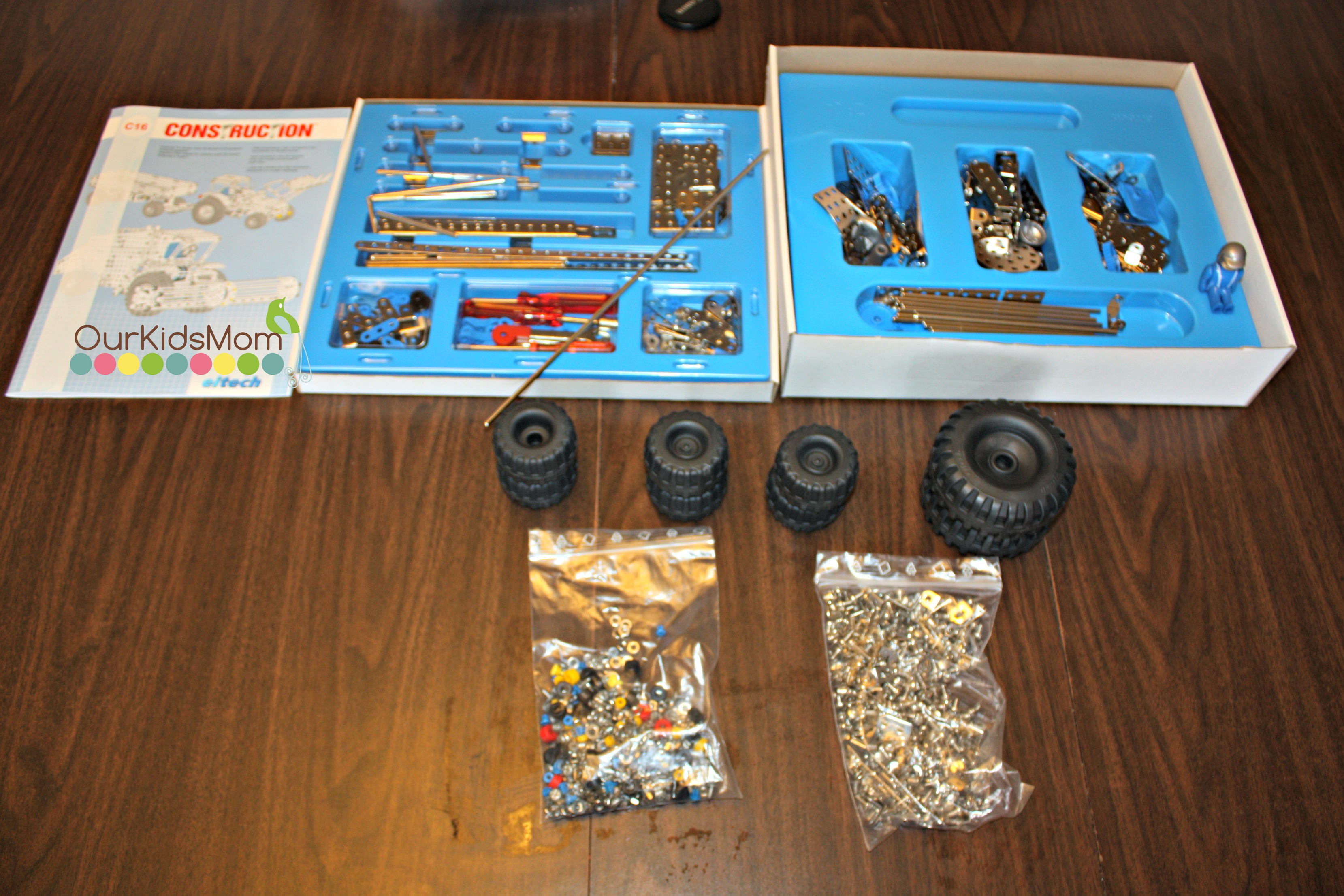 The day came to start on the eiTech! Now with this particular set you can choose between building a Combine or building a Tractor and Trailer set… of course Karson chose the combine.
I was at work when they started and when I walked in the house Karson was all excited because the day had finally come. He and Ryan were sitting at the kitchen table beginning the set. Opening the box there are a lot of pieces, very tiny pieces. The sets include the tools you will need, however I did learn later on that a set of pointy tip tweezers or pliers would have been super helpful.


His dad was trying to find ways to include Karson but with the pieces being so tiny and such small areas to place the pieces together it was not a 2 person project, so Karson was happy to just watch.
However about 45 minutes into building Dad started to complain that his fingers were cramping. He made it to step 3/42. Since I'm, of course, Super Mom this is where I stepped in. Well, actually took over. I love building stuff and anything that needs to be assembled everyone knows mom does it.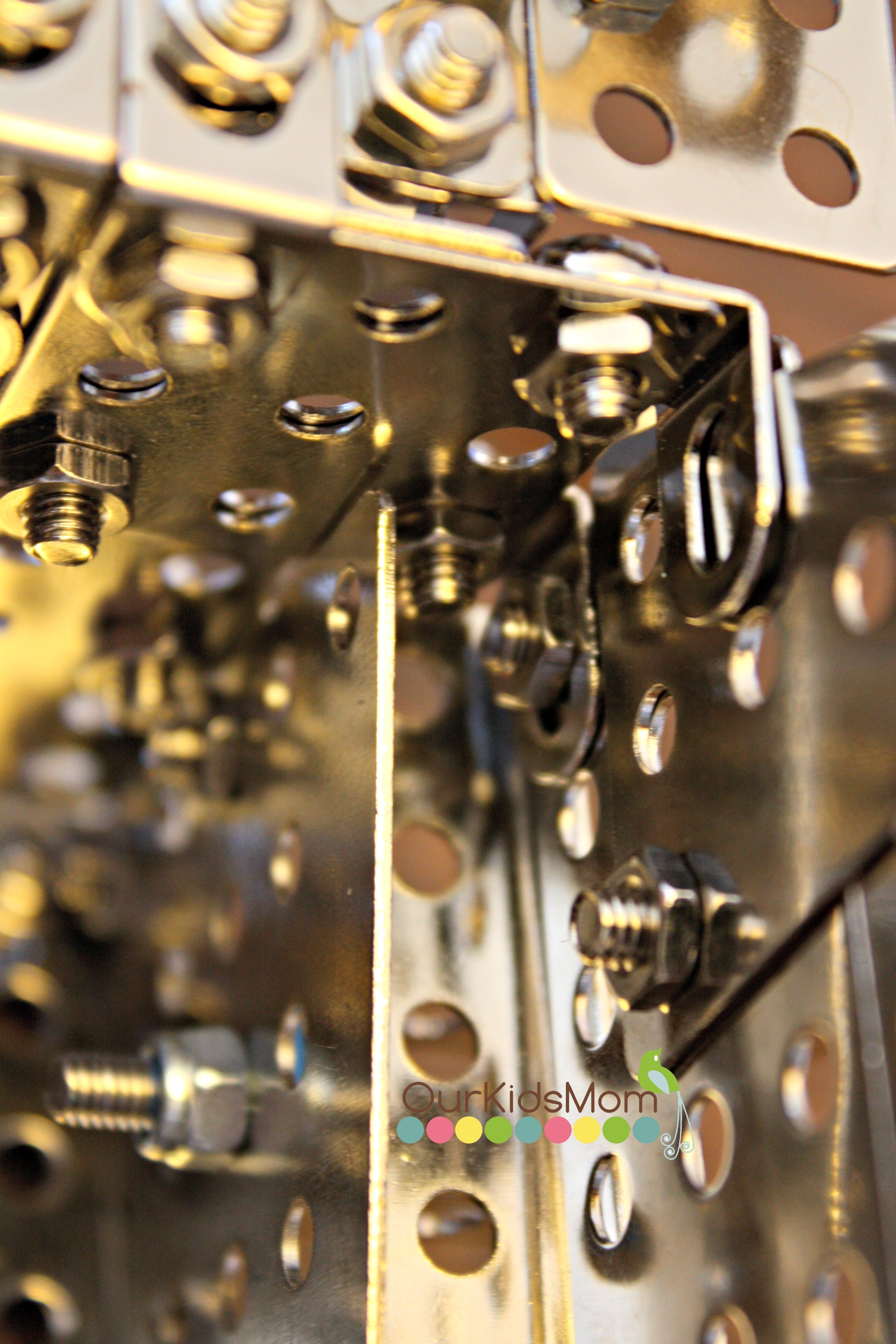 Each plate is put together using really tiny screws and nuts… it's very time consuming to build as you have to make sure each one is tight. It is very slow moving going through each step, I would double check that I had indeed put in each piece that it called for and didn't forget anything.
The instructions are very straight forward for most of them, however on some of the steps where there were lots of pieces in one step it got a little overwhelming and confusing for me.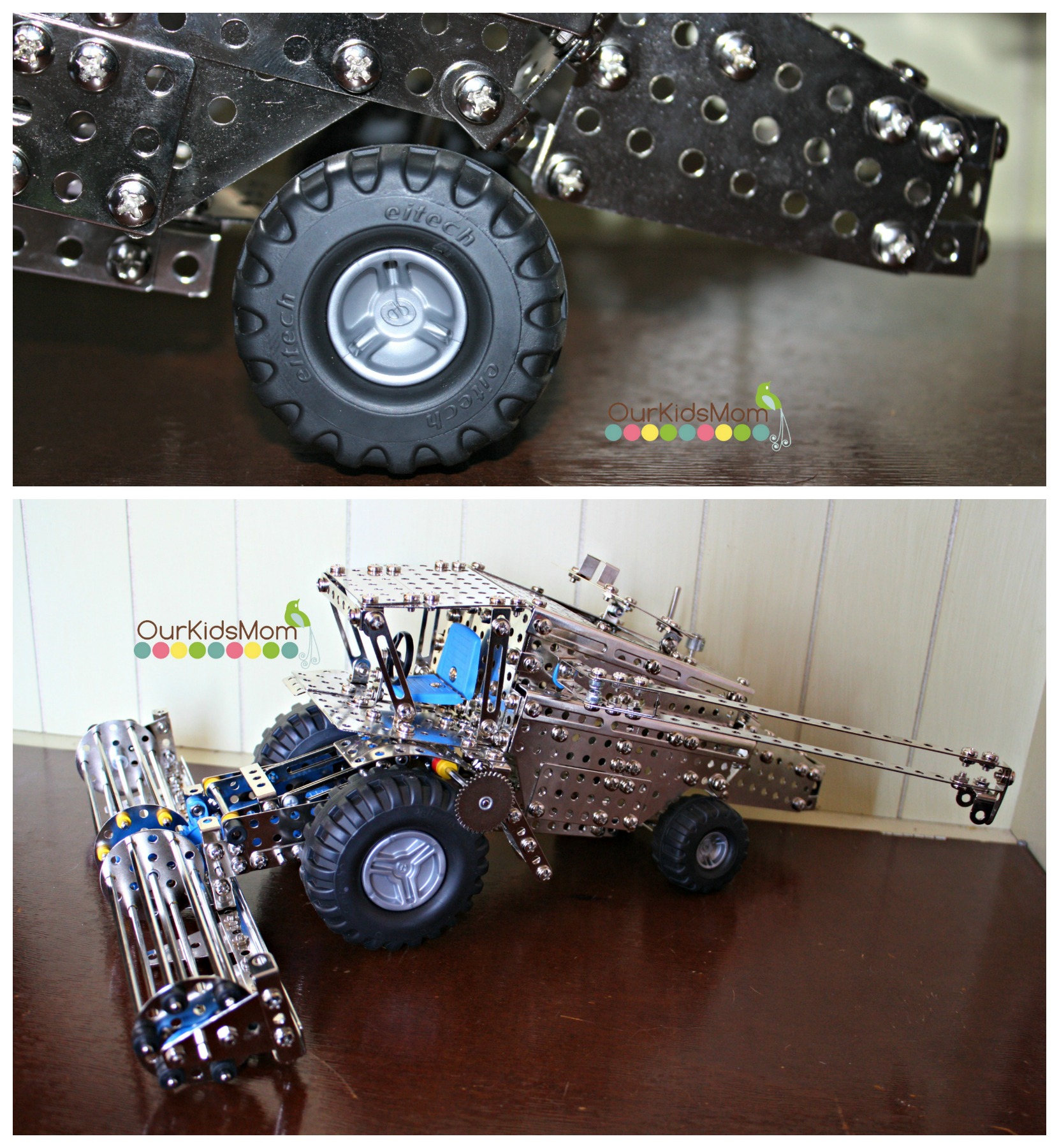 Six days later and close to 15 hours of work the combine was almost finished! Karson and I were so excited to be at the finish line with this combine. However when it was time to put the combine top onto the bottom frame in the last step it didn't look right. We felt like the back end was so low to the ground, it didn't look like the combine on the box.
With a new set of eyes looking over the directions we were both fairly certain we didn't miss or mess up a step. So we went with it. The last screw and nut was put on and tightened up and it was done!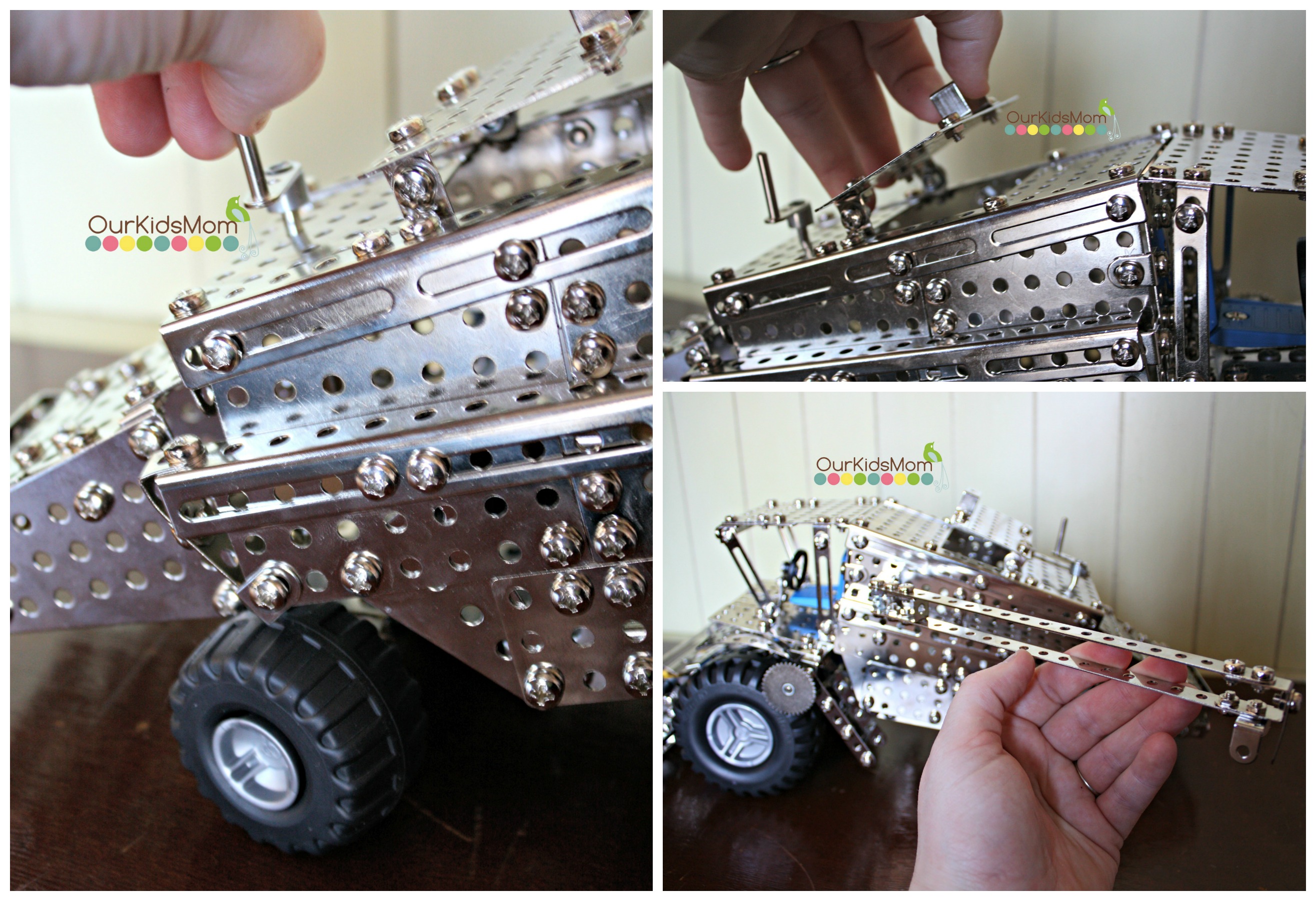 Karson took the combine and was checking out all the moving parts. The spout on the side comes out, you can turn and steer the combine with rear steering, the top hopper hatch opens and closes and the header spins and does move up and down.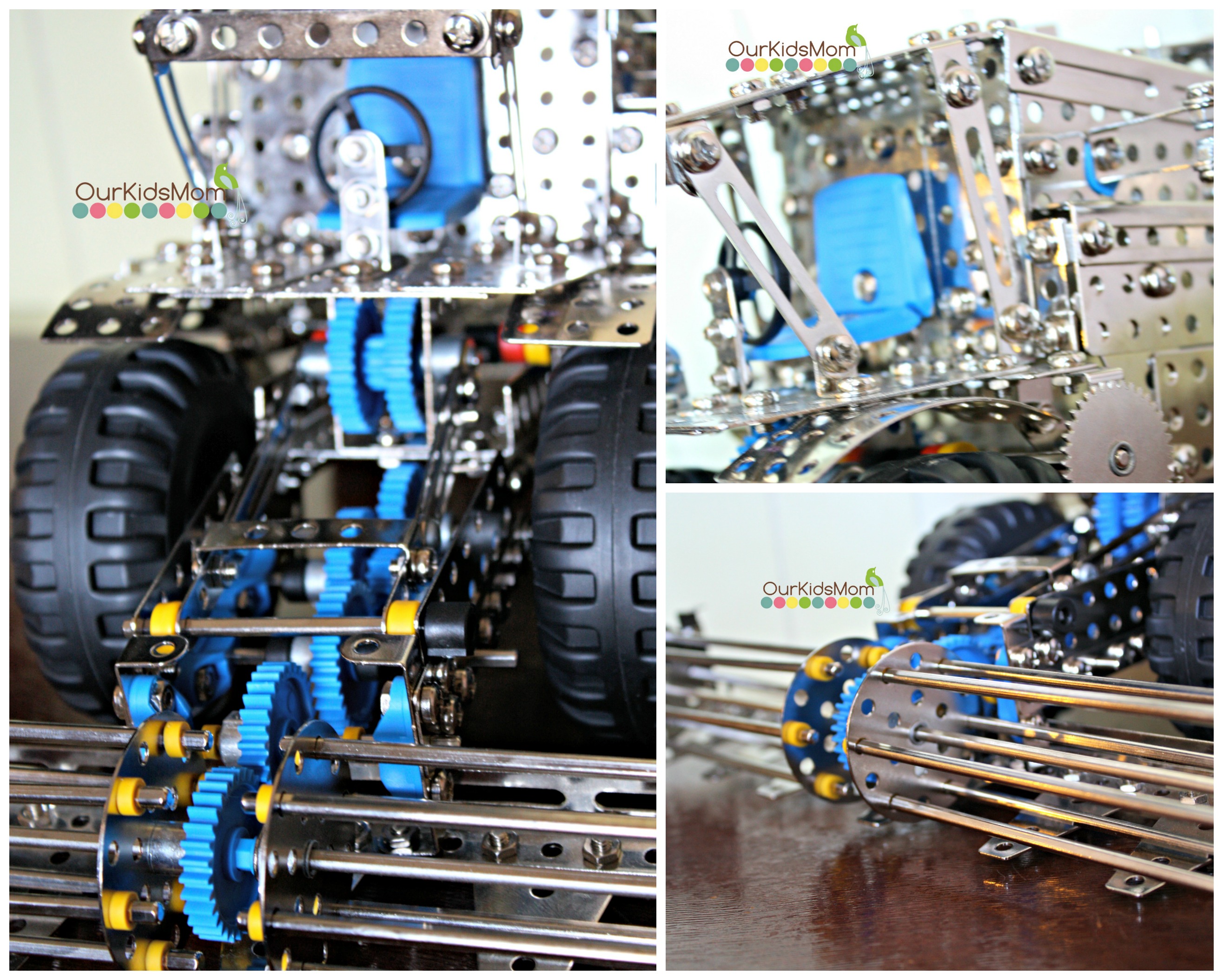 The combine looks awesome, it is definitely a hobby type construction set. Go into it knowing it will take some time and leave yourself lots of time to work at it here and there.
I would suggest that the age was higher on the bigger sets like this one as there was no way that my 7 year old could follow these directions or build the pieces.
These construction sets would make a great gift for any teen or adult that is into hobbies of building with metal. I do wish that the nuts were all locking nuts so they wouldn't loosen and fall off easily, but it makes a great display item!
Head over to www.amazon.com and pick up a construction set for the hobby lover in your family.
Connect with Eitech:
WIN IT:
ONE OurKidsMom reader is going to win an Eitech Combine and Tractor Trailer Set RV $249.99!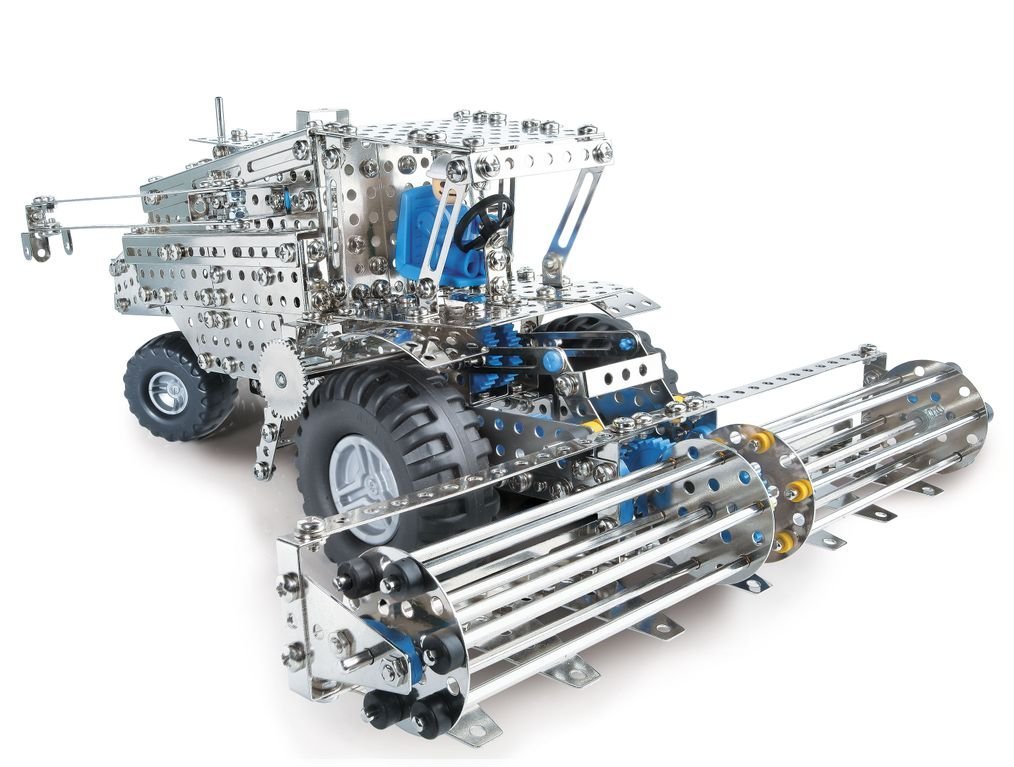 This giveaway ends at 11:59 PM EST on April 3, 2015.