Eating Clean While Eating Out | Café Blackadder in Warrensburg, MO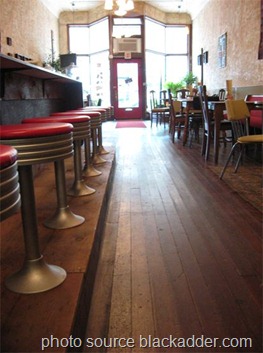 We recently took a day trip to Warrensburg, MO in search of a place for our oldest to rent when she ventures off to college this summer. With our recent commitment to eating as clean as possible paired with our current commitment to eating a vegetarian diet we were a little worried about where and what we could possibly find to eat in a college town. I had accepted the fact that we were probably doomed to eating Subway… the healthiest fast food I could possibly think of.
My husband did a little research and ran across Café Blackadder which is located just a few blocks north of the college. I was very pleased to read that they focus of buying and serving high quality, fresh local food. Heck, they even grow some of their own herbs right there in the café's front window!
A quote from their site says it all:
We love to make great food. We make our own salad dressings & sauces, candy the almonds, cut fresh veg by hand for soups & salads, make our own whipped cream….that's what makes our cafe' stand out! We love to cook for you!
Their menu changes slightly with the availability of certain fresh foods, but the basic menu has a lot to offer. Kaytlin and I both mentioned that it was incredibly refreshing to have more than one vegetarian option available to choose from. All of them sounded fabulous!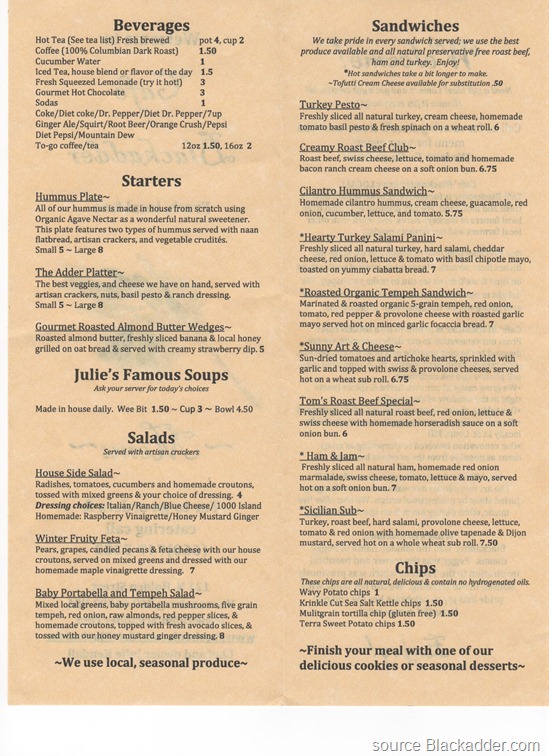 As lunch time neared we headed over to the café. We decided that each of us would order something different so we could all try a little bit of everything.
We started our meal with a pot of Pomegranate Green Tea.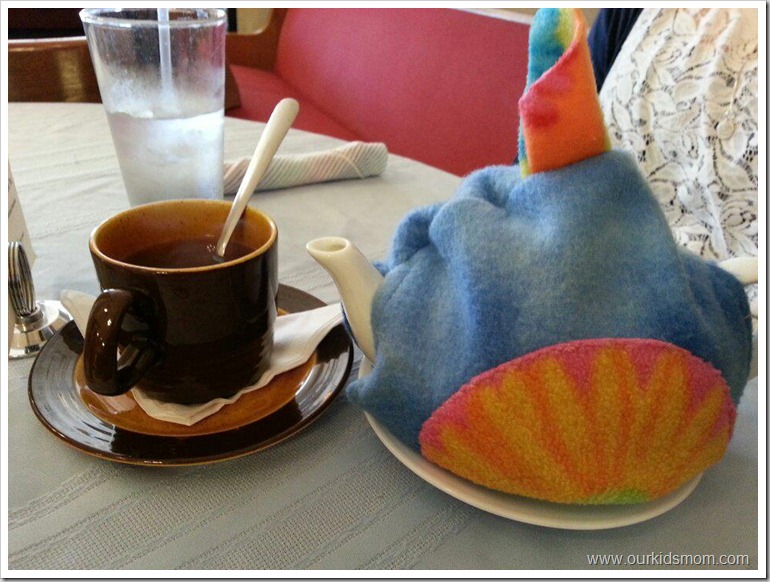 The first thing I noticed was that the tea cozy was adorable! I had a few minutes to take in the place as we waited for our tea to finish steeping and our food to arrive (yes, it takes a little while but they are making everything fresh so I was more than happy to be patient!). I peeked at the other tables that were also enjoying tea while I waited and noticed that each table had a different pot/cozy and that their tea service was also different. Then it dawned on me that every table and chair set in the café was different. Several tables had mismatched chairs and our table was actually placed up against a long church type pew that was shared with the table beside us. I loved the eclectic feel of the café and as I soaked up the background chatter and hominess of the restaurant I realized that my tea might be ready.
I poured myself a cup and then remembered one of my goals was to avoid processed sugar and artificial sweeteners. I was happy to find a bear of honey right in the middle of the table for me to sweeten the tea. I must say that I am not an avid tea drinker (yet) but I was more than pleased with the light pomegranate taste accompanied with the green tea flavor.
It wasn't long before our food was served and everyone was ready to dig in. After a few minutes snapping photos and dodging irritated glances our meal began (I had to instagram their dishes, right?!).
Kaytlin tried the Cilantro Hummus Sandwich with Terra Chips. (photos were taken with my cell phone)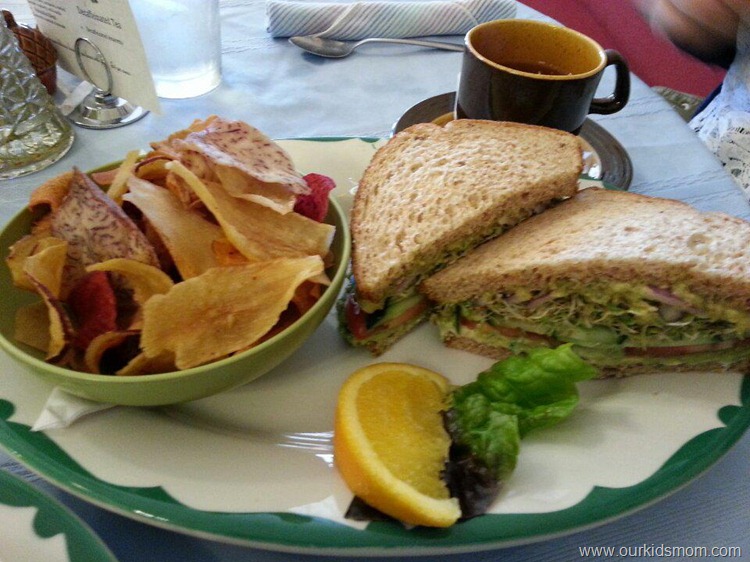 This cold sandwich was bursting with flavor and every single one of us loved it. It was stuffed with cilantro hummus, cream cheese, guacamole, red onions, cucumber, lettuce and tomato. I swore I saw some sprouts tucked there as well. I had never actually considered making hummus part of a sandwich before but plan to make one at home soon!
Jason decided to try the Roasted Organic Tempeh Sandwich.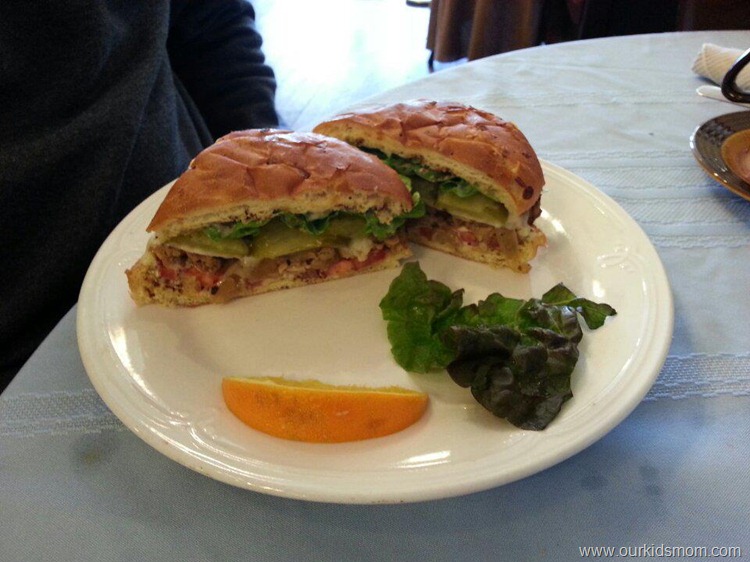 I had only tried Tempeh once before and to be honest, I was not a fan. I decided to give it another try in hopes that it would taste as good as the waitress had said. It was stuffed with marinated & roasted organic 5 grain tempeh, red onions, tomato, red pepper & provolone cheese with roasted garlic mayo served on hot minced garlic focaccia bread. So, the taste test… it actually almost mimicked a hamburger… it was good!
I decided to go off the menu with the daily special from the board. It was listed as a Portabella & Tapenade sandwich with Terra Chips.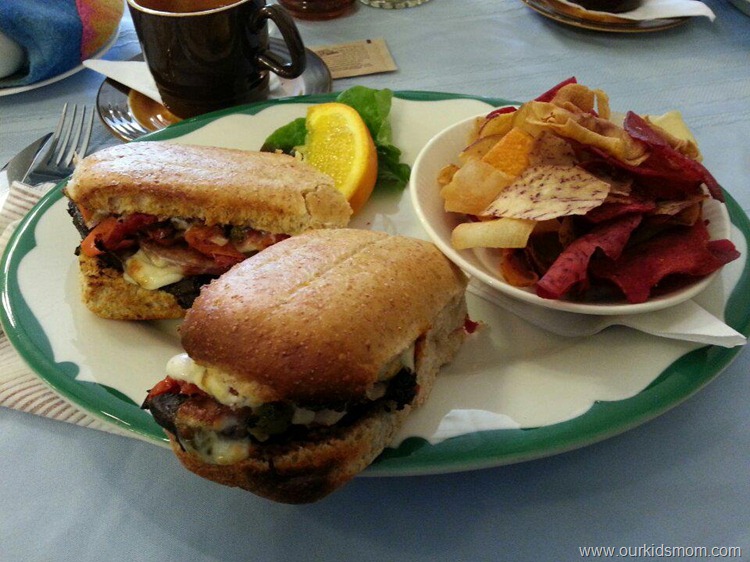 I wish I could tell you everything that was in this, but to be honest I didn't ask! It is a hot sandwich and it tasted like I was eating a French bread pizza. I am a huge portabella mushroom fan so this sandwich was right up my alley. Yeah… it was that good!
Our experience with Café Blackadder was more than pleasant… from the atmosphere and service to the food. All of it was exceptional and we already have plans to go back during our next visit to Warrensburg. We mentioned several times on our way home how we wished a café like that would open up closer to home as I am already craving a Cilantro Hummus sandwich!
Disclaimer: Nothing was received in exchange for this post. We had an exceptional visit to Café Blackadder and wanted to spread the news about this fabulous place to eat!