Easter Eggstravaganza with PAAS and Heinz Vinegar
  It's that time of year again to color Easter eggs! 
PAAS and Heinz have linked up to create a free Easter Egg Decorator App/website.  For every Easter egg that you create and share virtually, PAAS and Heinz will donate $1 to Make-A-Wish up to $25,000!  I think this is an awesome way to help out a great cause & you can have all kinds of fun decorating eggs to email to friends and family.  The free app is available online at www.heinzpaaseaster.com or get it for the iPad.  Search "PAAS/Heinz" in the iTunes App Store, download and start decorating. 
We were given a stuffed Easter basket full of goodies to decorate eggs & celebrate the holiday.    When I think about decorating eggs, I think of PAAS & Heinz vinegar.  We always use PAAS decorating kits because there are so many to choose from and I know they are a quality product.  Heinz vinegar goes perfect with PAAS because the vinegar makes the colors so much brighter which my kids love!  
We received 3 PAAS egg decorating kits, one set of coloring cups, a bottle of Heinz Vinegar, coupons for more Heinz Vinegar, tips for decorating, treats and a Make-a-Wish gift!  Phew!  That's a lot of goodies!!
To get started coloring eggs, we had to get organized.  This is always the hardest part for the kids.  They see all the stuff getting set up & just can't wait!  I've never tried it before, but one of the tips we received suggested adding Heinz Vinegar to the water before boiling the eggs.  It's supposed to help prevent the eggs from cracking.  So, I gave it a shot. 
I didn't have any break open while boiling!  The only ones that cracked were because I got a little excited & dropped a couple in the pan.  Oops!  But they didn't leak which I thought was pretty awesome.
Over the years I've learned that in order for the kids to know which eggs are theirs, (and to avoid a melt down later) we have to keep the eggs in order at all times.  One thing I do is to mark the inside of the egg container while the eggs are boiling.  Then the kids just grab from their own row and can decorate as fast or slow as they like and there are no mix-ups later.
Coloring eggs is as easy and 1-2-3!  Place the color tablet in the cup, add vinegar, water or lemon juice according to instructions, and when the tablet dissolves, you're ready to dip the eggs!
Here we go!  Micah, Mikenah & Michaela are already having fun!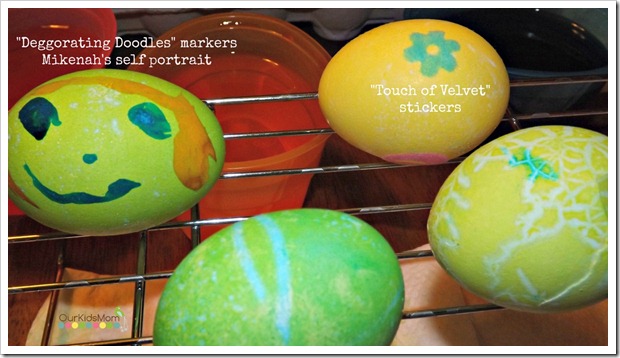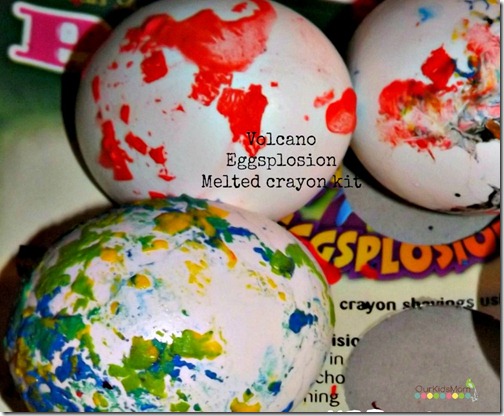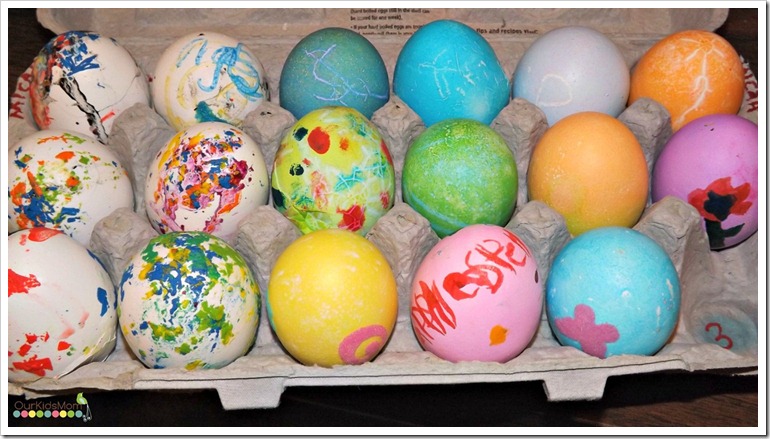 The finished masterpieces!!  Notice one is missing?  Mikenah couldn't wait & just HAD to eat one right away.
Check out these websites: www.heinzpaaseaster.com to help out Make-A-Wish, www.HeinzVinegar.com & www.PaasEasterEggs.com
Disclosure of Material Connection: I received one or more of the products or services mentioned above for free in the hope that I would mention it on my blog. I only recommend products or services I use personally and believe will be good for my readers. I am disclosing this in accordance with the Federal Trade Commission's 16 CFR, Part 255: "Guides Concerning the Use of Endorsements and Testimonials in Advertising." The opinions expressed in this post are entirely my own. Your experience with the product may differ from mine. The sponsor is responsible for prize fulfillment and will be shipping the winner(s) their prize(s). For more information read my disclosure policy.