Dyson is about solving everyday problems: vacuum cleaners that clog and lose suction, hand dryers that are energy hungry and don't work, and fans that chop the air.




James Dyson founded the company from a coach house in Bath (UK). Today (2010), Dyson machines are sold in 50 countries and include vacuum cleaners, Airblade hand dryers and Air Multiplier fans

.
We have a busy house with six people and two big furry Maine Coon kitties.
Meet two of my biggest vacuuming/floor nightmares…

For years I have been fighting hairballs along the floor edges, on the stairs where the lounge, on the beds, the edges of the curtains and on the area rugs. Our current vacuum, although fairly new, just was not doing the job that needed to be done.
In steps the Dyson Ball Animal DC25, ready for the challenge.
Dyson technology for homes with pets

Designed for homes with pets, DC25 Animal is ideal for animal lovers frustrated with stubborn
pet hair. The mini turbine head cleans pet hair and dirt from tight spaces. DC25 Animal
features a quick-draw wand with instant 16ft reach for stair and high reach cleaning. As with
all Dyson vacuums, DC25 Animal has washable filters and no bags to buy, so there are no
extra costs. All Dyson uprights come with a five year warranty.
The Dyson Ball Animal DC25 arrived in 6 pieces, 3 of which are tools! The main portion snapped into the base, the hose attached to the extension and it all went together quickly! Talk about easy peasy!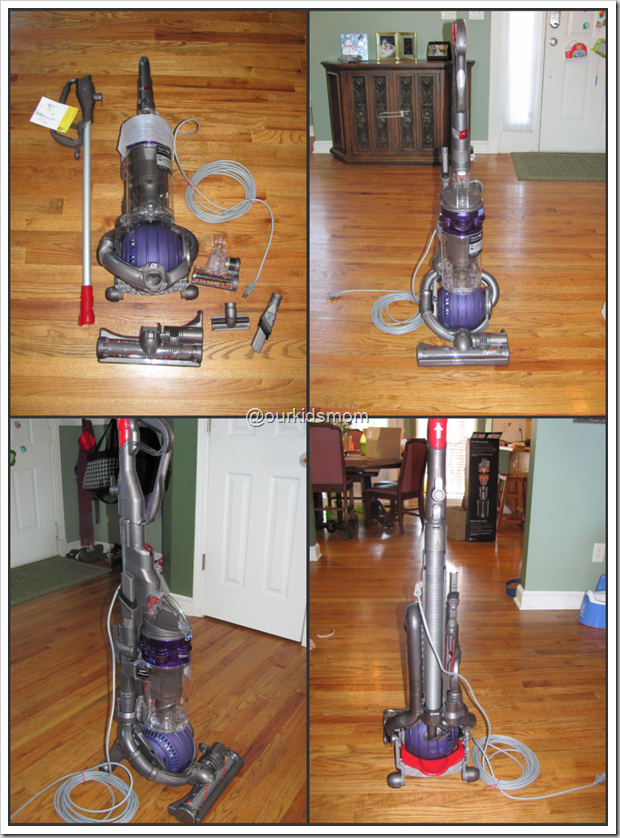 The Dyson Ball Animal DC25 is designed for homes with pets. Could it really help me?
The Animal features…
Root Cyclone™ technology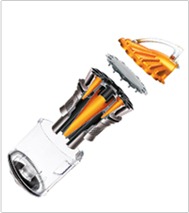 Dyson vacuums have Root Cyclone™ technology. Dyson Animal vacuums remove cat, dog and other pet hair from your home using centrifugal forces up to 150,000 times the force of gravity, with no loss of suction.
Motorized brush bar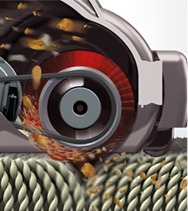 The latest Dyson Animal upright machines have a motorized brush bar. Stiff nylon bristles spin up to 90 times per second, agitating carpet pile to dislodge ground-in dirt and pet hair. The brush bar can be turned off to protect hard floors and delicate rugs.
Ball™ technology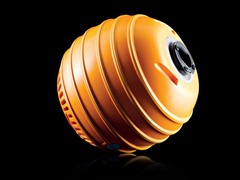 Ball™ technology makes steering easier. The glass-reinforced polypropylene ball provides a protective space for the motor and its components to sit. Positioning this heavy part further down also lowers the machine's center of gravity, reducing weight in hand and improving maneuverability further.
Mini turbine head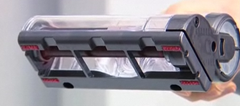 The Dyson Mini turbine head has an air-driven brush bar that removes pet hair and dirt from tight spaces like upholstery, stairs and inside the car. Tiny bristles catch fine hair and fibers. A clean air turbine reduces bulk and weight and prevents obstructions. The cover is made from tough polycarbonate.
Multi-surface self adjustments
Airmuscle™ technology precisely adjusts the cleaner head to different surfaces and focuses suction.
All of that information sounds fantastic, but does it really work on removing pet hair? My house is a bit of a challenge. I have three rooms with wood floors, two of those with area rugs. One staircase is wood, the other three are carpeted with the remainder of my house carpeted. It seems like I am constantly changing the floor selector on our old vacuum.
The morning of the Dyson's arrival we had just vacuumed the entire house. What better time than to put it to the test, right?!
First experiment… the front living room (with area rug) and the kitchen.
Remember… all of these rooms were just vacuumed minutes before!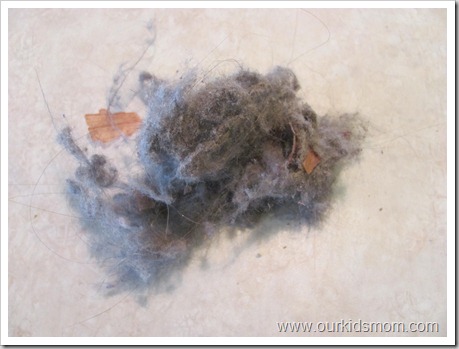 Do you see the human and pet hair??? Can we say "eeewww!"?
So if I can get that much from two rooms, what about two staircases, one hallway, two bathrooms and four bedrooms worth of carpet (that had just been vacuumed!)?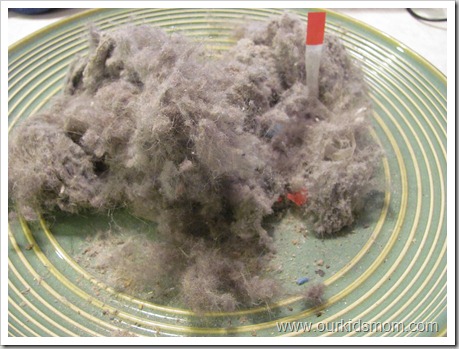 (I dumped the contents of the canisters on a dinner plate for better size reference. )
Now I am just starting to gross out. I mean, I really thought my floors were clean!
Okay, that's understandable. I mean, the carpets are almost 10 years old.
What about an area rug that is brand new… just purchased less than a week before (and was just vacuumed!)?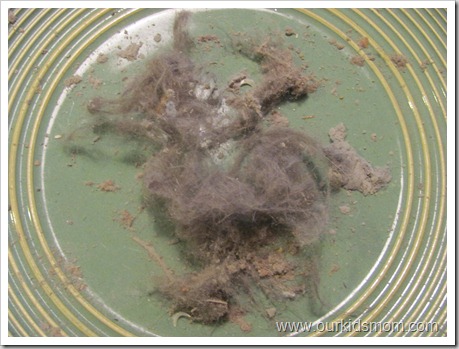 By this point we are in total awe and amazement (and completely grossed out). Who would have thought our "old" vacuum just wasn't doing the job? The bags were filling quickly on it… I really did think it was working quite well!
So now it was time to tackle the problematic room. Our kitties adore Kaytlin's room. Her comforter is almost always covered in cat fur and her curtains are caked in cat hair from them brushing by to sit in the windows.
O. M. G. !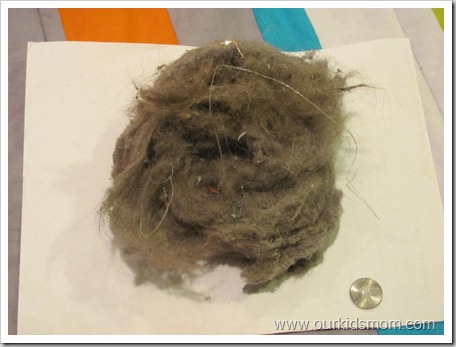 So now I am ready to call everyone in my phone book, email everyone in my contacts list and shout it from the rooftops… this is an amazing machine!
Then I started thinking… maybe my family members with dander allergies would be able to visit our house more comfortably now that we are actually removing the pet hair being deposited around the house?
I mean, Dyson Animal vacuums are certified asthma & allergy friendly!
Just think if I had been using this vacuum for the 7 years we have been living here!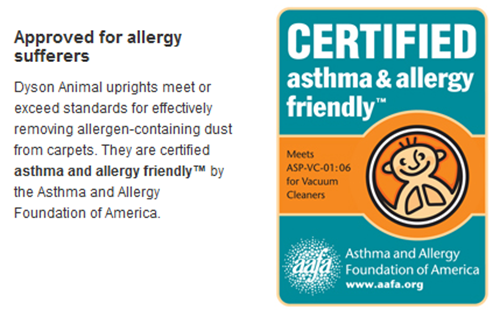 So we have been using the Dyson Animal for a couple of weeks now and I have to say, I love it even more each time I use it.
The amount of "stuff" it picks up every single time we use it just amazes me!
It is much lighter than I thought it would be. Even though I am accustomed to using a vacuum with a self propelled feature, it doesn't wear me out to push it around or drag it up the stairs.
The length of the hose is so surprising every time I pull it out. It compresses down so well that you forget that it can reach up almost the entire flight of stairs if you need it to.
The "ball" feature is incredible as well. You can turn and pivot the vacuum on a dime with just a turn of the wrist. I am vacuuming under the kitchen table a couple of times a day and it's so easy to get around the table legs! No more just going back and forth! I even vacuumed out the inside of our minivan using the entire machine, not just the hose. It pivoted around the captains chairs with ease.
I love that I don't have to adjust the "type of floor" setting or "height" adjustment on the DC25. My only options now are beater bar on or off!
Using the DC25 on hard wood floors is a dream. The suction is creates helps to pull the dirt and you can get right up to the base boards (I had to use the hose attachment on our old vacuum).
The mini turbine head attachment works wonders on stairs (and the uprights on the stairs that the kitties rub against and leave clumps clinging to), curtains (I just ask someone to hold them taught and it's no problem to vacuum the curtains) and even comforters. My old floor attachment on the "old" vacuum wouldn't pick up even half the cat hair even with a scrubbing motion.
I also love that this machine is bagless. This is my first experience with this feature and it's amazing to see how much gunk is picked up after each vacuuming. The one touch button makes it so you don't have to touch the dirt/hair. The best thing… never running out of vacuum bags in the middle of a cleaning session again!
This vacuum has made my life so much easier!
Thank you James Dyson for inventing such an incredible machine!
(I know this video clip is a bit long, but they show some great uses and how incredibly easy the Animal DC25 is to use. It's worth a viewing!)
BUY IT:
You can purchase the Dyson Ball Animal DC25 for $439.99 at Amazon.com with free shipping. This is a great price! I saw it just today at the local Wal-Mart for $549.99!
Connect with Dyson:

Disclaimer: I received a vacuum for review purposes only. This was not a compensated post. All opinions remain 100% my own. Check my giveaway page for a current list of open giveaways!