Many thanks to Depened for sponsoring today's story and encouraging people to #dropyourpants for #underwareness.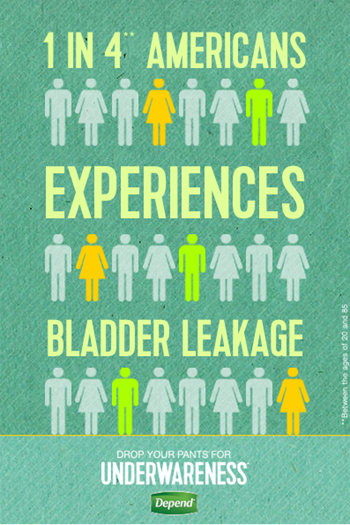 Age, childbirth, illness and various surgeries can all lead to the need for a "different kind of underwear".
After the birth of my last baby my OBGYN was very concerned that I might have serious issues as well. Apparently during my c-section she found that my bladder had adhered to my uterus. She was able to separate them, but it could have meant a life changing event.
Fortunately my only side effect from that delivery was the typical light bladder leakage when sneezing, coughing and laughing that most women experience after childbirth.
A lot of people, myself included, have joked about Depend undergarments. Words like adult diapers have crossed my lips.
In reality Depend provides a variety of discreet products that help people regain their freedom and get their lives back. They are not "diapers". They are briefs that look, fit and feel like real underwear and feature a cloth-like fabric for a sleek, ultra-smooth fit.
Depend Underwear with Fit-Flex protection: Features more Lycra stands for a smooth and comfortable close-to-the-body fit.
To support Underwareness*, Depend® has pledged to donate up to $3 million to The Simon Foundation for Continence and The United Way over the next three years to advance the support and education of bladder leakage issues.
Join Depend® and Drop Your Pants* for Underwareness* to show that wearing a different kind of underwear is no big deal. Visit Underwareness.com to show your support,get a free sample, and find out how you can help Depend® donate up to $3 million to charity over the next three years.