Sample received. All opinions are my own.
Starting the day off with a hot cup of coffee is one of my favorite things to do. Even better than drinking my morning cup of joe, is having freshly roasted coffee beans mailed to you in a nice little box to try! The tasting kit that I was offered had 4 great different coffees from Driftaway Coffee, and it was so fun to taste each of them.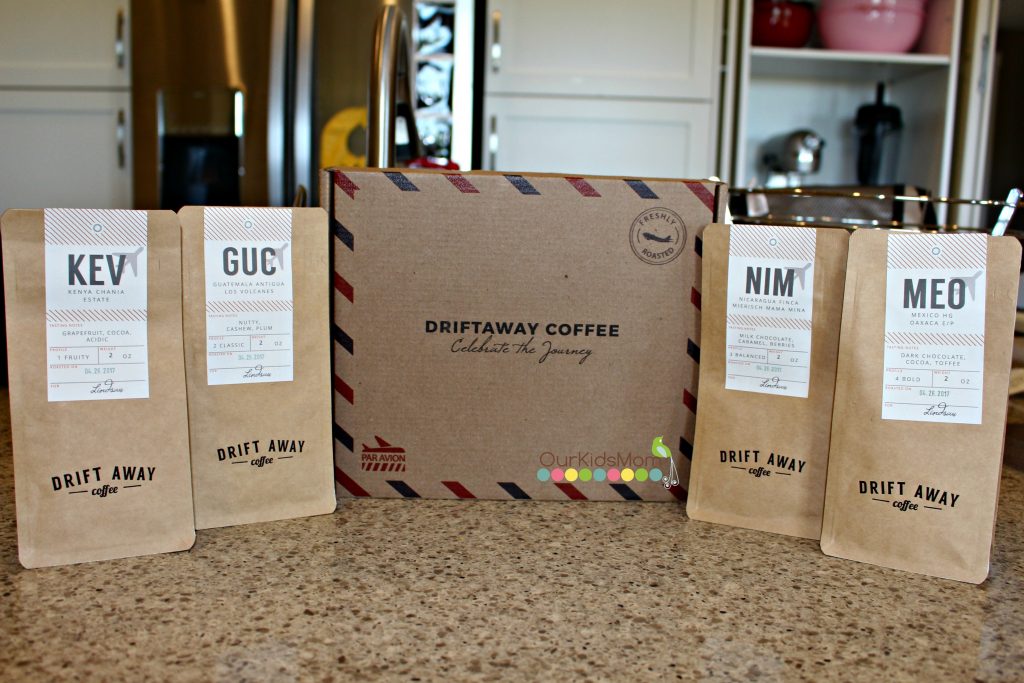 The different coffee beans came in four different packages and are all in an appealing box. The packaging shows the date of when the coffee beans were roasted, and they are shipped 12 hours after roasting. Talk about fresh! The packaging also lists the tasting notes, profile and where they are from.

The first coffee beans I tried were from Kenya Chania Estate. The profile was 1 fruity, and the tasting notes were grapefruit, cocoa and acidic. The second one was from Guatemala Antigua Los Volcanes. The profile was 2 Classic, and the tasting notes were nutty, cashew and plum. I like stronger coffee, and so these ones weren't my favorite out of the four, as they were weaker. But they did have a nice flavor. The third sample of coffee beans I tried were from Nicaragua Finca Mierisch Mama Mina.   The profile was 3 balanced, and the tasting notes were milk chocolate, caramel and berries. My favorite was the fourth one was from Mexico Hg Oaxaca E/P. The profile was 4 bold and the tasting notes were dark chocolate, cocoa and toffee.
Driftaway Coffee is an ongoing coffee subscription, and shipments can be paused, skipped, or cancelled at any time. First, you choose the size according to how much coffee you drink. There are three options: 7 oz, 11 oz and for the coffeeholics, 32 oz. Then you choose if you want the coffee shipped every week, every other week or every 4 weeks. On their website, you can rate and review the different coffee beans that you get.
This is something that I would consider subscribing to in the future, or even subscribing a friend as a gift. If you want to get started with a trial sample, head over to Driftaway coffee!