Growing up I had dreams. Big dreams. I imagined the cute little house with the white picket fence. I dreamt about a house full of children, a handsome husband and living on love. It was a beautiful dream and I hoped to some day achieve it.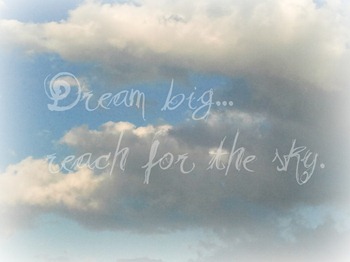 I married young. I was 18, oblivious and over the moon in love. We were poor… v e r y poor. Our first year together we made a whopping $6k combined… but we were happy. We were both determined to not stay in this financial condition and hit the books… hard. I didn't have my house with the picket fence (yet), but I still envisioned it often.
My husband graduated a year and a half before I did and was able to obtain a decent beginning job in his field. We were still struggling, but living a little less stressed financially. Our first baby came along and I added my first chapter to my dream.
I graduated, we bought our first house, I taught my first year and soon realized that for us to obtain our dreams we would have to sacrifice a little in other areas. We decided that I would become a stay at home mom and we would budget and live within our means.
My second child came along soon after and life was grand. We both worked hard at what we do to achieve our dreams and have since decided that settling for less would be cheating ourselves and our children. We've had several bumps in the road but with determination and our "never settle for less" attitude we have overcome those obstacles and are stronger.
We now own a cute house full of children (four), I have a handsome husband and we live on love daily. Because we didn't settle into a woe is me attitude and assume we would never have more… we didn't/don't. We worked hard, nose to the grindstone and sacrificed where we could.
Keep your dreams in your sites… work hard where you are… never settle for less.
*****
Time is running out… remember tax day is 4/17!
File and share to enter into H&R Blocks $100,000 Refund Giveaway:  Customers who completed their taxes using H&R Block at Home can instantly win one of the hourly drawn cash prizes and be entered to win a $100,000 grand prize refund. Once entered into contest, participants can tell their friends about it via Facebook, Twitter, and Google+. To enter, complete a tax return online via computer or tablet device using H&R Block At Home tax preparation.

When it comes to your tax return, you never have to settle for less with H&R Block. Filing your taxes with H&R Block just became an event worth sharing. Get started now for your chance at instant cash prizes and the $100,000 refund! There are winners every hour. So file your taxes then let your friends know how rewarding it can be.
•    NO PURCHASE OR PAYMENT OF MONEY NECESSARY TO ENTER OR WIN. A PURCHASE WILL NOT INCREASE YOUR CHANCES OF WINNING. H&R Block® –100,000 Refund Giveaway starts 1/17/12 at 12:00 P.M. (midnight) ET and ends 4/17/12 at 11:59:59 PM ET. For Official Rules, to learn how to obtain a free means of entry without purchase, to learn how to play the instant win game and enter the sweepstakes, drawings, prize details, odds of winning, restrictions, etc. click here. Open to eligible legal residents of 50 US/DC, 18 years or older at time of entry. Void in P.R. and where prohibited. Sponsor: HRB Digital LLC, One H&R Block Way, Kansas City, MO 64105.
Disclosure: Compensation was provided by H&R Block® via Glam Media.  The opinions expressed herein are those of the author and are not indicative of the opinions or positions of H&R Block®