Do You Have a Spasm?
You know that thing where your skin or muscle starts to "jump"? Sometimes it will stop quickly and by itself. Other times it comes back over and over again, getting more annoying each time it recurs. If this sounds familiar it's possible that you don't just have a twitch; you have a spasm. So how do you know the difference and, more importantly, once you do know the difference what do you do to make it stop?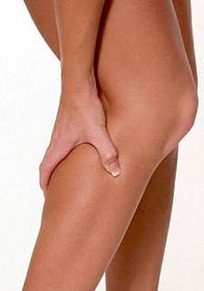 The Difference
A twitch is something that occurs intermittently and is often caused by stress, anxiety and sometimes by over use of caffeine or certain medications or even something going haywire in your nervous system. It's annoying but not painful. It almost always goes away on its own.
A spasm, on the other hand, is painful. It forces the muscles to harden and either to bulge or contract. It is often called a "cramp." There are all sorts of causes of muscle spasms from dehydration to brain damage or disease.

How to Get Diagnosed
Most muscle twitches and even some muscle spasms are easy to diagnose on your own at home because the symptoms are so different. Still, it is important to go to your doctor to get the twitch or the spasm looked at, especially if it comes back over and over again. Why? Because only a doctor will be able to help you figure out exactly what it is that is causing these spasms and twitches. Determining the actual cause of the problem is the only way to figure out how to definitively fix it.
Treatment Options
The treatment you choose for your spasm or twitch is going to depend, as already discussed, on its cause. That said, here are some of the most common treatments for these problems.
If you suffer from a blepharospasm (the twitching that happens in the corner of your eye or eyelid), botox is one of the most common type of blepharospasm treatment.

Many different types of spasms and twitches can be helped by massage. Massaging the affected area can calm most twitches.

Walking, as hard as it might be, is the best thing that you can do when you suffer from a spasm or twitch in your calves or thighs. To this end, wiggling your toes at the first inkling of a spasm can often keep it at bay.

Making sure that you stay properly hydrated and get the right nutrition will keep most twitches and spasms from ever occurring.

These are just some of the different ways to treat your muscle jumps. If these methods aren't working and you haven't yet visited your doctor, make an appointment ASAP so you can get to the root of the problem and fix it.
This was a guest post by R. Wilcox