Disney's Mulan is 15! | Mulan on Bluray/DVD March 12th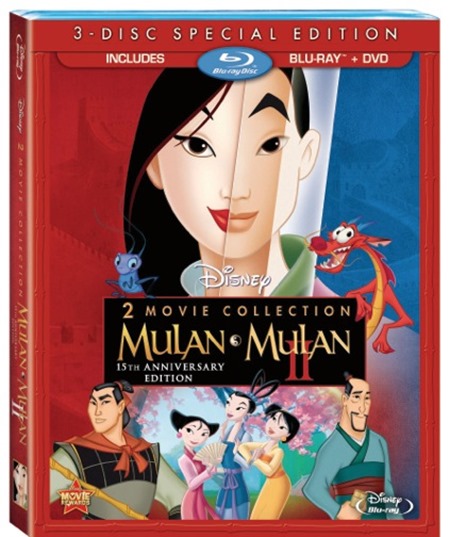 Mulan came out when my Kaytlin was 7… and it was one of her favorite movies. In fact, when I told her that the DVD was headed to our house she gasped and was so excited to share her favorite movie with Emma. All of us enjoy the theme throughout the movie, that woman can be as successful as men in any given field or activity if they put their minds to it. Emma, age 6, was just as enthralled with Mulan as her older sister was the first time she watched it. I think seeing a woman in a heroine role sparked a new interest in her. As you know, Emma is my "princess" of everything so having a heroine as a role model instead of a damsel in distress is fabulous in my book.
Mulan
Adapted from the ancient Chinese legend of Mulan, Disney's Mulan is the tale of a young maiden who disguises herself as a man and takes her father's place in the army to restore honor to her family. Mulan embarrasses her mother while visiting the town Matchmaker, and later on dishonors her father when she attempts to stand up for him and insists he should not go off to war. Mulan slips off into the night with her father's sword and shield and masquerades as "Ping" under Shang's command.
While training with Shang's men, Mulan makes one mistake after another. When Shang sends her home, she is more determined than ever to prove herself to him. Eventually Mulan gains Shang's respect and even saves him and his men from the Huns. When Mulan is injured, Shang discovers she is a woman. He spares her from death because she saved him, and once again sends her home. Though they think the Huns have been defeated, Mulan learns they are alive. This time, it is China's beloved Emperor that Mulan must save, and she will only be able to save him and all of China if Shang will help her.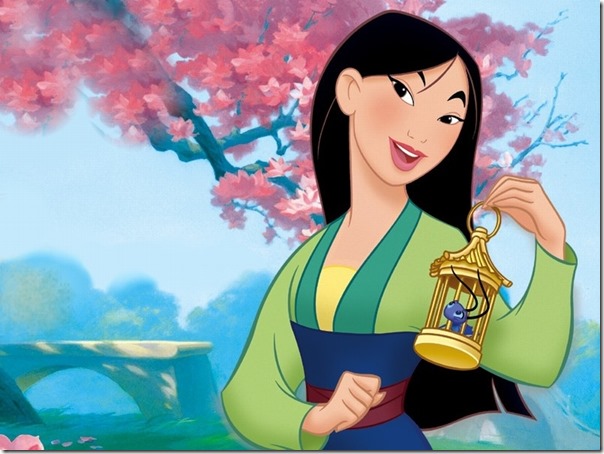 Mulan II
I had forgotten that there was a direct to DVD follow up to Mulan. With less war and more funny scenes Mulan II was more attractive to my younger viewer, age 4. The positive theme of two very people can conquer their differences and even fall in love was overridden a few times with Mushu's selfish acts, but in the end we all had a smile.
Mulan II takes place shortly after the events of the first film. Shang is now a general, and he and Mulan are engaged. The Emperor requests them for a special mission: they are to escort his three daughters to another kingdom, where they are to marry for duty to unite the kingdoms. Mulan, who believes one should marry for love, cannot understand why they would agree to this.
Mulan's three lovable soldier sidekicks from the first film are back. They still haven't found their true loves, but I'm pretty sure you will guess what happens when they see the daughters of the Emperor. Meanwhile, Mulan's guardian dragon Mushu is meddling in her relationship with Shang and causes them to break up for selfish reasons. When the group is ambushed by the Mongolians, tragedy strikes and Mulan must think fast so everyone can have their happy ending.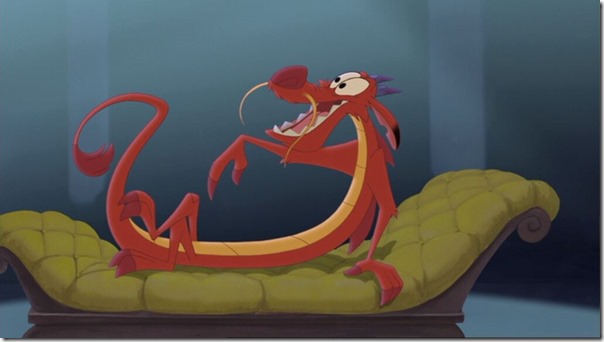 Bonus Features
(Mulan) Audio Commentary You can choose to watch the movie with commentary from Producer Pam Coats and Directors Tony Bancroft and Barry Cook for a behind-the-scenes look on Mulan.
(Mulan) Deleted Scenes Tony Bancroft introduces seven different scenes that didn't make it into the final cut. The scenes are not fully animated, but are instead storyboarded with audio from the voice actors and actresses. Several scenes include some deleted songs as well.
(Mulan) Classic Backstage Disney These features were on the original DVD release: Mulan's Fun Facts, The Journey Begins, Story Artists' Journey, Design, Production, and Digital Production.
(Mulan II) Classic Backstage Disney: Voices of Mulan The director and voice actors from the sequel talk about their characters and the plot of Mulan II.
(Mulan II) Deleted Scenes Four scenes that had to be removed for various reasons. The director introduces the scenes and explains why they were removed.
(Mulan II) Classic Music & More: Music Video by Atomic Kitten Atomic Kitten performs "(I Wanna Be) Like Other Girls". The entire music video is comprised of scenes from Mulan II.
While you're waiting for the release, pass some time with these Mulan coloring sheets courtesy of Disney!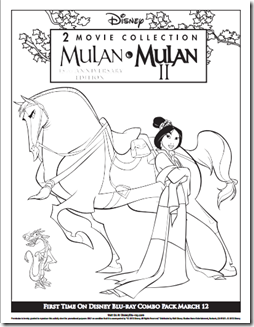 Mulan/Mulan II on Blu-Ray/DVD March 12
Like Mulan on Facebook
BUY IT:
You can pre-order Mulan/Mulan II at Amazon.com
Disclosure of Material Connection: I received one or more of the products or services mentioned above for free in the hope that I would mention it on my blog. I only recommend products or services I use personally and believe will be good for my readers. I am disclosing this in accordance with the Federal Trade Commission's 16 CFR, Part 255: "Guides Concerning the Use of Endorsements and Testimonials in Advertising." The opinions expressed in this post are entirely my own. Your experience with the product may differ from mine. The sponsor is responsible for prize fulfillment and will be shipping the winner(s) their prize(s). For more information read my disclosure policy.