A Modern Twist on the Fable Rapunzel Unravels This Spring!
Disney's 50th Animated Feature Film
March 29, 2011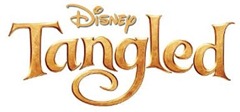 I'm sure that most of us already know the original story of Rapunzel and her golden hair. Disney has put a new spin on this classic story and created a masterpiece.
Rapunzel has lived her entire life imprisoned in a tower and held captive by her greedy mother. All Rapunzel wanted for her 18th birthday was to view the mysterious floating lanterns that appear every year on her birthday.
Flynn Rider stumbled upon Rapunzel's mysterious tower while trying to escape from his pursuers. After conking Flynn on the head a few times with a frying pan, Rapunzel decides to trust Flynn to help her get to the floating lights.
Kaytlin took Emma to see Tangled in the theatres and informed me that I had to purchase a copy when it came out on DVD. I took her advice and when it arrived… Emma and I had a girl's afternoon watching Tangled.
I have always loved Disney movies… all of them. Somehow, Tangled has climbed the ladder and become my all time favorite. The character development, the story line… all of it is entrancing and you get sucked into the movie without even knowing it. Tangled mixes humor, passion, drama and adventure with top notch animation.
Best of all, Disney has presented us with a princess who blossoms from a meek and compliant young girl into a young woman with confidence and spunk. She learns to not be afraid to chase your dreams… this is the type of role model I wouldn't mind my princess emulating.
Blu-ray BONUS FEATURES
Untangled: The Making of a Fairy Tale – Exactly how long is Rapunzel's hair? How many lanterns were used? Where did Pascal's name come from? Which Disney animated feature first utilized CG animation? These and more will be answered when Mandy Moore and Zach Levi take viewers on a kooky behind-the-scenes tour to learn how the filmmakers styled this film's ―Golden Tresses.‖
Deleted Scenes – Co-directors Byron Howard and Nathan Greno introduce three scenes and illuminate why they were ultimately cut.
* The Jaunty Moose
* Chemistry Develops
* ―Vigor The Visionary‖
Extended Songs – The complete versions of two great songs are shared in a unique feature that explains the co-directors decision to scale them down.
* ―When Will My Life Begin‖
* ―Mother Knows Best‖
Two Original Storybook Openings – Two alternate versions of the film's opening sequence described by co-directors Nathan Greno and Byron Howard.
50th Animated Feature Countdown – A video montage celebrating Tangled as the 50th film to join The Walt Disney Studios' prestigious lineup of classic animated features.
9 Tangled Teasers – A collection of the most unique and quirky commercials made for the theatrical release of ―Tangled.‖ Some are spoofs based off of infomercials and/or breaking news, some are teasers and others are simply just funny filmstrips.
You can pre-order the 4 disc Blu-Ray Combo Pack for $29.99 (regular price $49.99) at Amazon.com
 The 2 disc Blu-Ray/DVD combo is available for pre-order for $19.99 (regular price $39.99) at Amazon.com
***********
For a limited time Save $5 in stores on the 4 disc Blu-Ray Combo Pack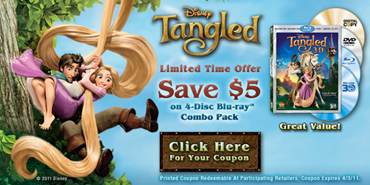 Connect with Tangled:
[tweetbox width=500 height=50 label=Retweet! content="Disney Tangled Blu-Ray/DVD Review Released 3/29 and a COUPON @disneyanimation @ourkidsmom %u "]
I received a copy of Tangled for review purposes only. All opinions remain 100% my own.