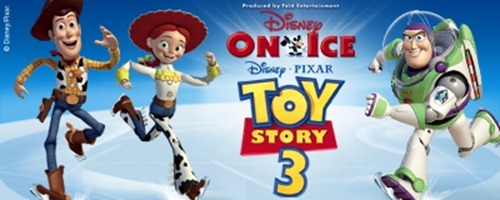 Disney on Ice : Toy Story 3
Emma and Ethan have been obsessed with Toy Story for ages now. Emma received Toy Story 3 on DVD for Christmas and I wouldn't be surprised if the DVD player fritzes out any time now due to overuse. I have to admit, though, that I don't mind it playing as often as it does. The story line and character development are more than enjoyable time and again.
When I found out Disney on Ice : Toy Story 3 was coming to the Sprint Center in Kansas City (March 23-27) I had to take them!
We arrived about 20 minutes early and made it through security check within minutes. Thank goodness, too… Mother Nature had decided she wasn't ready to share spring with us just yet! We found our seats, brought out the light toys and got ready for the show!
At this point I brought out my digital camera and turned it on (hoping for some adorable photos and some cute video). I am embarrassed to say that I forgot the memory card at home in my computer. Thank goodness my cell phone takes half way decent photos and I was able to snap a few that weren't too blurry for my post!
The show was introduced by none other than Mickey Mouse, Minnie Mouse, Donald Duck and Goofy. Emma & Ethan were surprised and excited to see them, but both gave me a confused look because I had been telling them all morning that we were going to see Toy Story. Their fears were quickly layed to rest as Andy came out to pack up his toys for college.
This was not a complete reenactment on ice, but the storyline was easy to follow and it was cute how they jumped back and forth from the toys to real people. The first act with toys was so cute and fun to watch… green army men skated and parachuted out onto the ice (Oh how I wish I hadn't forgotten my memory card!).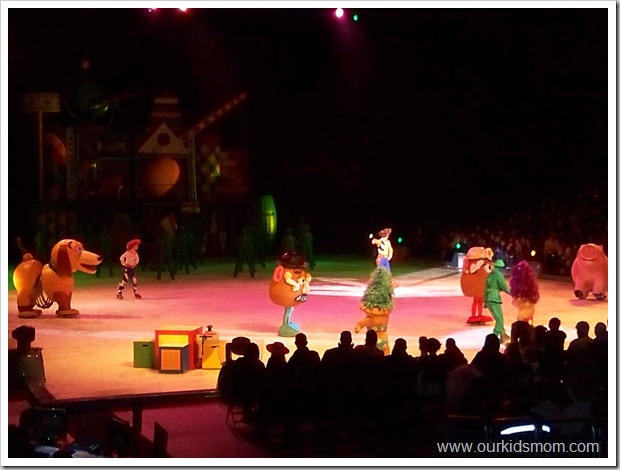 Ethan's favorite character is Buzz. Now Buzz didn't come out immediately and Emma & Ethan became very concerned and kept asking me if he was going to be there. As Rex was playing the video game trying to defeat the evil Zurg… Buzz appeared!!!!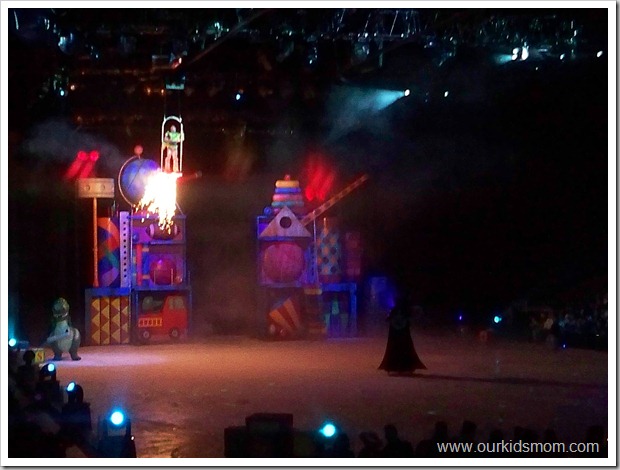 Emma & Ethan were glued to their seats…
All of our favorites scenes from the movie were included.
The claw was hilarious and adorable…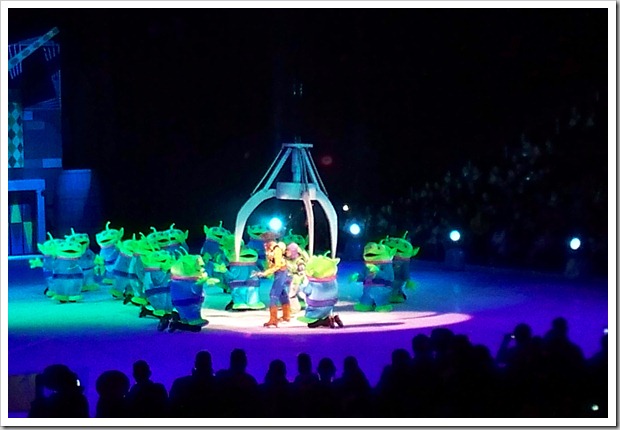 I especially liked how they tried to spread the talking scenes to both sides of the arena. Andy started in the opposite corner. Although we could see what was going on, we couldn't see his face very clearly.
This time Woody and Jesse were talking in our corner. Emma & Ethan got a kick out being able to see the characters up close.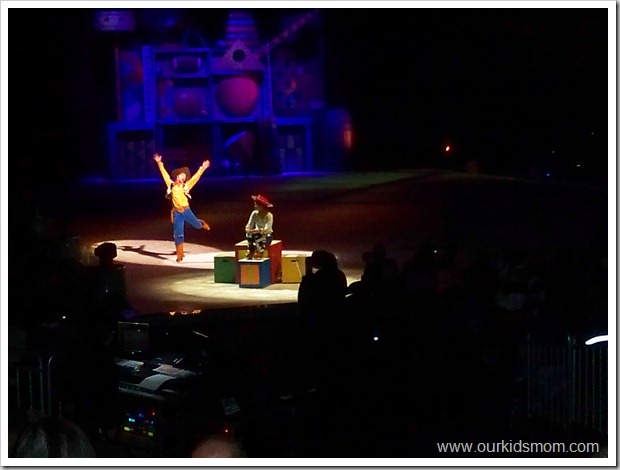 Sadly, at this point my cell phone almost died on me and I had to save the last little bit of battery in case of emergency.
My overall impression: I was happy to see how well the Toy Story story line was brought to the ice. There were a few times that there were so many people on the ice that it was a little confusing, but overall it was very easy to follow along and enjoyable to see how the songs were interpreted into a skating routine. All of the skaters were exceptionally talented and there were a few times the adults in the audience couldn't help but clap.
I am amazed at how well the larger costumed skaters performed… Bulls Eye, Ham, Rex, Slinky and Lots-o especially. As an adult, my favorite part (and it's my favorite because it made me laugh out loud) was when Barbie and Ken first met. The slow motion combined with the opening measures of the song "Dream Weaver" hit a funny bone with me. Even after the initial burst of laughter I still giggled through the rest of the "Dream Weaver" skit.
Overall, I think that if you have a Toy Story fan in your house and Disney on Ice : Toy Story 3 is coming to your area… it's a must see! It will be one of the most entertaining and quickest 2 hours you've spent in quite a while!
There's still time! Playing at Sprint Center one more day… March 27, 2011!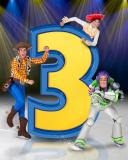 Sunday, March 27 at 1:00pm and 5:00pm
To check to see if Toy Story 3 is coming to your area please visit Disney on Ice's website
A huge THANK YOU to Sprint Center and Feld Entertainment for providing tickets for my family. All opinions remain 100% my own.