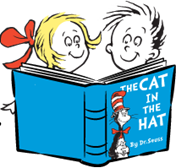 When Kaytlin was born my husband and I were still attending college and living on a very tight modest budget. If you've read my about me page you know that I have a degree in Early Childhood and Elementary Education… and I feel strongly about reading to your children starting from birth.
It doesn't matter what you read, just read.
To make a long story short, I found the fliers for the Disney Book Club and Dr. Suess Book Club while in my OBGYN's waiting room. The offer sounded too good to be true. Really? .99 books? Free gift? No Shipping?!
I signed Kaytlin up!
Disney Book Club Offer: 4 Disney Books for just $0.99 each! FREE Shipping! Plus get a Winnie the Pooh Backseat Organizer for FREE! The Disney's Wonderful World of Reading include Cinderella, Peter Pan, The Jungle Book, Bambi, The Little Mermaid and timeless films that are in beautiful hardcover editions, masterfully illustrated by the Disney Artists.
Dr Suess Book Club Offer: 4 Books for $0.99 each! FREE Shipping! Sign up today and get a FREE Dr. Seuss "I Love to Read" tote bag! Titles include The Cat in the Hat, Go Dog Go!, Ten Apples Up On Top, One Fish Two Fish Red Fish Blue Fish and more.
It was and still is true!
The entire collection of books we accumulated have been read to all four of our children now. Soon they will be tucked away for our grandchildren.
The clubs are even easier to participate in now than almost 20 years ago. You can manage your membership, preview books, browse your monthly selection online, accept or decline delivery and even cancel… all online.
<