Disney Cruise Line | Wonder Inside Stateroom Review
I was not compensated nor was I given a free trip. I am sharing with hopes to help future travelers.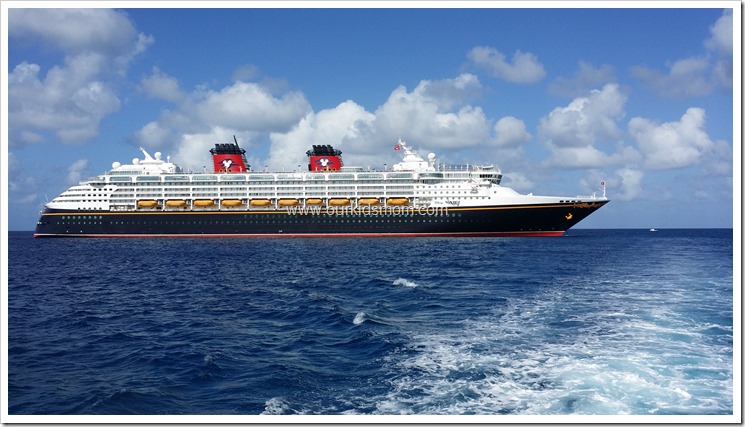 My family and I took a Holiday Cruise on the Disney Wonder less than a week ago. I am a huge planner, so before our cruise I spent many hours surfing the net on what to expect… from food and entertainment to accommodations.
I thought I would share our experience with room 7125 which is an inside stateroom in category 11B. This room has about 184 square feet of room and sleeps 3 (site says 3-4… it would be a tight 4).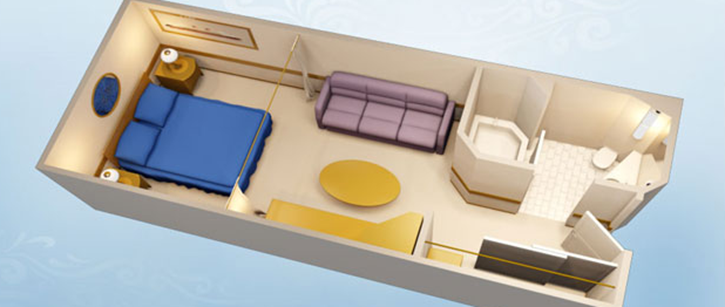 The floor plan above is the reverse of our room, but you can get a good idea of where things are.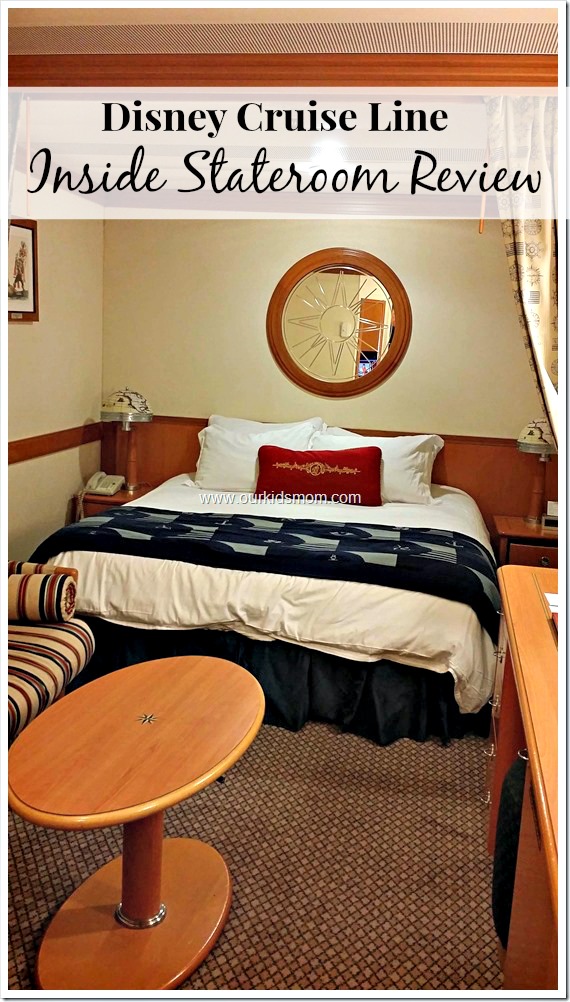 Walking into the room you immediately see the couch to the left and the bed centered on the back wall of the room. Our bed was two twins pushed together. Our older children were next door in 7127 (layed out like the floor plan above) and they asked our stateroom host to separate the beds into two twins. This pushed the beds against the walls and the two bedside tables were in the middle. I felt like it created a lot more usable space for them.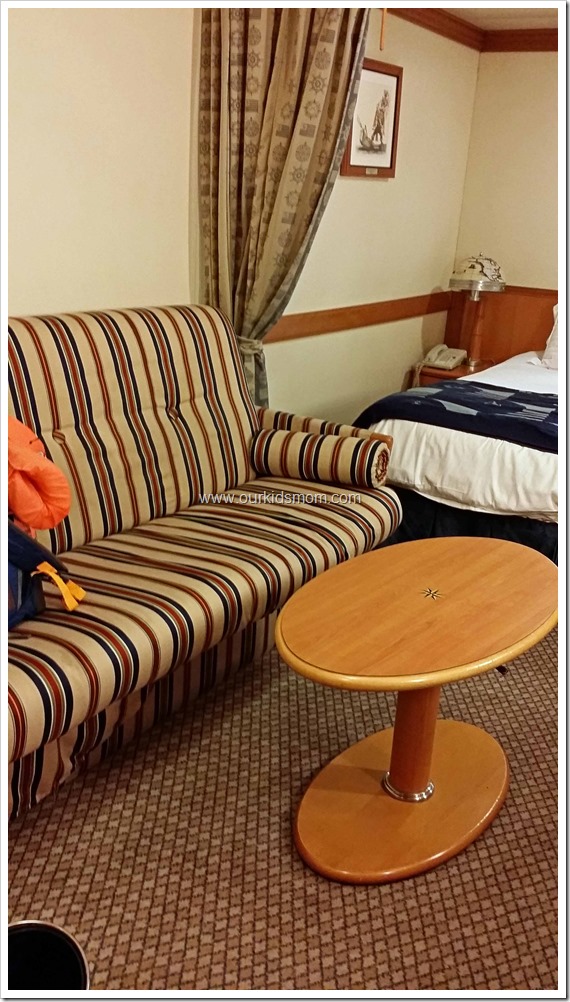 The couch is a sleeper that converts by pulling the back of the couch down (see photo of Ethan sleeping below). This sleeps a child perfectly but would be a tight fit for an adult. The coffee table has an adjustable height making it perfect for a table to eat your evening snack/room service at.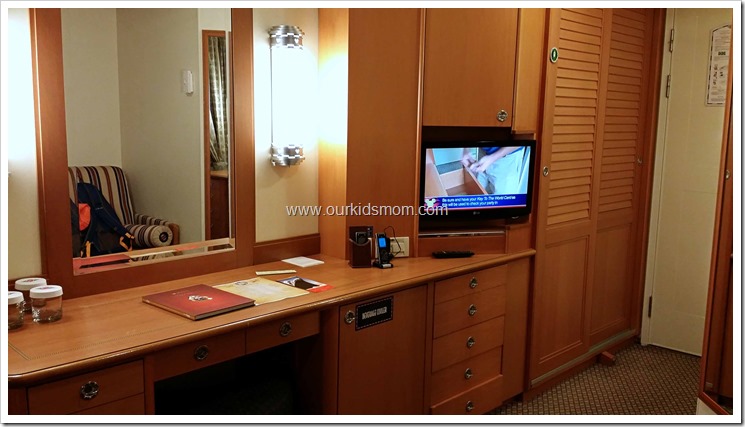 Directly across the room from the couch is the dresser/mirror/tv area. There are two sets of drawers to store your clothing as well as a "tummy drawer" to store your smaller odds and ends. The stool provides a nice place to write a quick post card or to do your hair/makeup while the bathroom is being used by others.
The fridge is actually a drink "cooler"… it will help keep a cold item cold for a day or so, but it won't chill a warm item quickly. The lights around the mirrors are controlled separate from the room light and the television swings out so that everyone in the room can watch if wanted.
Included in the room is a set of "wave phones". These function like a basic cell phone but work while out at sea (you will want to turn your cell off and put it in the safe so as to not accidentally accumulate roaming fees) so you can keep in contact with your family by voice or text.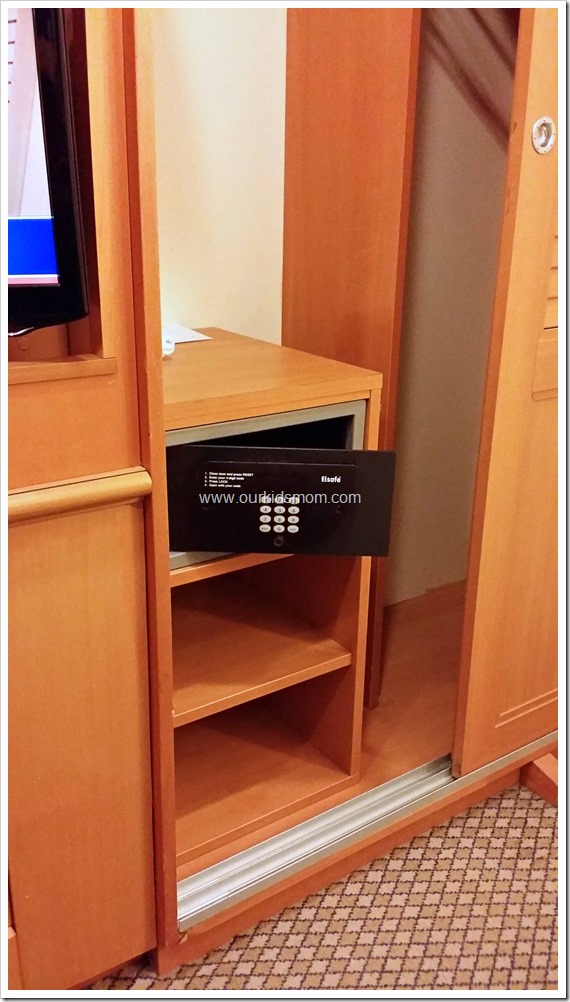 The closet includes a programmable safe, a few cubbies we used for shoes and a small amount of hanging room.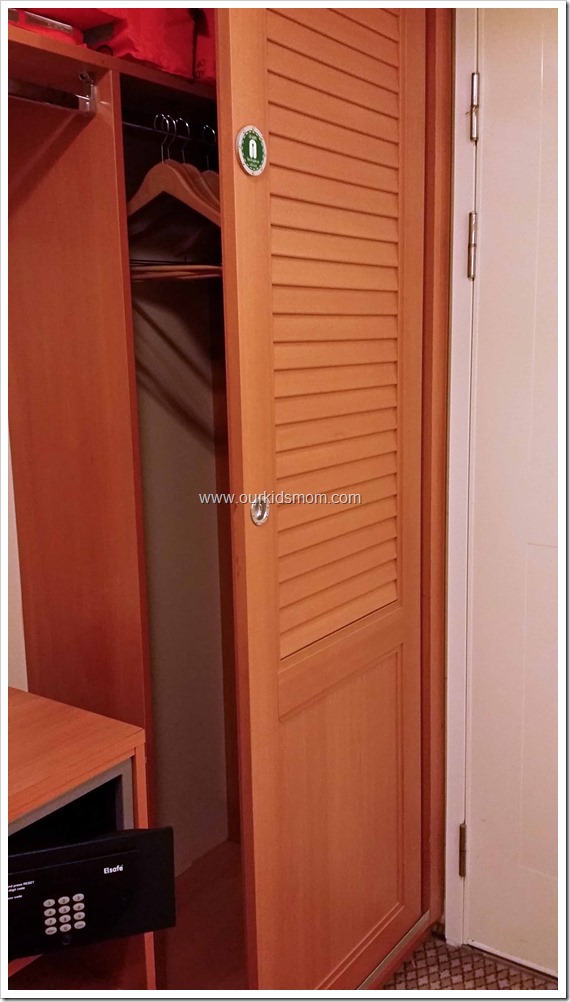 The top shelf is half full with life vests but has enough room for a backpack or two. We put the rest of our luggage nested together in the floor section of the hanging area. To be honest, with two adults we were limited but between the closet and drawers we were able to put away everything in ours and Ethan's luggage.
I neglected to take still photos of the bathroom, but if you're interested check out the video below. I was pleasantly surprised at how functional such a small bathroom could be. The bathroom has a built in hair dryer, one electrical outlet and a clothes line in the shower. Counter room is limited but there is a small shelf over the sink that held everything we needed at hand.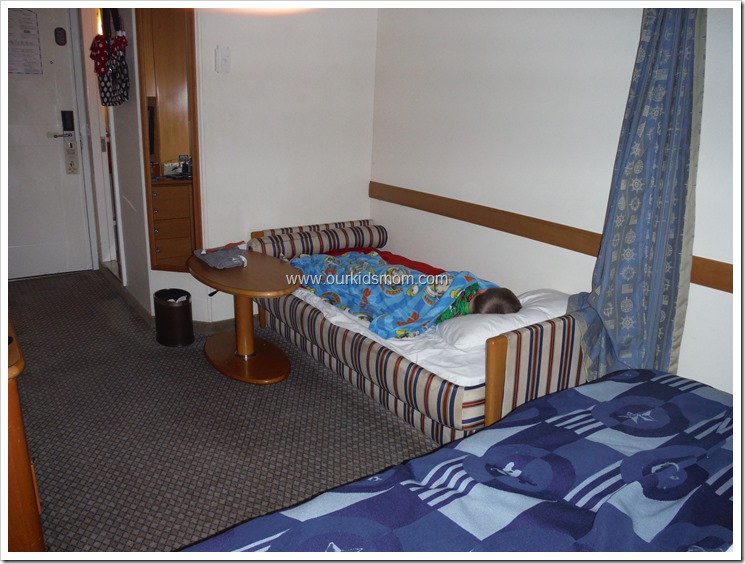 Overall, the room was comfortable for our use… to sleep. We were out of the room by 7:30 or 8:00 each morning only to return to drop things off or change clothes. Most nights (we were there for 6 nights) we were back in and ready to settle down by 11:00 pm.
Ethan (he is 5) slept like a log on the couch and my husband and I were pleasantly surprised by the comfort level of our bed. I am a bed snob (we have a Sleep Number at home) and I woke up at most once a night … I was either that comfortable … or that exhausted. One tip I highly suggest if traveling with littles … download a sound machine app on your smart phone. I removed my SIM card so as to not accidentally "connect" and used my phone as a sound machine every night.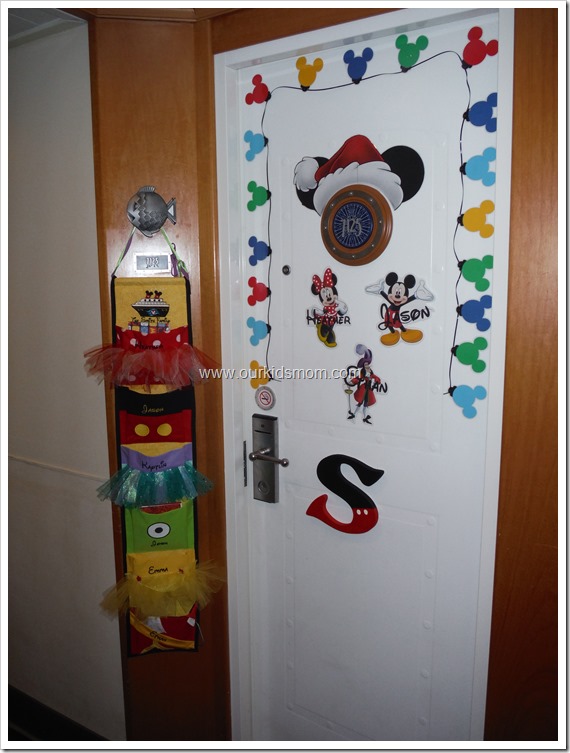 Also, don't forget the door is magnetic! We created some fun decorations with our Cricut and Silhouette, but there are also some free print-outs (like the Santa hat with Mickey ears over the porthole) on the DISboards. Add small magnets to the back or cut out adhesive sheet magnets to stick to your item so your decorations will stay in place. Remember that adhesives are not allowed but magnets are more than ok!
Below is a video I took of our room when we first walked in. I tried to walk through slowly so that you can get a good idea of how much space you really have. It's small, but comfortable and very functional!
Feel free to ask questions below and …
Enjoy your cruise!