Discovery Toys is committed to bringing fun and developmentally appropriate toys and products to children everywhere. In fact, our toys, books and games provide the benefits of learning through play to children of all abilities.  That is why many of our toys are embraced by professionals and families of individuals with learning difficulties, special needs and autism, too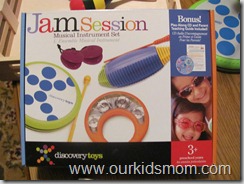 JAM SESSION
Item #2201
Welcome to a rousing and playful introduction to rhythm band music. Perfect for small hands, each instrument creates percussive sounds that promote sensory stimulation, hand-eye coordination and musical awareness. Includes: Hand Drum & Mallet, Guiro & Mallet, 2 Castanets, Tambourine and Play-Along Music CD.
from 3y – primary school
DT Activity Guide in English & French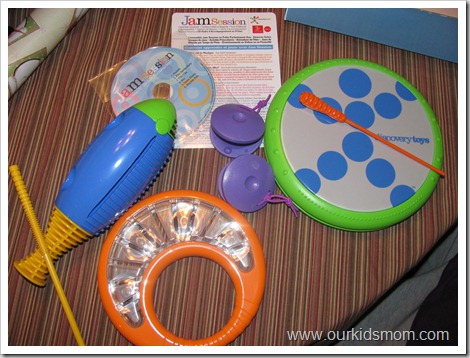 I have always felt strongly about music in a child's life. Listening and creating music… it helps foster creativity, expression, language and vocabulary. Music stimulates multiple areas of the brain. So when Discovery Toys gave me the opportunity to review their Jam Session I jumped on it.
Emma & Ethan did not have a "musical set" yet (Emma was going to receive another branded set at Christmas) and I was happy to allow them to try the Discovery Toys version. The key benefits stated on the website are:
KEY BENEFITS:
Develop motor skills with easy-to-hold and manipulate percussion instruments;
Enjoy fun sounds and movements with a hand drum to tap; a guiro to strum; 2 castanets to clack; and a tambourine to shimmy;
Encourage rhythmic movements to music on the custom CD;
Perfect for solo performances or group ensembles;
BONUS Skill Card filled with parent teaching tips;
Practice hand-eye coordination!
We have been doing our own little version of "music therapy" daily for Emma & Ethan. Emma had been having some emotional/behavioral problems that pointed to a sensory sensitivity problem. Although we did not have her "officially" diagnosed, we decided to try a few things with her. Listening to music has always been a soother for Emma. We decided to allow her to listen on a daily basis, using headphones if wanted. We slowly saw a decrease in the unwanted behavior patterns from her. Hmmmmmmm….
So how about playing music, too?? We allowed the children to open both sets of musical instruments for less fighting. The Discovery Toys Jam Session was very well constructed and was easy to use. We tossed in the CD to allow the children to play along… and well…. take a look at what happened!
The entire family (unsolicited) picked up an instrument and joined in. We played with the children through the entire CD. When picking up, my husband had a big smile on his face and said "That was therapeutic!"
Jam Session is definitely a great investment and will last for years. You can purchase Jam Session for $30 (on sale.. normal price $45)
Connect with Discovery Toys
Disclaimer: This post was written by me and was not edited by anyone. The opinions expressed in this post are entirely my own and have not been influenced in any way. I received product for review purposes only. I was not compensated for writing this post. For more information please read my disclosure policy.