DINOSAUR TRAIN Heads to the "Big City" on PBS KIDS
The Jim Henson Company's one-hour movie, Dinosaur Big City, kicks off DINOSAUR TRAIN's second season on August 22; DVD releases August 23
ARLINGTON, Va.–(BUSINESS WIRE)–Everyone's favorite dinosaurs are making their way to the city for Dinosaur Big City, a one-hour DINOSAUR TRAIN movie airing on August 22 on PBS KIDS (check local listings). Families can join Buddy and his adoptive Pteranodon family on a pre-historic adventure as they gather all their theropod friends to travel to the big Theropod Club Convention being held in Laramidia, the "Dinosaur Big City!"
"DINOSAUR TRAIN combines fascinating science concepts with funny and engaging characters, so it's no wonder that it's one of our top-rated series for preschoolers"
The premiere of Dinosaur Big City marks the start of season two of DINOSAUR TRAIN. From the world-renowned Jim Henson Company, the hit DINOSAUR TRAIN series is seen in over 13 million households every month1. The series encourages scientific thinking and other skills as it teaches children about natural science, natural history and paleontology. DINOSAUR TRAIN's second season will focus on exploring the outdoors and natural phenomena, and will feature "Big Dinosaur Week" and a special based on the fan favorite "Dinosaurs A to Z" song.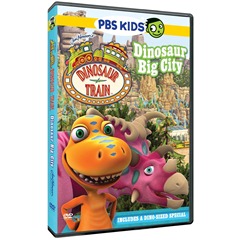 "We are extremely proud of the success of DINOSAUR TRAIN and are delighted that young fans around the world continue to embrace the series," states Lisa Henson, CEO, The Jim Henson Company. "With each episode, we strive to deliver the highest quality of entertainment and education, and we have a tremendous team of creative talent to ensure that we meet the expectations of children and their parents." She adds, "We look forward to launching season two with the new movie,Dinosaur Big City, as we take Buddy and friends on all-new adventures!"
"DINOSAUR TRAIN combines fascinating science concepts with funny and engaging characters, so it's no wonder that it's one of our top-rated series for preschoolers," said Lesli Rotenberg, Senior Vice President, Children's Media, PBS. "We're excited to kick off season two of this popular series with a movie that brings interesting scientific facts to life with musical numbers, humor, and even a singing theropod character based on Elvis. We know that families will have a lot of fun with this movie – and learn a great deal along the way."
Bringing History to Life
The theme of Dinosaur Big City is based on research from scientific advisors who help DINOSAUR TRAIN bring history to life and make science fun and accessible for kids. Laramidia – the "Dinosaur Big City" – describes an island continent that existed during the Late Cretaceous period and stretches from modern-day Alaska to Mexico.
"For millions of years during the age of dinosaurs, western North America was an isolated chunk of land known today as 'Laramidia.' A rich fossil record discovered in the American West has revealed that, despite its small size, Laramidia was home to tremendous diversity of dinosaurs," said show host Dr. Scott Sampson, a dinosaur paleontologist, evolutionary biologist and author of Dinosaur Odyssey: Fossil Threads in the Web of Life. "Dozens of species of giant dinosaurs co-existed on this 'mini-continent,' a major mystery that paleontologists are still trying to solve."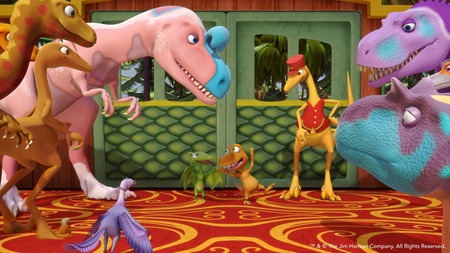 Dinosaur Big City Movie Synopsis
Buddy and his Pteranodon family embark on a journey on the Dinosaur Train, gathering all their theropod friends together to travel to a really big Theropod Club Convention, which is being held in Laramidia, the "Dinosaur Big City." Among the travelers is King Cryolophosaurus, a singing theropod who is more than a little nervous about giving a concert in front of his biggest audience ever in the Big City. Once the Dinosaur Train arrives in Laramidia, Buddy and the Pteranodon family explore the crowded "dinosaur metropolis." At the Theropod Convention, the kids reunite with Annie Tyrannosaurus and her parents Delores and Boris, and they all meet the multi-horned mayor, Mayor Kosmoceratops. In the end, Buddy and Tiny help King Cryolophosaurus overcome his stage fright, and he wows a large dinosaur audience when he sings his new song, "Whole Lotta Theropods" at the Convention.
Dinosaur Big City on DVD
The movie will also be released on DVD on August 23 by Paramount Home Entertainment. The DVD includes the Dinosaur Big City movie and four bonus episodes of DINOSAUR TRAIN, as well as interactive games, coloring pages, a dinosaur reference guide and information for parents. The DVD will be available for the suggested retail price of $14.99 U.S./$15.99 Canada.
Emma and Ethan both love Dinosaur Train. They were offered a chance to have a special screening of Dinosaur Train Big City and they had a blast! In Dinosaur Big City, Buddy and his Pteranodon family journey on the Dinosaur Train with their theropod friends to the big Theropod Club Convention in Laramidia, the "Dinosaur Big City." Along the way they meet Mayor Kosmoceratops and help King Cryolophosaurus overcome stage fright. Dinosaur Train has a way of keeping the kids attention while they unknowingly learn fun facts about dinosaurs and life lessons like overcoming stage fright.
Be sure to tune in!!