History of Dermagist
Dermagist was created over years of experience and research. It has been featured on USA Today, ABC, NBC, CBS, and through many other national corporations. Dermagist has become one of the most comprehensive solutions, offering not only multiple ingredients, but multiple formulas. It has quickly become one of the top selling brands in anti-aging and skincare.
Dermagist acts as a complete rejuvenation system that is designed to provide an instant effect for real wrinkle fighting results. It rejuvenates and heals skin. And when using Dermagist, you will be able to counteract the natural process of aging in skin. Dermagist tightens to eliminate sagging skin. Dermagist moisturizes, and it has been known to provide both immediate and long term benefits. It increases the natural production of collagen and elastin. And with Dermagist, you get two branches of scientific research accelerating skin healing and studying the cause of wrinkles. Dermagist works similarly to peptides, getting deep below the surface. Dermagist works to stop function loss, regenerate the skin to stop cell resistance, allows self defense, and it enhances wound healing capacity. Dermagist eliminates enlarged pores, redness, sun spots, and wrinkles at the same time.
The folks at Dermagist agree that Mom's deserve a little pampering, too.
They put together this fantastic prize pack that will help pamper just about every sense!
*****
Dermagist Complete Rejuvenation Package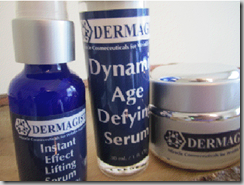 Enjoy younger looking wrinkle free skin with this incredible system. The Key to the System is using all
three products together in the instructed combination –
One (1) Jar of our Original Smoothing Cream
One (1) Bottle of our Dynamic Age Defying Serum
One (1) Bottle of our Instant-Effect Lifting Serum
One (1) Instruction sheet detailing your exact use of the products
When you want to not only look younger, but stop time and prevent aging from happening at all there is
only one company to turn to. Dermagist supplies you with the Complete Rejuvenation System that
Eliminates Wrinkles, Large Pores, Redness, and Age Spots with Matrixyl® and Renovage® plus the
Instant Results of Sesaflash®
I have yet to use these products, but I have heard tons of good things and am excited to try to get rid of these crows feet!

Bella 100% Cotton Favorite Shirt
When you just have to get out of that itchy dress and go into full comfort mode, nothing feels better
than a ringspun cotton perfect tee from Bella. This dark grey heather shirt goes with anything in your
closet, and promises to keep you as comfortable as you are beautiful.
The cotton on this shirt is nice and cozy soft. I'm hoping I can find someone near me that wears a large to gift it too… I'm so sad it won't fit me!
5 Min Candles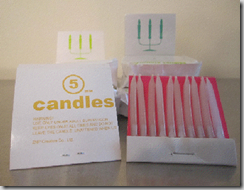 Ever feel inspired to throw a party on the spot? These candles have your name on them. Enjoy a book of
10, they're as small as a matchbook, yet powerful enough to be the spark that starts your instant
anywhere-in-the-world party.
These, I'm sure, will be a life saver. I can't even count how many times I have gone to light the cake and remembered that "Ooops! I forgot the candles!". They come in a matchbook sized container and they are snuggly fit into it, so no digging around the drawers.
LE LABO Fragrance Sample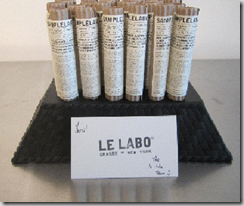 What does $220 for 3.4oz of perfume smell like? LA LABO makers of perfumes, candles, and notebooks
offers a new of luxurious scents hand crafted in, you guessed it, their labo. Featured in fashion
magazines as the perfume de jour for the globetrotting set, enjoy a 1.5 ml sample on us.
I was eager to smell this new fragrance and figured it probably was more hype than anything. I was wrong… I adore this scent! It is a little spicey and you need to be careful with how much you put on. I didn't realize it was a spray and tried to open the lid. It spilled a little on my fingers and I was one (good) smelling woman!
Cotton Terry Velour Spa Slippers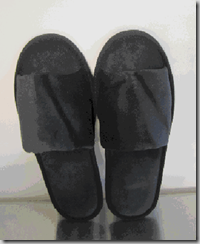 The true spa experience starts with the feet, and we've partnered with one of the leading hotel-grade
spa suppliers of slippers to bring you these cloud-soft slippers. One size fits all, so slip them on and enjoy
as you kick back and let all that stress fade away.
I was a bit hesitant about the "one size fits all" on these. Kaytlin and I have large feet… a size 12 and 11. I was sure they wouldn't fit. So sure I put them aside while playing with the other goodies. Then I noticed Kaytlin walking around in them… they really did fit!
Greyston Bakery Ben & Jerry's Inspired Brownie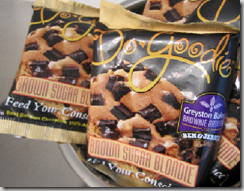 Socially conscious cares about the sustainability of their 60+ employees as much as they do their own
bottom line. Enjoy a tasty treat that's help make Ben & Jerry's famous ice cream with brownies a
celebrated hit for decades, and feel good about doing it knowing the company that made it cares about
making a better life for all.
A Ben & Jerry's brownie? Oh no… look out hips here it comes! Although our brownie was in crumbles, it was devoured. I ate a few pieces and my husband proceeded to pour it into a bowl and "drink" the brownie

! Really, it was that good.
Greatest Works of Mozart CD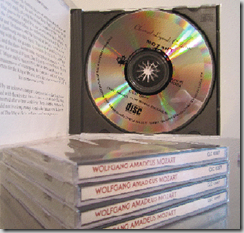 Full relaxation comes when the mind, body, and soul are at ease. Enter The Greatest Works of Mozart, a
wonderful classical music compilation that helps set the mood to the notes of one of the greatest
composers of all time. Plus it might just get the kids to pass out for a few minutes.
I wasn't a classical lover until I had to take music theory in school. After listening for hours so that I could correctly identify the composer, I fell in love. Mozart is one of the masters and you will enjoy it!
Mom: A Celebration of Mothers by StoryCorps
We draw strength from the narratives of those that shared our walk in life. In Mom, Dave Isay,
StoryCorps founder and editor of the bestselling book, Listening Is an Act of Love, presents a celebration
of American mothers from all walks of life and experiences. Selected from our extensive archive of
interviews, Mom presents the wisdom that has been passed from mothers to their children in
StoryCorps' recording booths across the country.
Authentic Vintage Swiss Army Bag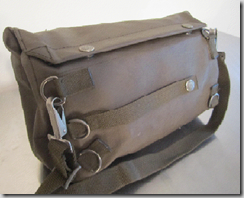 Want a bag as durable as it is stylish? Enjoy the unique Swiss Army vintage bag in vinyl with strap and
buckles. This small bag is a perfect alternative to your daily purse, or just something to carry the kid's
snacks in. Either way you can take a piece of war-era military issue function and turn it into a
fashionable accessory.
I was a little confused with how this bag hung until my husband suggested it was meant to be worn across the chest. It hung nicely against my hip and idea began to flood my head. The outside feels sort of water resistant… I thought theme parks (to carry sippy cups and snacks), garage sale purse, a hike in the woods with the kids. Definitely a keeper!
Loose Leaf Tea & GoodCook Tea Ball Infuser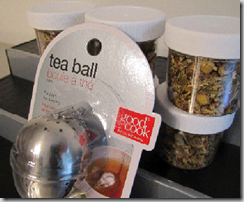 Enjoy a soothing cup of Chamomile Citrus tea from Tea Guys. With this special loose leaf tea starter kit
you'll be able to get roughly 12 cups of delicious tea, and more importantly have the equipment to make
the freshest and most soothing teas in the world with your loose leaf tea ball.
My husband enjoys a good tea, but we have never tried it was loose leaf tea! The leaves were aromatic and enticing and we cannot wait to try out the new tea ball!
**** Total Retail Value of this package $333.66 ****

OurKidsMom loves companies that give back


DERMAGIST has teamed with Els 4 Autism to build a center for autistic kids and their families. Read more.
BUY IT:
You can purchase Dermagist products at Dermagist.com
WIN IT:
ONE OurKidsMom reader is going to win the prize pack described above RV $333.66!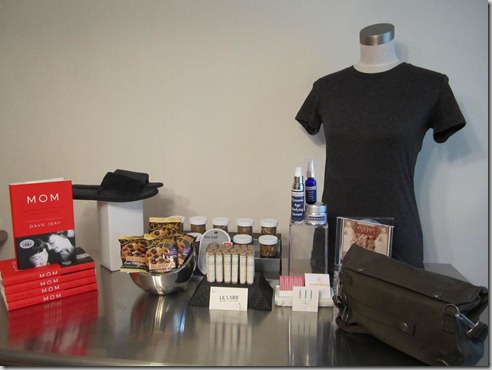 TO ENTER:
Simply follow the directions in the widget below. It's that simple.
COMMENTS DO NOT COUNT AS ENTRIES…
but they are still very much appreciated and adored :O)
If you enjoy my blog and my giveaways I would love a vote on Top Mommy Blogs. It only takes 1 click and you're done! (allowed once per 24 hours)
Rules:
You do not have to be a blogger to enter/win. An email address is required to enter. The winner will be chosen via Rafflecopter and contacted via email. A reply to the winning email is required within 48 hours before a new winner is chosen. One person entering per household please. U.S. only.
This giveaway ends at 11:59 PM EST on September 5, 2011.
Disclosure of Material Connection: I received one or more of the products or services mentioned above for free in the hope that I would mention/review it on my blog.e I only recommend products or services I use personally and believe will be good for my readers. I am disclosing this in accordance with the Federal Trade Commission's 16 CFR, Part 255: "Guides Concerning the Use of Endorsements and Testimonials in Advertising." The opinions expressed in this post are entirely my own. Your experience with the product may differ from mine. The sponsor is responsible for prize fulfillment and will be shipping the winner(s) their prize(s). For more information read my disclosure policy.