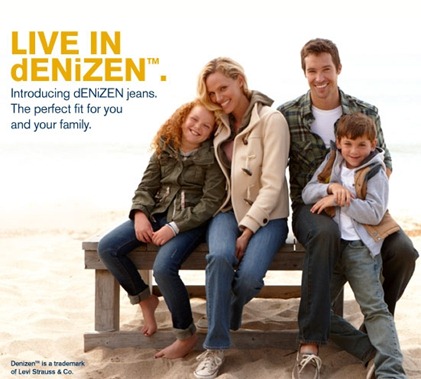 My husband recently lost several pounds and was having a hard time keeping his current jeans up. When dENiZEN jeans offered to let us review a pair of jeans, we decided he would be the recipient. dENiZEN jeans are made by Levi Strauss & Company, the same brand as most of the jeans in his closet.  We measured his waist and inseam, hoped the jeans ran true to size and quality like their parent brand name.
My husband ordered style 285 Relaxed. He likes his jeans to fit through the seat, but a little loose/relaxed on the legs. Our initial impression was quite favorable. The material felt like nice quality jeans, just like the Levis in his closet. They were great fitting, comfortable and fashionable. My husband has worn them both as casual jeans and t-shirt as well as dressed up a bit with a belt and nicer top. The fit was outstanding… our fears of purchasing/receiving without trying them on were dissolved. With the price point at only $17.99 to $29.99, these are great for everyday wear as well as dressy casual without breaking the bank.
dENiZEN is now available at Target and Target.com!  The jeans are designed with the Target shopper in mind with premium fabrics, finishes, and fits and are available for women, men, boys, and girls.
Men's sizes range from 29″-42″ and 30″-34″L with fits including 236 Regular, 299 Loose, 285 Relaxed, 281 Straight, 233 Low Boot, 218 Slim Straight, 216 Skinny, and 208 Super Skinny.  Prices range from $17.99 to $29.99.
Connect with dENiZEN Jeans:
I received a pair of jeans to facilitate this review. I was not compensated in any form. All opinions are 100% my own.