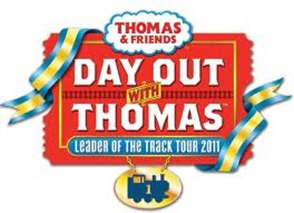 Can I get a Peep! Peep? I just wanted to let you know that I have been selected to be a "Mommy Reporter" for the Day Out with Thomas: Leader of the Track Tour 2011 at the Midland Railway Train Station in Baldwin, KS during the week of June 3rd– 5th. 
Pulling out of the station for its 16th consecutive ride on the rails, the Day Out With Thomas: Leader of the Track Tour 2011 will visit more than 45 cities in the United States and Canada. Day Out With Thomas is the only place for families to take a ride with a 15-ton replica of everybody's favorite No. 1 engine, Thomas the Tank Engine, and enjoy Thomas-themed activities at the Imagination Station, including stamps, temporary tattoos and hands-on arts and crafts.  Each year the tour grows, traveling to new destinations, adding new activities and welcoming new visitors.
For more information on how you can join me, take a look at the Day Out with Thomas Schedule and choose an event that you and your family might be interested in attending.  Thomas the Tank Engine will be sharing breaking news reports through his Twitter feed– @trueblueengine and so will I at @ourkidsmom.
I can't wait to see Emma and Ethan's face when they see Thomas the Tank Engine and Sir Topham Hatt!
To learn more about the event please visit http://events.hitentertainment.com/us/day-out-with-thomas/index.asp. Hope to see you there!