Curious George Swing Into Spring DVD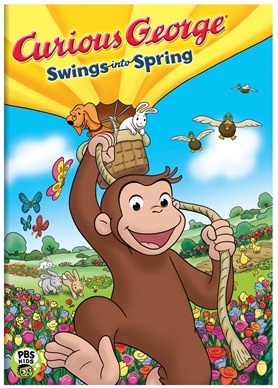 Disclosure: I received the below mentioned item(s) free of charge in exchange for an honest review. All opinions are 100% my own and are not influenced in any way.
What's more fun than being curious? Being curious with a fun friend!!
Curious George is back! He's as curious as ever in this fun Spring time movie! George and his friend Hundley (doorman's dog) go out and explore Spring together from the blooming flowers, to the baby animals. Even a canoe ride! But poor Hundley gets lost! 🙁 George decides to try to find him by flying through the sky in a Hot Air Balloon. There is a fun surprise ending!
Watch this clip, you'll enjoy it so much you'll want to see the whole movie! 🙂
We have watched Curious George together, and I must say that both Big Sis and I love him! He's a cute little guy who seems to always get into trouble. Yet, he works his way out of trouble too. I love that he's curious and adventurous. Big Sis giggles at all the silly things that he does!
We really enjoyed watching this movie together because we got to enjoy Spring even though it's seeming to take it's time getting here! She really liked all the flowers and adventure in this movie. Big Sis LOVES babies, and baby animals are no exception. She loved seeing all the cute little animals in this movie.
Curious George Swings Into Spring is about 57 minutes long. It's a fun Friday Night Family Movie kind of movie. It's a little longer, about an hour, but it's not so long that they will quickly lose interest.
Check out the Curious George WEBSITE
for fun games to play, coloring sheets to print and much more. You can buy the Curious George Swings Into Spring DVD on AMAZON
.
This product was reviewed by my friend Courtney. She is a wife and Stay At Home Mommy to 2 wonderful cuties! She blogs over at
Joy Of Momma Joyner
. On her blog you can find posts about Child Development, Pictures of her family, and great reviews and giveaways. She has a passion for children and watching them grow and learn. When her kids are in all-day school Courtney would like to go back to work as a preschool teacher.