This is what happens when you leave your garden unattended for….
for five days.
Twenty-four big juicy cucumbers waiting for us to pick them… oh my!
Now, if only our tomatoes would turn red!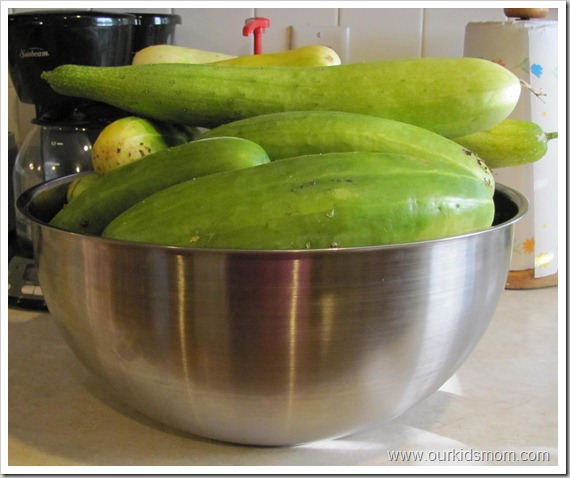 This brought me to pull out one of my favorite cucumber recipes… Enjoy!
Chunky Cucumber Salsa
Ingredients
3 medium cucumbers, peeled and coarsely chopped
1 medium mango, coarsely chopped
1 cup frozen corn, thawed
1 medium sweet red pepper, coarsely chopped
1 small red onion, coarsely chopped
1 jalapeno pepper, finely chopped
3 garlic cloves, minced
2 tablespoons white wine vinegar
1 tablespoon minced fresh cilantro
1 teaspoon salt
1/2 teaspoon sugar
1/4 teaspoon cayenne pepper
Directions
In a large bowl, combine all the ingredients. Cover and refrigerate for 2-3 hours before serving.
Nutritional Analysis: 1/2 cup equals 57 calories, trace fat (trace saturated fat), 0 cholesterol, 297 mg sodium, 13 g carbohydrate, 2 g fiber, 2 g protein. Diabetic Exchanges: 1 vegetable, 1/2 fruit.